Harnai Beach Fish Auction is one of the most exhilarating experiences I had on a beach. Harnai is a well known sea port on Dapoli Beach and it is easily accessible by road from Mumbai and Pune. Karde, a small village next to it, has some resorts providing basic ocean front accommodations. One of our favorites is Hotel Kinaara, owned by Mr. Jadhav.  After the first experience, it became our yearly ritual to visit Karde and witness the fish auction at Harnai Beach.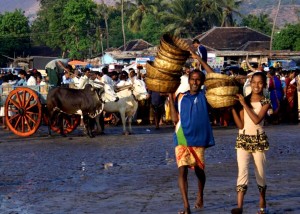 The villager's main trade is fishing for centuries. The eclectic atmosphere starts building up in anticipation of the arrival of the fishing boats, which have gone into the deep sea at the break of the dawn. The entire village turns up on the beach around 4 in the evening, or so it seems.  There are traders, mediators, local laborers along with tempos, bullock carts filled with ice boxes and baskets. The most enticing of them are village women and young girls. The mood is quite festive with women clad in bright sarees, worn in Konkani style, with venis (flower garlands) in their hair.
Fish Auction On Harnai Beach
The stage is already set on the beach. The commotion starts around 5pm, when colorful dinghies and semi automatic boats get closer to the shore. Bullock carts start thrusting in to the shallow waters, where they are loaded with precious cargo, the catch of the day! It seems everyone knows their job and amidst the shouting and chaos, mediators motion into the front line.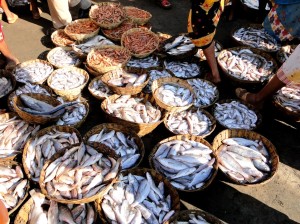 This is the stage for auction, right there on wet sand, with the backdrop of setting sun on waters of Arabian Sea. Catch of the day includes variety of fish, prawns, lobsters and mussels. Auction starts the moment the catch arrives at Harnai beach.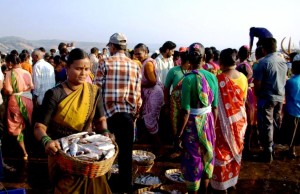 Small circles are formed and the bargaining begins from as little as Rs 100 for a basket of prawns or pomfrets. The buyers include primarily traders who buy large quantities and transfer the goods to larger cities in refrigerated containers.
One doesn't need to be a trader or a mediator to be part of the auction. There are unsaid rules and everyone knows the game, the prices. Every one's interest is respected. An individual / tourists can participate in the auction, but it has to be for the whole basket and not for part of it. One can buy a basket full of prawns or small fish for Rs 2000- Rs 4000 ($30-$60). Business worth lakhs of rupees is conducted in less than an hour.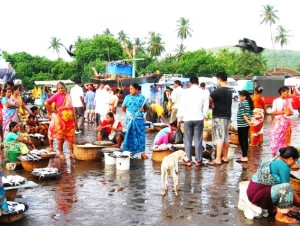 After the auction is over market is set, where local traders set up stalls to sell the catch which they just earned at the auction. Right there and then you see the prices going up! The traders also supply this sea food to larger cities like Mumbai, Delhi and Cochin, where the same catch is available for selling the next morning. Imagine eating those delicacies in a fine dining restaurant, paying more than 10 times of the original value.
Sea Food Indulgence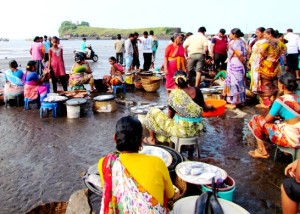 We have ended up buying a large basket of mid size prawns for Rs 4000 and pomfret at Rs 2000. The village women and girls get into action at this point. For retail buyers, they de shell prawns, lobsters, clean fish/ mussels, chop them and make pieces as desired. It is a visual delight to see these sun kissed gleaming women staring at you in awe and giggling while working on their knife boards.
We usually go to Harnai Beach with iceboxes, so that we could bring some of these goodies back with us to Pune. Some of our enthusiastic friends have even created a small car fridge to horde much more.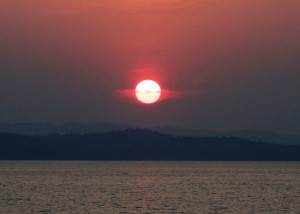 Back at Hotel Kinaara Jadhav family members are waiting for us to arrive with our prized possession. The dining area is filled with aromas of spices and sea food. We anticipate the arrival of heavenly Konkan delicacies over a bottle of chilled Chardonnay or few G&Ts.  Jadhav family is well known for their Prawn pulav and other Konkani sea food specialties. Their lobster curry, pomfret curry and solkadi are finger licking good!
How to get to Harnai Beach
From Pune to Harnai Beach, it takes a road trip of around 5 hours. We usually stay there for 3 days dedicating one long weekend to gluttony. We return after an over dose of Arabian catches. As expected, we end up entertaining our guests back home with seafood specialties for next few weeks! Some of the popular hotels include Harnai Beach Resort and Mr Jadhav's Harnai Beach Homestay at Hotel Kinara.
To read more about Activities in Andaman Islands click here.
Summary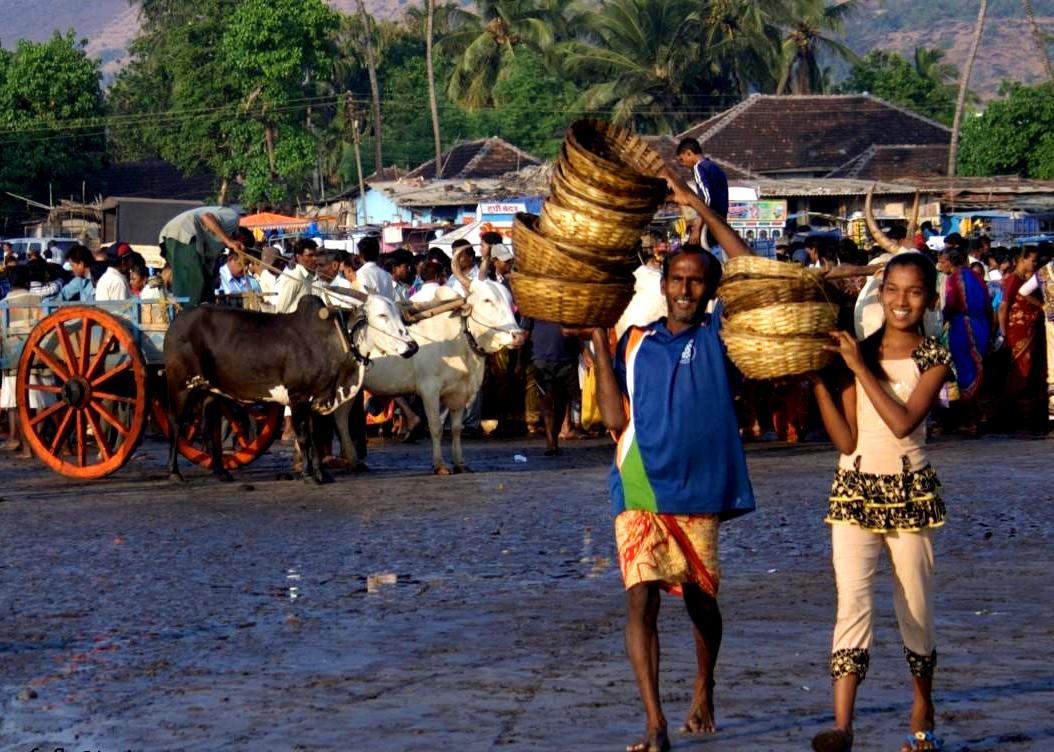 Article Name
Harnai Beach- Exhilarating Fish Auction!
Description
The eclectic atmosphere on Harnai Beach builds up in anticipation of the arrival of fishing boats. It is worth an experience to witness this fish auction! 
Author