The old town Ichon-Qala (Itchan Kala) is the historic heart of Khiva. As we entered inside from its ornate West Gate, dusty monochrome town of Khiva splattered with colorful domes and minarets appeared like a setting straight out of Hollywood!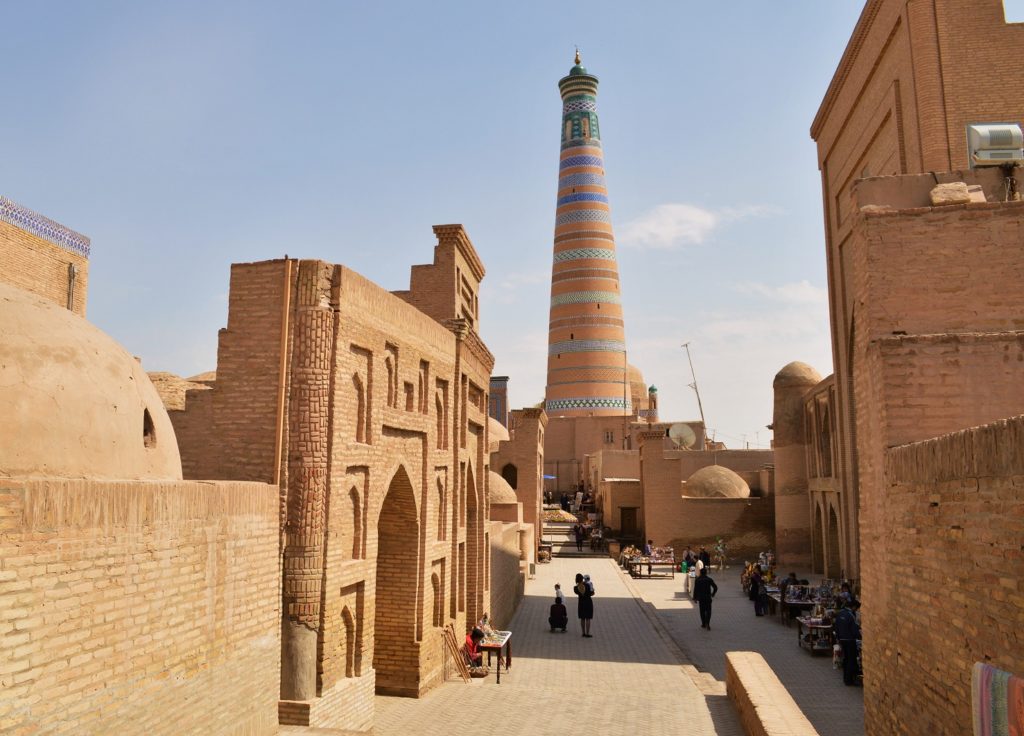 A significant town on the Silk Route, Khiva is arguably unique compared to famous sites of Samarkand and Bukhara. Itchan Kala in Khiva was the last resting place for caravans. This is where the civilization ended and the dessert started. Once a buzzing trade post on the Great Silk Route, Itchan Kala today is a sleepy walled town, preserved in pristine 'Museum like' state.
History of Khiva Uzbekistan
History of Khiva dates back to almost 2500 years ago; it got recognition during the 10th century, at the peak of silk route trade. The caravans stopped at Khiva before embarking on treacherous journey ahead to Iran through the desert.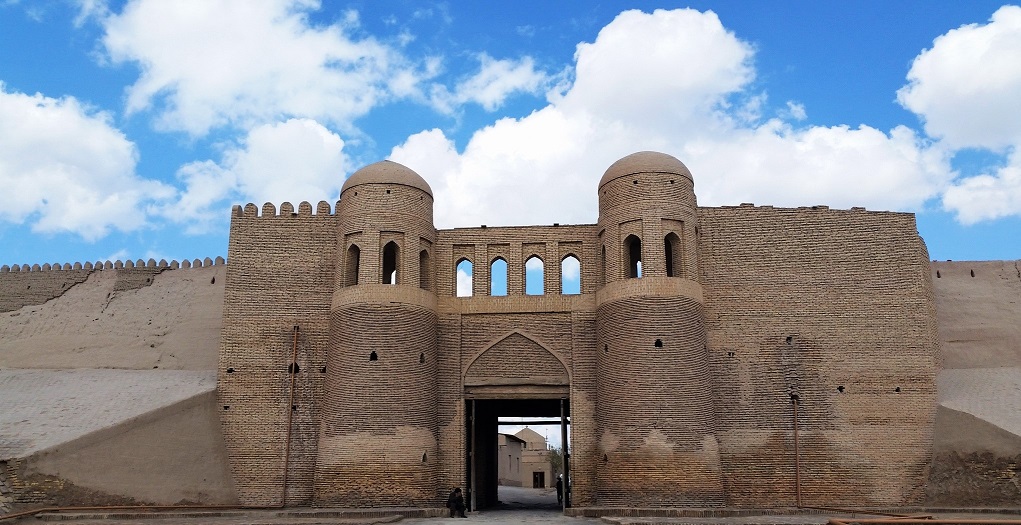 Located in the middle of vast Kyzylkum and Karakum deserts, Khiva was notoriously famous for slave trade, wild tribesmen and their barbaric practises. Palawan Darwaza or the East Gate of Itchan Kala still contains a caravanserai where slaves were traded.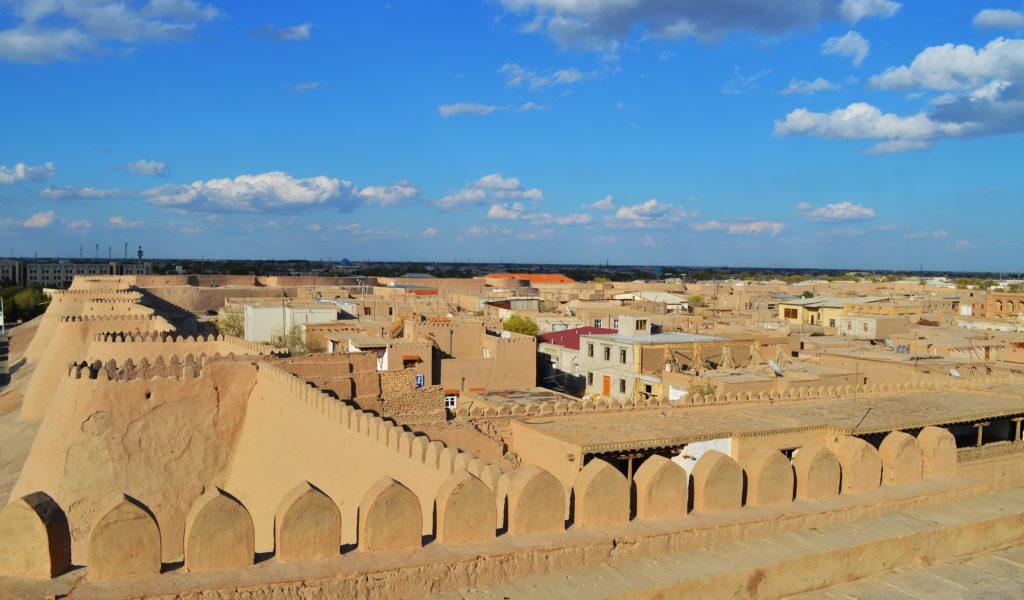 Khiva is divided into two parts. The inner town is the walled city of Itchan Kala, from where the khans of Khorezm ruled. It also housed priests, rich merchants and noblemen. The outer town of Dishan Kala, literally meaning outside the wall. where ordinary people of Khiva lived. Ishan Kala was accessed through 4 gates in its walls. The winding walls of Itchan Kala is its distinctive feature, quite similar to wall of The Ark in Bukhara. The original wall is believed to be built around 5-6 century AD. The defensive wall is almost 10 meters high with thick base tapering towards the top.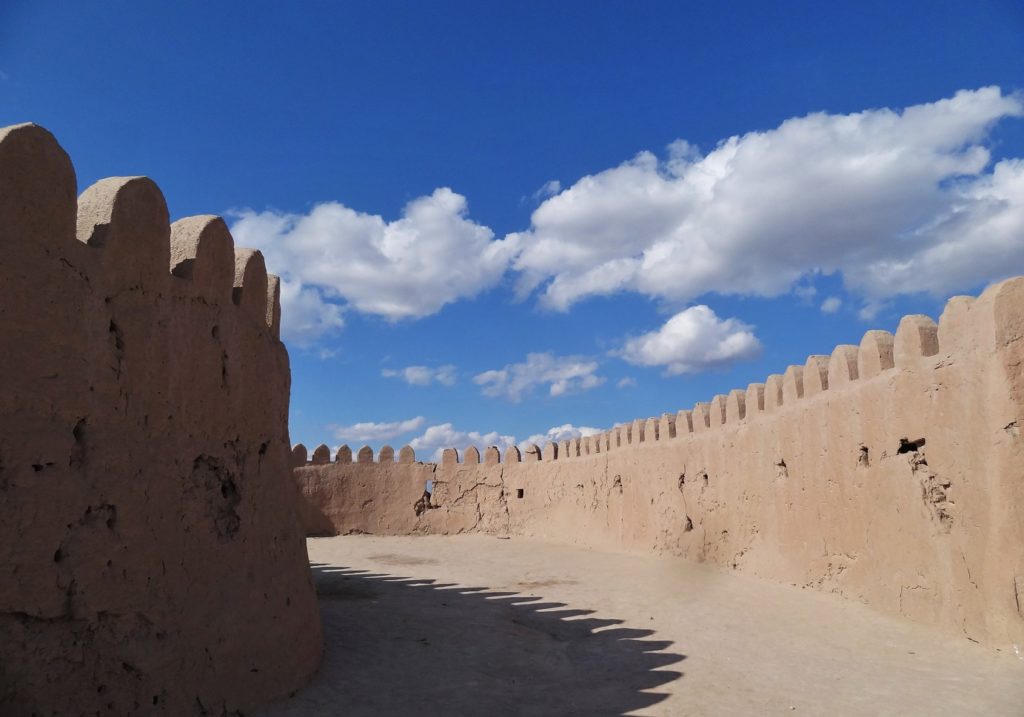 Islamic khanate was established in 16th century and most of Khiva architecture was commissioned around then. Itchan Kala cradles around 50 monuments (mosques and madrassas) within its boundary. These are some of the best preserved monuments of Islamic architecture.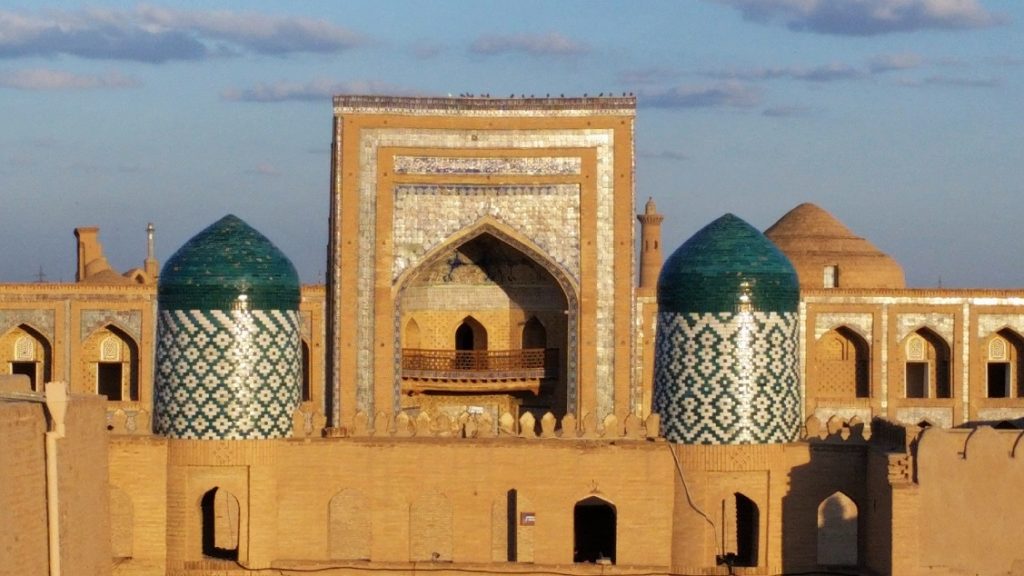 Panorama of Itchan Kala
Serpentine Walls of Itchan Kala is the most enticing part of the city. Blessed with clear blue sky, we walked on the wall from North Gate towards West Gate. Tall Djuma Minaret and Islam Khoja Minaret could be seen from everywhere in Khiva.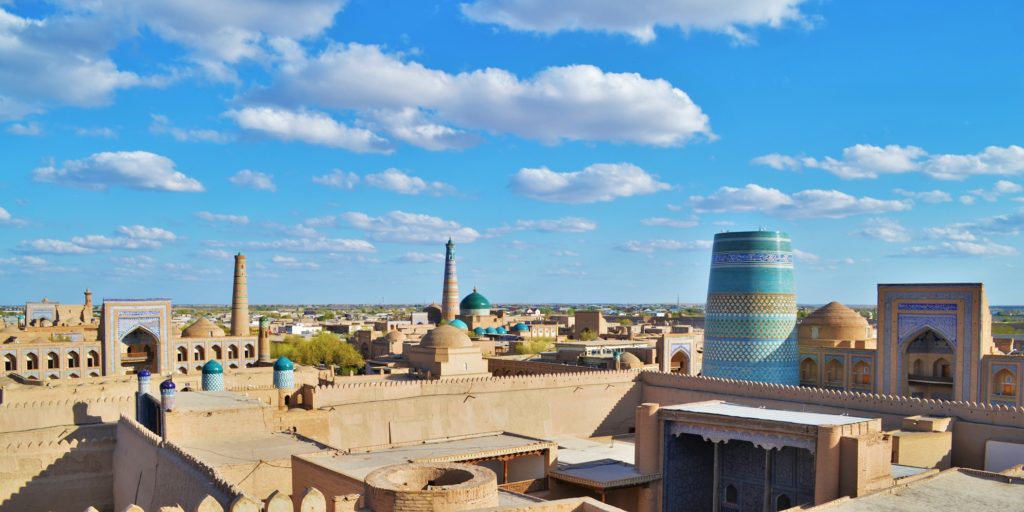 From the height we could see brown colorless buildings dotted with turquoise, blue and green domes of madrasas. It was fascinating to peek into the daily life of Uzbeks inside the walled city. Women were busy making breads while their men enjoyed shisha in courtyards. Well dressed kids returning from school were eager to try their English with us. It was like a little set of a movie!
The climb to the watch tower was the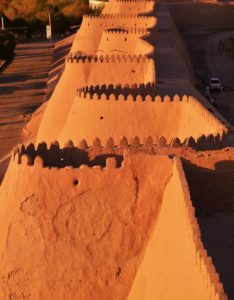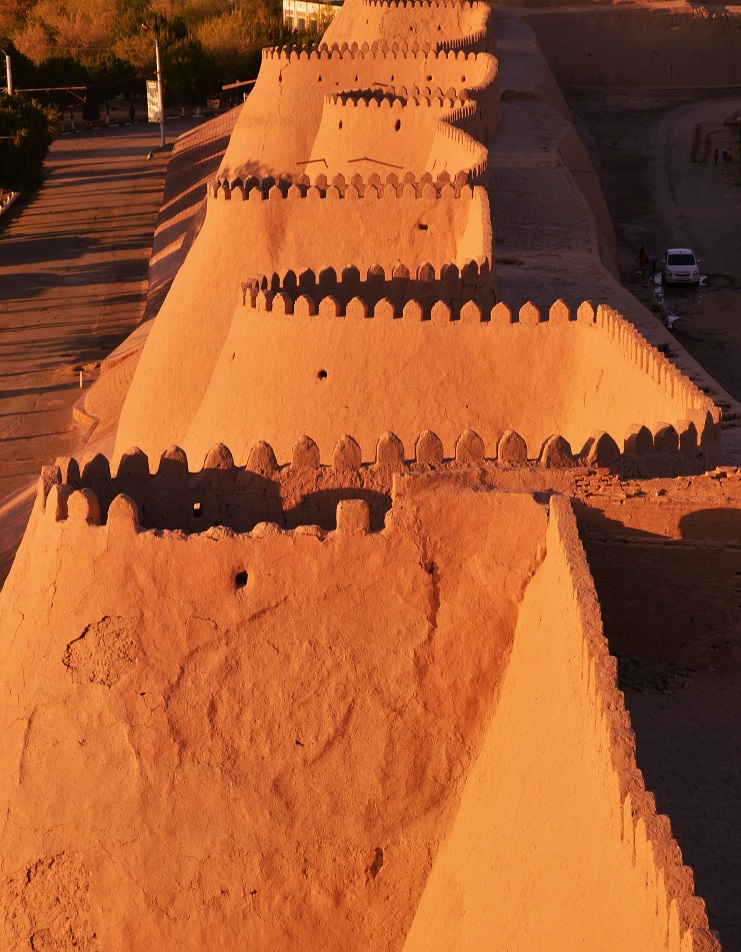 highlight of the day. We could see all the historical sites inside Itchan Kala from up there. It was mesmerizing to see the mud brick outer wall changing its color under every ray of setting sun. As the sun went down, the serpentine wall and the monuments came alive with golden glow of the dusk. The beauty transported me in the medieval times, when caravans must have passed through the gates inside Itchan Kala, with silks, spices and slaves in their cargo.
Khorezm Architecture
Majority of Khiva monuments took shape between 14th and 17th centuries. Some of the best preserved Islamic architecture of Central Asia is found Inside the walls of Itchan Kala.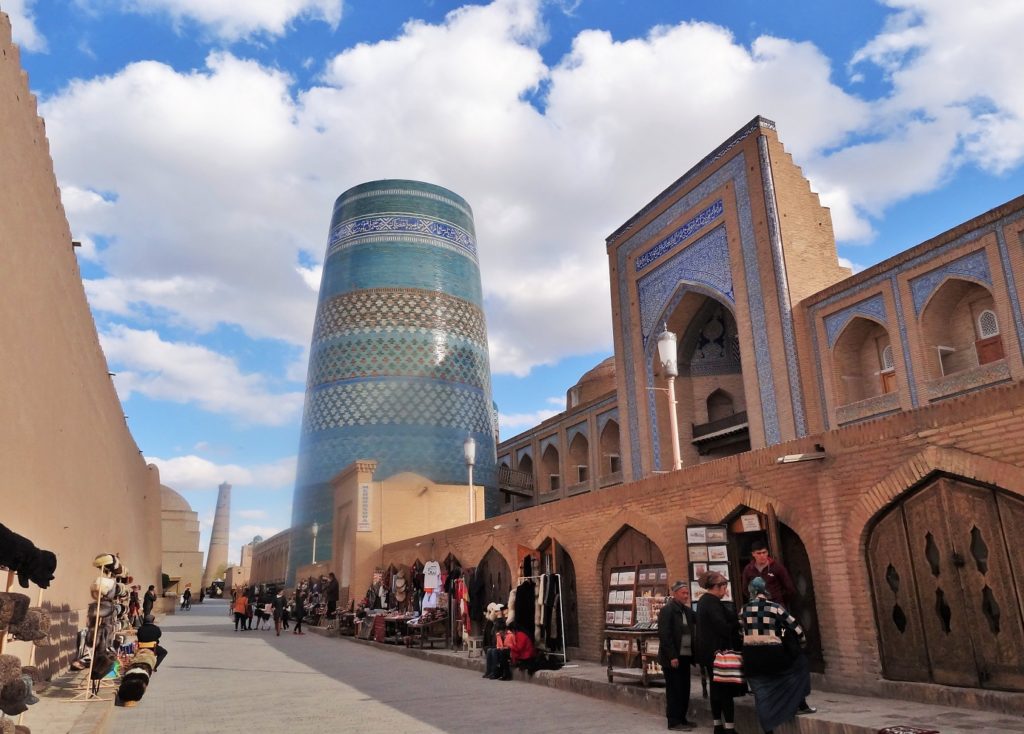 Imposing Kalta Minor Minaret has become a symbol of Khiva. It was originally meant to be much taller, so that the ruling khan could see Bukhara from here! The bright stub of Kalta Minor is in stark contrast with light brown panorama of mud brick houses. It carries the influence of Samarkand architecture with use of glazed tiles in Blue, green and turquoise.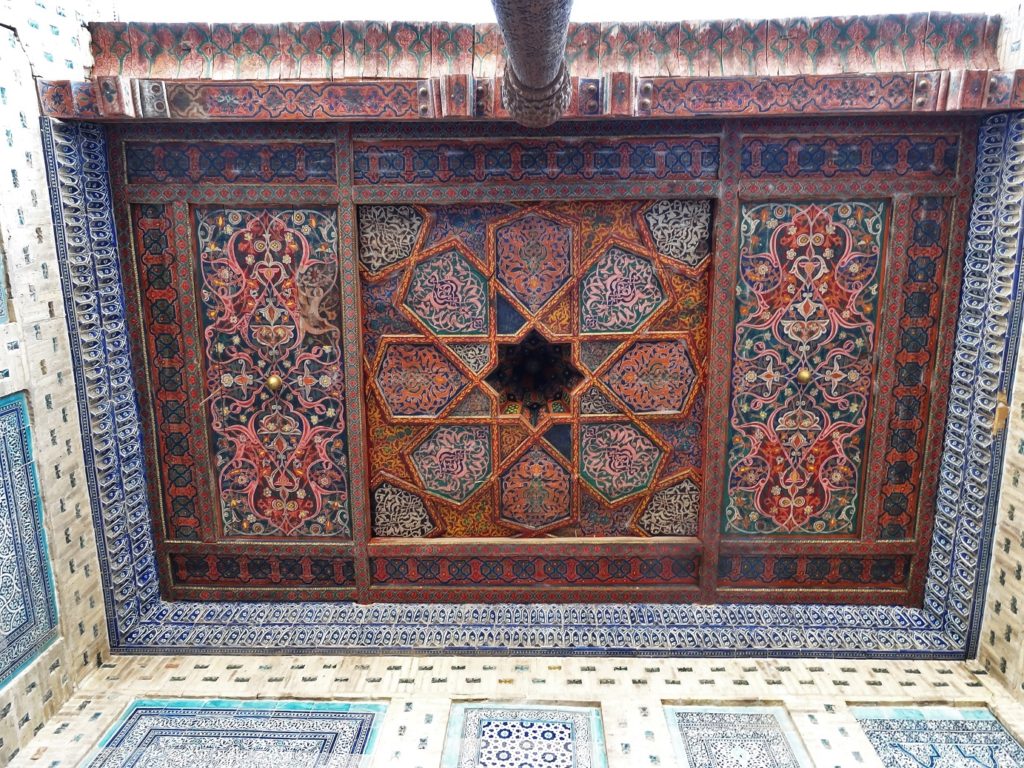 Kuhna Ark, with its blue tiled walls and wooden pillars, was a palace from where the emirs of Khiva ruled. The unusual combination of Blue tiled walls and carved wooden supporting columns are characteristic of Khorezm Architecture. The ceiling of the palace are adorned with vibrant wooden panels with intricate designs.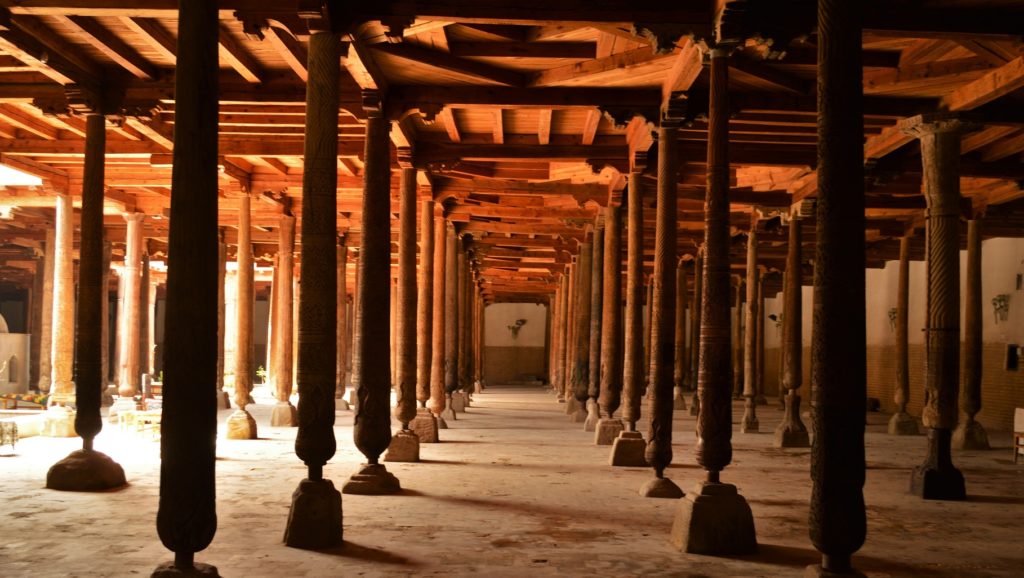 Another masterpiece of Khorezm Architecture is Djuma Mosque with striking wooden interiors. The April sun threw light inside the mosque, illuminating the rectangular courtyard in a warm glow. The interior was dazzling with dappled effect created by 212 wooden columns which supports the roof. This seemed to be favorite spot for wedding photographers, we could spot newlyweds posing for mood shots around ornately carved pillars (In white wedding gown and western clothes). These pillars are peculiar in shape with cylindrical top, narrowing down at the bottom like an elongated chalise. The climb up to the Minaret inside the mosque rewarded us with breathtaking panorama of Itchan Kala.
Life inside Itchan Kala
The most captivating part of visiting Khiva was observing its locals living inside the walls. There was shine and dazzle everywhere; with fake Tory Burch and Versace medusa making its way on the alleys of Itchan Kala.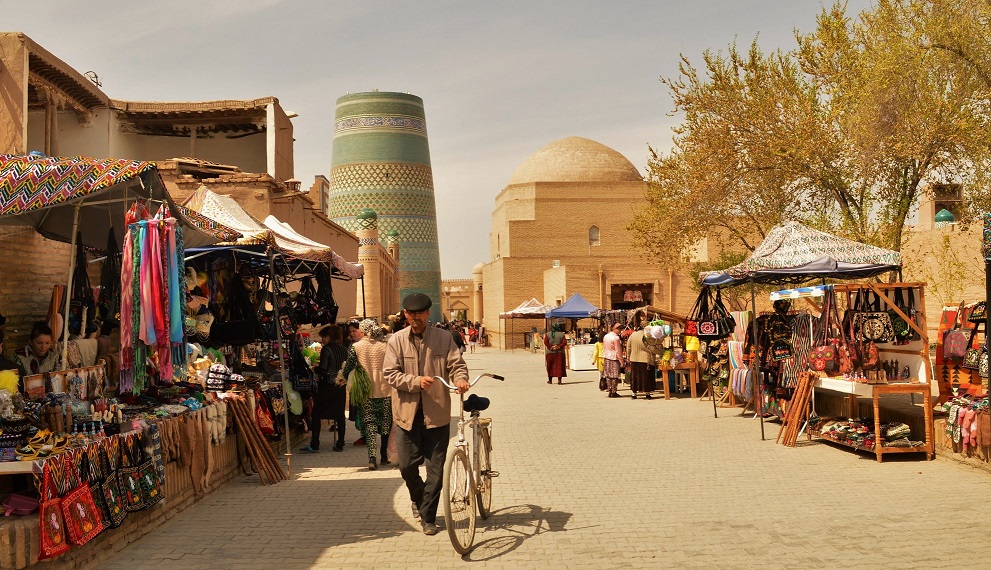 Animal prints and ve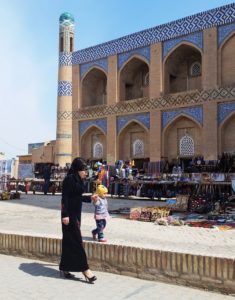 lvet outfits were in sharp contrast to the city which has stood still since medieval times! Bazaars selling souvenirs, scarves, beaded bracelets, carpets and knives were buzzing on Sunday. Everyone seems to be out to soak up the sun, after months of harsh winter. Heel clad young women, in knee length skirts, cajoling their toddlers on cobblestone streets was a hint of moderate Islam. In Uzbekistan Islam is perceived as a culture and not preached as a religion. The men flocked bazaars in suits and polished shoes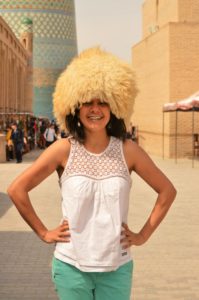 .
Turcoman Fur Hats were ubiquitous and i could hardly imagine how the place would transform in peak winter with snow covering its medieval center.
We walked around slowly through twisting alleys, passing by enumerable madrasas, mosques and mausoleums. Simple inhabitants of Itchan Kala were humble and friendly. Many times we were dragged into taking pictures with the elder folks, we obliged with a big selfie smiles. We were offered piece of freshly baked Khiva non, as we passed by one of the courtyard houses. We savored the history of this remote town over cups of tea at Chaikhana (Tea shops), everything went silent inside the walls after 7 in the evening.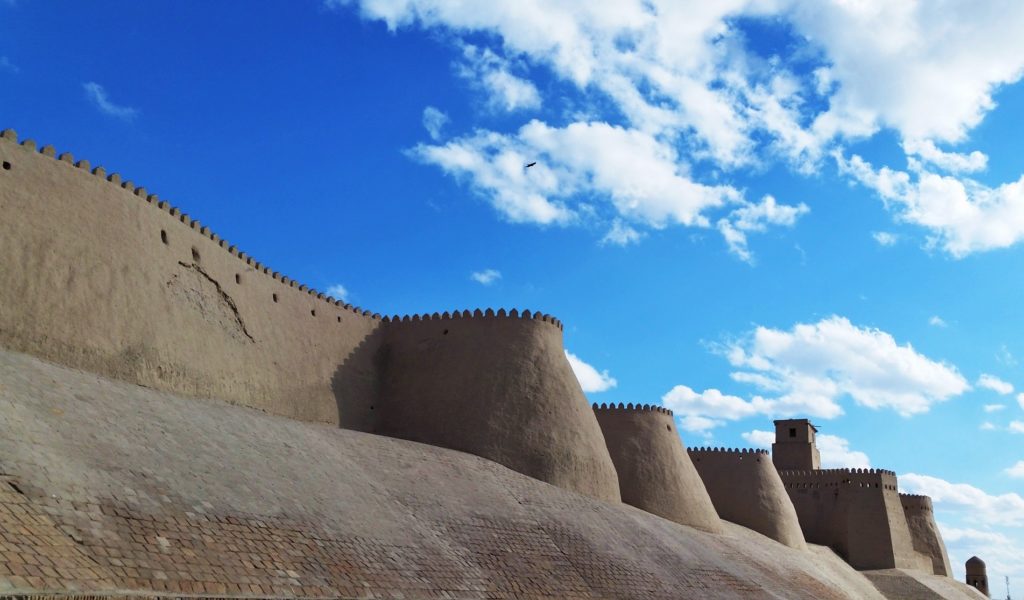 Itchan Kala vaguely reminded of me the fort city of Jaisalmer in India. Located in Thar desert in Rajasthan, the fort is inhabited by locals and is surrounded by serpentine walls identical to Itchan Kala. My wild guess is that the inspiration came from Khorezm and architects replicated the style in Rajasthan. It was enchanting to see how Silk Route along with its history of trade exchange also brought architectural influences from far off land!
Read about famous silk route towns of Samarkand and Bukhara and Why every Indian should travel to Uzbekistan!
Summary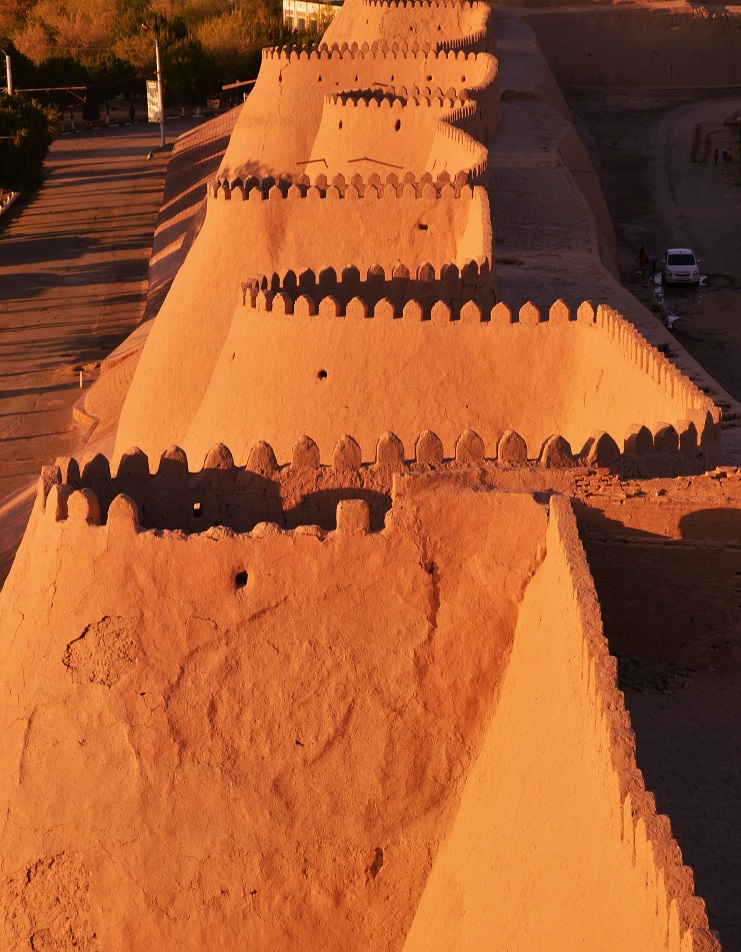 Article Name
Itchan Kala - Historic Heart of Khiva on Ancient Silk Route
Description
The old town Ichon-Qala (Itchan Kala) is the historic heart of Khiva. As we entered inside from its ornate West Gate, dusty monochrome town of Khiva splattered with colorful domes and minarets appeared like a setting straight out of Hollywood!
Author