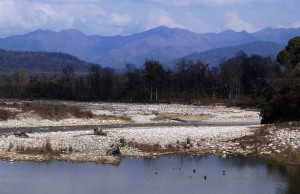 Located in the foothills of Himalayas, in the district of Nainital in Uttarakhand, Jim Corbett National park is the most famous National Park in India and undoubtedly the most beautiful one! Situated in a valley, with the presence of ravines, slopes, ridges, streams and River Ramganga, provide the most picturesque landscape setting around the park. Earlier known as Hailey National Park, the park gets its name from Jim Corbett, a hunter turned into a conservationist, whose wild life preservation efforts were widely recognized and implemented.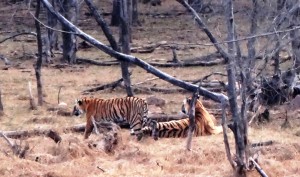 The tiger reserve occupies total area of 1318 sq kms, with 520 sq kms of core zone and 797 sq kms of buffer zone. The ravines and slopes and ridges make great hide outs for animals, but also making it relatively difficult to spot wild life here despite being a park with healthy population of tigers in India. Proximity and easy access from New Delhi makes it one of the most frequented tiger reserves in India.
Wild life in Jim Corbett National Park: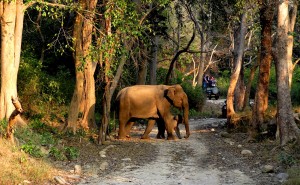 Besides mighty tigers, the Park is home to variety of animals and birds, including wild elephants, Leopards, Jackals, Hyenas, Sloth bears, Spotted deer, Chinkara, Barking deer, Langoors and wild boars. Including migratory birds, which arrive in Corbett from December onwards, there are almost 600 varieties of birds can be found inside the park, making it a paradise for bird watchers.  One can also spot crocodiles, lizards and pythons around Ramganga reservoir.
Jungle Safari
For safari purpose, Jim Corbett National Park is divided into 6 areas of Bijrani, Dhikala, Jirna, Durga Devi, Dhela and Sonanadi. Situated deep inside, in the heart of the tiger reserve, Dhikala has the highest population of wild life, and provides the best location to spot wild beasts.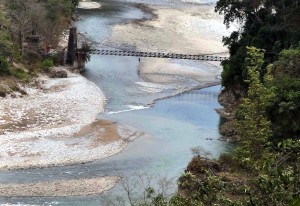 Spotting of animals & birds can be explored using open air jeeps, cantors or on elephants. Safaris can be taken in the early morning as well as in the late afternoon leading into dusk. These are the best time zones when animal activities and movements are at peak. Lush green foliage, rocky terrain, wet grasslands and valley with crystal clear water of Ramganga flowing below make Jim Corbett one of the most beautiful tiger reserves in India! For details of safari timings click here.
Besides spotting wild life during jungle safaris, one can also visit Corbett water fall, with its thick forest surroundings or visit Garjiya Devi temple situated on the banks of River Kosi. Trekking is possible in some parts of the park, and one must check with the hotel guide for details.
Jim Corbett National Park: Best time to Visit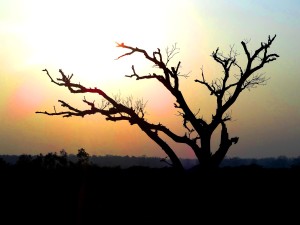 Most of the park is open to visitors from 15th November to 15th June, where as Jirna and Dhela zones remain open though out the year. The best time to visit Jim Corbett National Park is during late November and Late march when the weather is not too cold or hot, and the number of tourists are less as there are no long holidays around that period, like any other National Parks in India.
During early winter months from November till January, migratory birds visit the park, making it a great time for bird watching; whereas during hot months of April to May, the vegetation dries up in some parts of the park, making it easier to spot wild animals.
Tips:
To enjoy the wild life in its natural surroundings in Jim Corbett National Park, book an overnight stay at one of the forest rest houses situated inside Bijrani, Dhikala and Jirna zones. Dhikala has the highest population of wild life, and provides the best location to spot wild beasts.  It is advisable to book it few months in advance as it is the most preferred choice for wild life enthusiasts.
One can also stay in resorts, hotels closer to the core area of park, away from Ramnagar, to enjoy the wilderness. Avoid visiting the park during weekends in late March till late May, as it gets crowded with school vacation around North of India.
Jeep safaris should be booked well in advance to avoid disappointment at the later stage. Chances are that one may not get any safari under current booking during heavy tourist seasons. Cantor safaris are available under current bookings but the experience could be back breaking for some.
Elephant safari should be considered inside Dhikala zone, as the forest and grasslands surrounding the area are rich with wild animals and birds.
Do make friends with one of the guides or resort owners and spend an evening of ecstasy around bon fire, listening to their stories of spotting a tiger on a ridge, or a wild elephant chasing a tiger, or a tiger stealthily visiting one of the forest rest houses!
To know more about Wild Life Viewing tips, please click here.
How to reach Jim Corbett National Park
Ramnagar is the nearest town and it is 15 kms from the park. Ramnagar railway station is well connected with other major cities in North India. Direct train runs from Delhi to Ramnagar, primarily to provide access to the National Park. With a distance of 260 kms, it is also easy to reach Ramnagar by road from Delhi.
Summary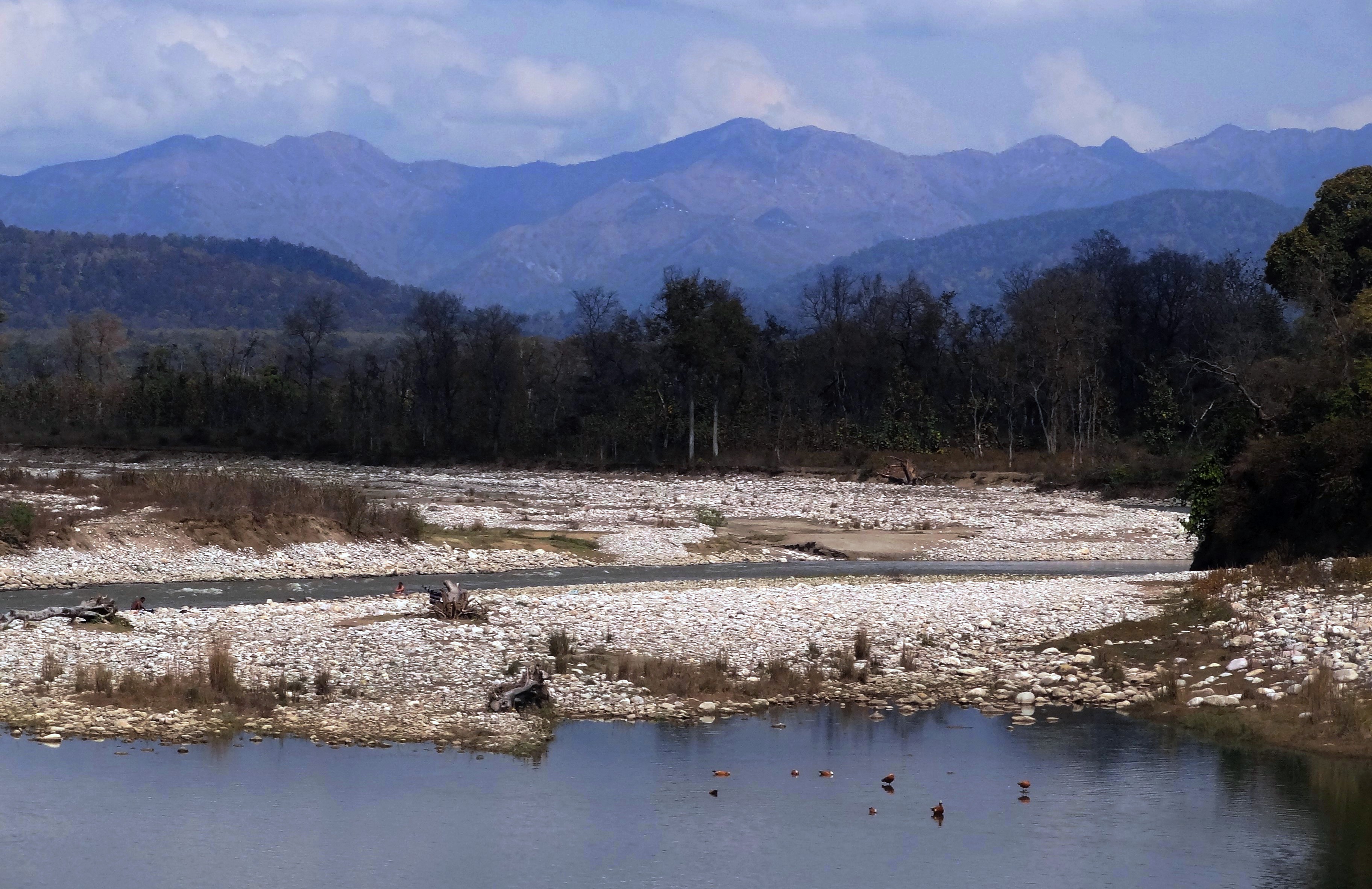 Article Name
Hunter turns into Conservationist: Story of Jim Corbett National Park
Description
Jim Corbett National Park is the most famous National Parks in India.Nestled in foothills of Himalaya,with River Ramganga providing the picturesque setting!
Author