Kashgar on the Silk Route
I arrived in Kashgar by road from Andijan via Osh, reading stories of the silk route. The picturesque journey through Pamirs made me forget immigration struggles at the border. The town of Kashgar has been an important trade post for over 2000 years. Strategically located on the ancient silk route, it was central to trade between China, the Middle East, and Europe. Along with the trade, it was an epicenter of cultural exchange. The fusion of various cultures is evident in Kashgar's population which is a mix of Uyghurs, Chinese, Turks, Mongols, Kyrgyz, Tajiks and Uzbeks, boasting a colorful ethnic blend.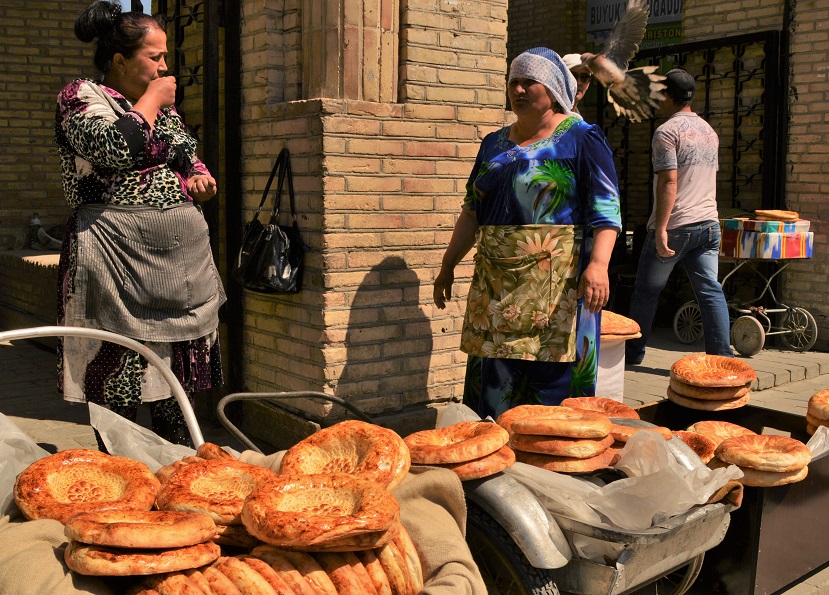 Kashgar- Capital of Uyghur Muslims in China
Situated at Westernmost edge of China, Kashgar is much closer to Kyrgyzstan, Tajikistan and Pakistan than Beijing and everything Chinese. The region has few resemblances with the Eastern part of the country. The capital of the Xinjiang Uyghur Autonomous Region, Kashgar is home to Uyghur muslim community in China, whose lifestyle is predominantly Central Asian than Chinese.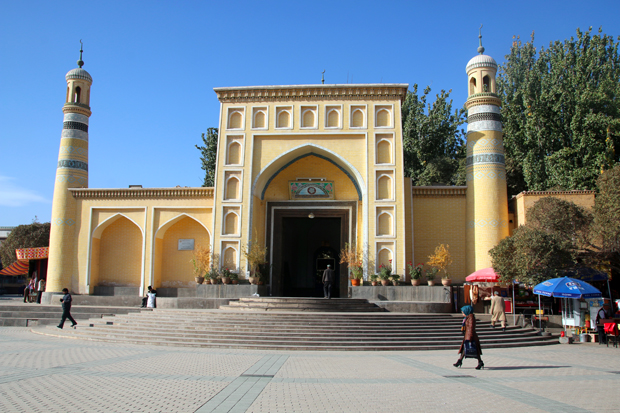 After checking into a hotel, i headed straight towards the center square of Kashgar. A taxi brought me in front of a vast complex of Id Kah Mosque. It is the largest mosque in China occupying almost 4 acres of area. The striking Yellow grand facade of the 15th century edifice reflects Central Asian architectural influence. The inner courtyard was serene and cool in comparison with the heat outside. From the mosque i crossed Jie Fang Bei Road to explore the night market. The buzz and aromas lingered on in adjacent streets. The market is famous for serving Uyghur street cuisine. After strolling around a bit i settled for a sumptuous meal of Hoshan (fried lamb dumplings) and Lamb Kebabs (Shashlik) with Non.
Ancient Trading Practice in Kashgar
Next day was Sunday and i was excited to visit the livestock market in Kashgar. I took a taxi early in the morning and requested the driver to drop me at the 'Cow Sheep Bazaar' (as written in Chinese). The camels, sheeps, cows, donkeys and horses were huddled together in the bazaar for selling. Prospective client would thoroughly check the animal before making gestures to initiate negotiations. It was fascinating to watch the locals haggle with Uyghur farmers and Kyrgyz and Kazakh traders. It dawned upon me then that i was witnessing a very ancient practice of trading. Though smelly, dusty and crowded; the bazaar delivered a unique experience.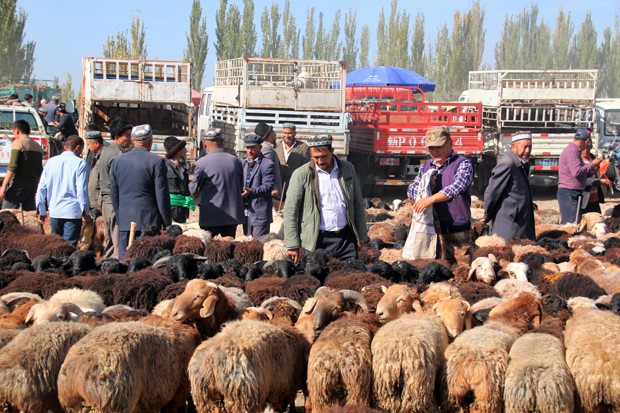 Grand Sunday Bazaar
The rest of the afternoon was dedicated to wandering around the maze of the Grand Sunday Bazaar. It is supposed to be one of the largest bazaars in Asia. During busy silk route days, the silk and spice traders had carried out deals on precious cargo on this very soil. Silk route doesn't exist any longer but the trading continues. As i crossed jam-packed entrance, it led a sensory assault on all five senses. Colorful spices and fragrant tea stalls lined up the narrow endless alleys. The market was packed with silks, spices, tea, carpet, knives, fabrics, clothes and doppa (traditional Uyghur hats) sellers. It was possible to buy anything and everything here! While most of the tourists were hovering over the traders selling Yengisar Knives, I ended up buying spices, tea and trinkets as souvenirs for family back home. I helped myself to another round of Uyghur delicacies at the bazaar before returning to the hotel.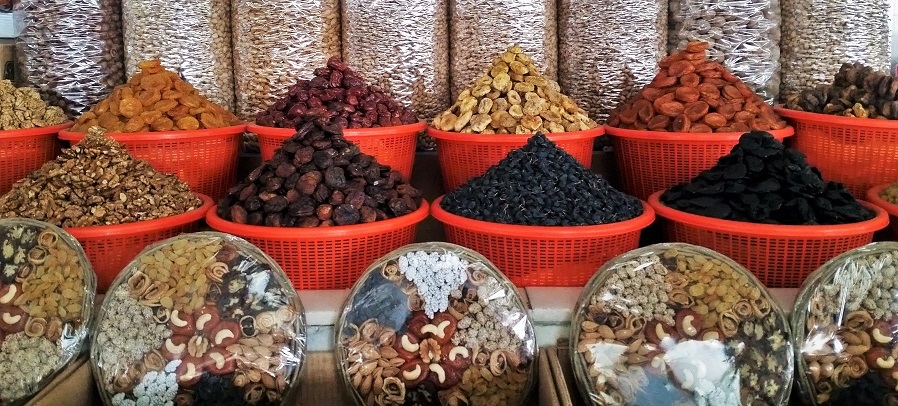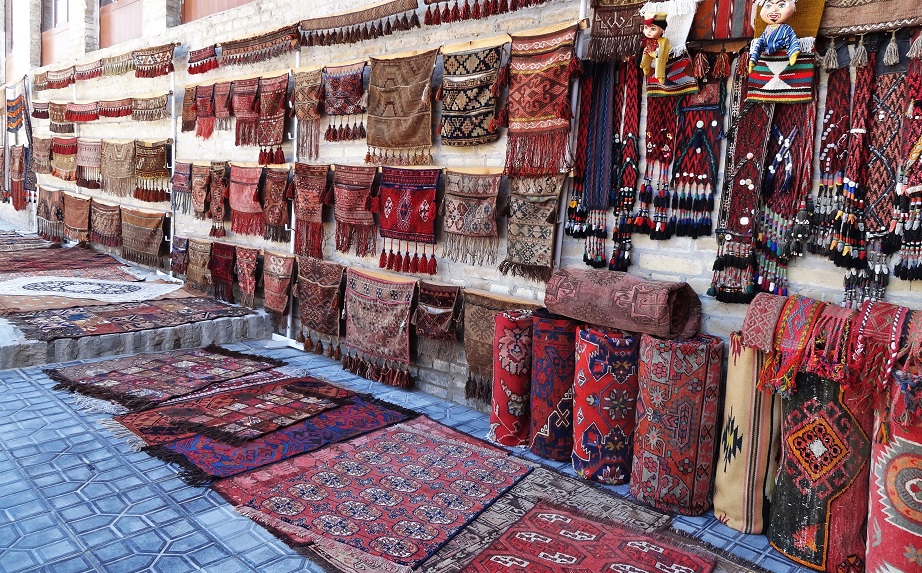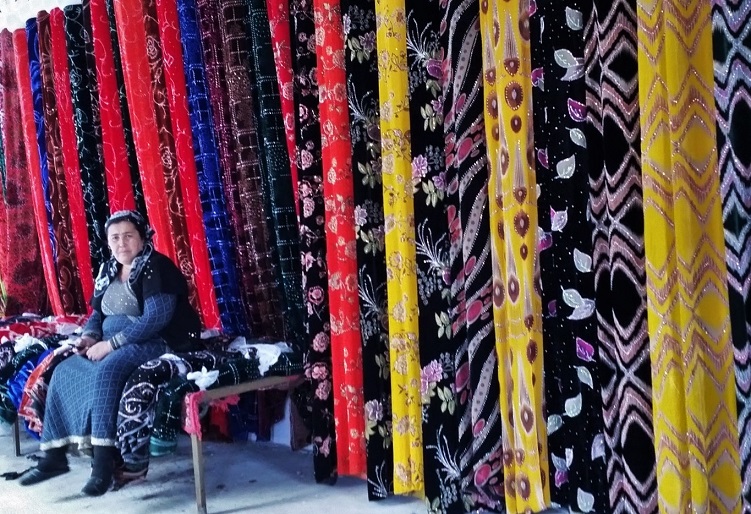 Old Town and Mosques
Next day i had an opportunity to explore the Old town of Kashgar. The view of old dilapidated mud houses reminded me of Khiva in Uzbekistan, though the 'Gaotai residence' are far fewer than well preserved Itchan Kala. The old town seemed to have frozen in time since 11th century. Tourists are not allowed around the area as the crumbling houses pose serious threat; i managed to sneak in with a fellow German traveler. Spending time in narrow dusty lanes was like getting lost in history. I ended up chatting with a craftsman over a pot of tea, who was working on his brass kiln, it was like being transported in times.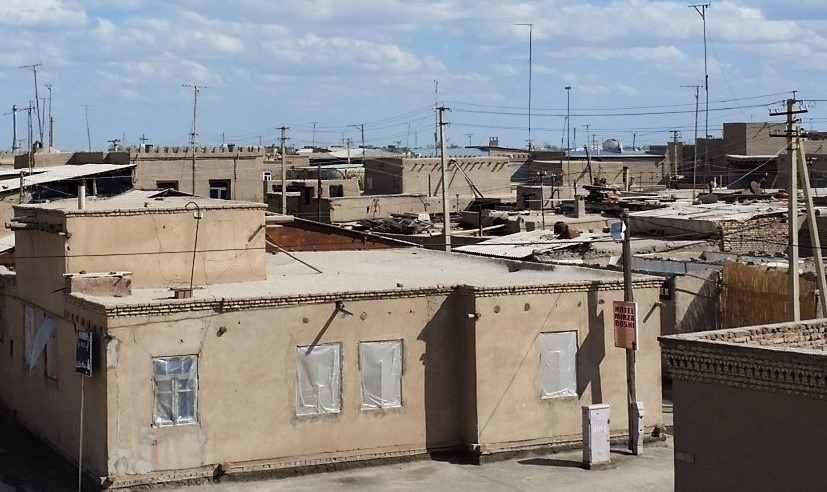 Evening was spent in the outskirts of Kashgar admiring the golden glow over Abakh Hoja Mausoleum. Considered the holiest site for Muslims in Xīnjiāng, the mausoleum has been a pilgrimage place for Muslims across the region. Beside the tomb of Abakh Khoja, It is well known as a resting place of the 'Fragrant Concubine' (the only Uyghur concubine of a Chinese emperor). The beautiful mausoleum is the finest example of Islamic architecture, prominent in Central Asian monuments.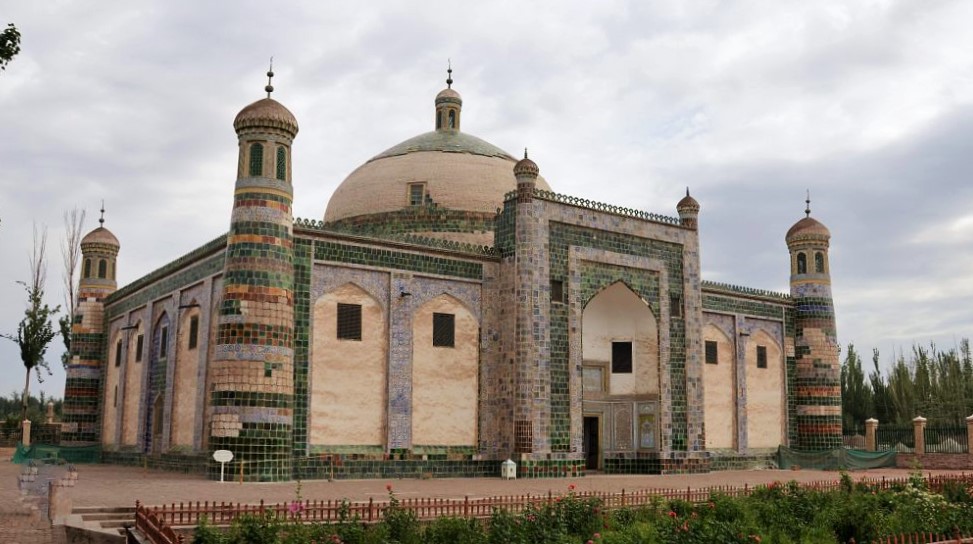 Traveling around Kashgar
I ventured around the town to soak in the beauty of the surrounding mountainous region. An excursion to newly-discovered Shipton Arch was thrilling. Half a day trip from Kashgar, including a steep hike, was worth every effort to see this remarkable natural 'Mountain Hole'. The story about its discovery is equally fascinating as the arch itself. It was first discovered by Eric Shipton in 1947, but remained unknown. Half a century later it needed a real expedition, to be rediscovered finally in year 2000. The Shipton's Arch is 500 meters high and 300 meters wide, making it the tallest natural arch in the world. It could fit the entire Empire State Building in its hole.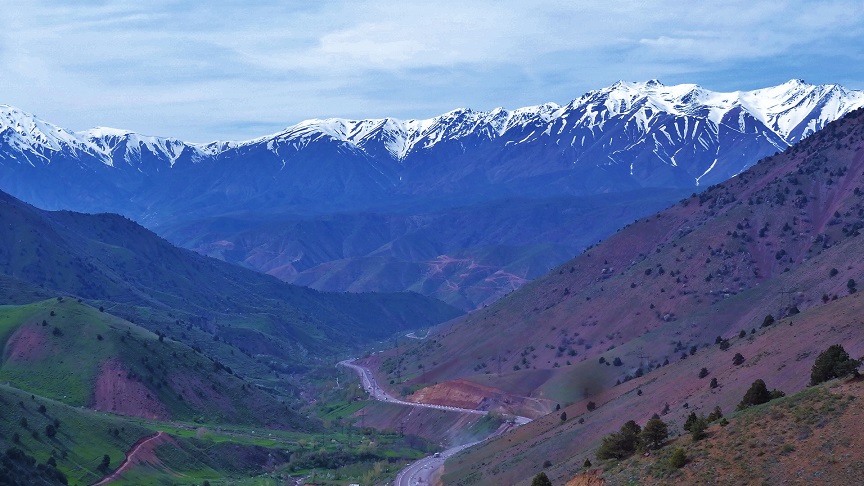 Karakoram Highway
Coming all the way to Kashgar, it was impossible to ignore a trip to Karakoram Highway. A tributary of ancient silk route ran through the treacherous mountain pass 2000 years ago, from where caravans laden with spice from India must have passed through. Today it is the highest paved international road in the world connecting China with Pakistan. This 1200km of engineering marvel offers spectacular vistas of snowy peaks of Karakorum and pristine lakes tucked in its cradle. The sublime beauty of Karakul Lake left me speechless. On the return journey I reminisced over the history of the silk route trade and how it brought diverse cultures together.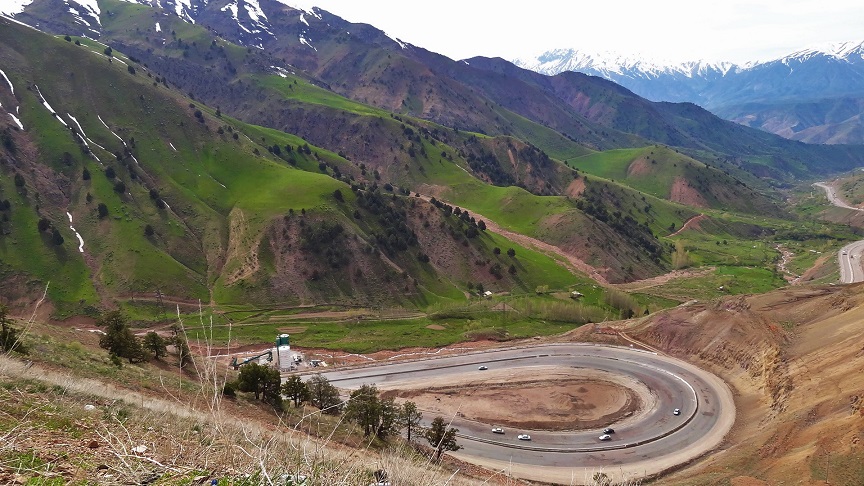 Despite of large Mao statue in the city square, a stark reminder of Chinese authority, Kashgar continues to retain its identity as an autonomous region for Uyghur. The modernity is sweeping across and Kashgar has been nominated a Special Economic Zone in Western China. The glorious silk route days are gone but the tradition of trading continues in the heart of Kashgar!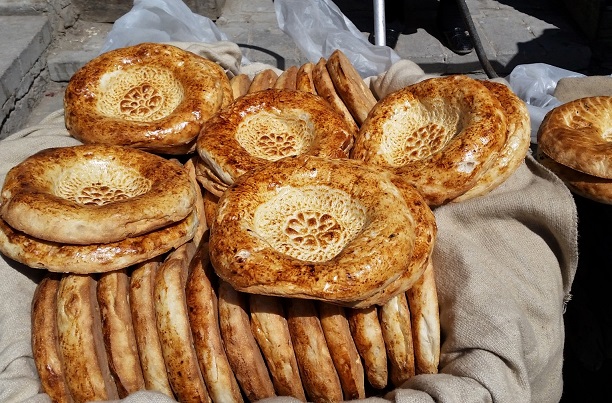 Interesting Facts about Kashgar
Kashgar was a meeting point of two branches of ancient silk routes from Central and Eastern China, which was divided by Taklamakan desert into the North and South routes.

Predominantly occupied by Muslim Uyghurs, Hans Chinese is a minority in Kashgar.

Kashgar feels more of a Central Asian town with few resemblances with East China.

Away from chopsticks, red lanterns and Mandarin; Non, Somsa, lamb Shashlik and Uyghur rule here.
Read more about Ancient Silk Route stories from Uzbekistan!
Summary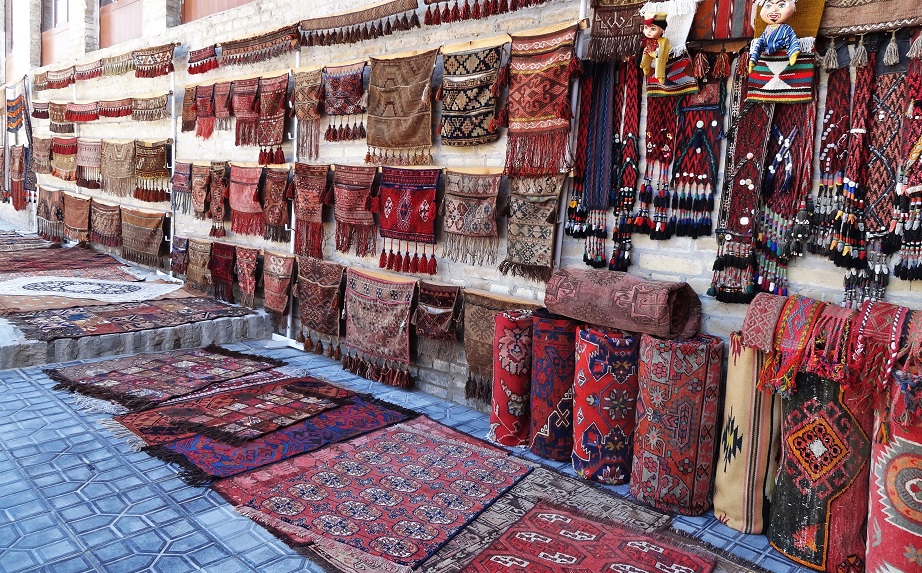 Article Name
Discovering Kashgar on Ancient Silk Route
Description
Kashgar was a meeting point of two branches of ancient silk routes from Central and Eastern China, which was divided by Taklamakan desert into the North and South routes.
Author