Ancient India was way more open-minded than one could imagine now. The Khajuraho Temple Complex, situated in Madhya Pradesh, is the finest example of freedom of creativity and culture in historical India. Built by Chandela Dynasty from 900 AD till 1050 AD, these temples are an epitome of ancient erotic temple art.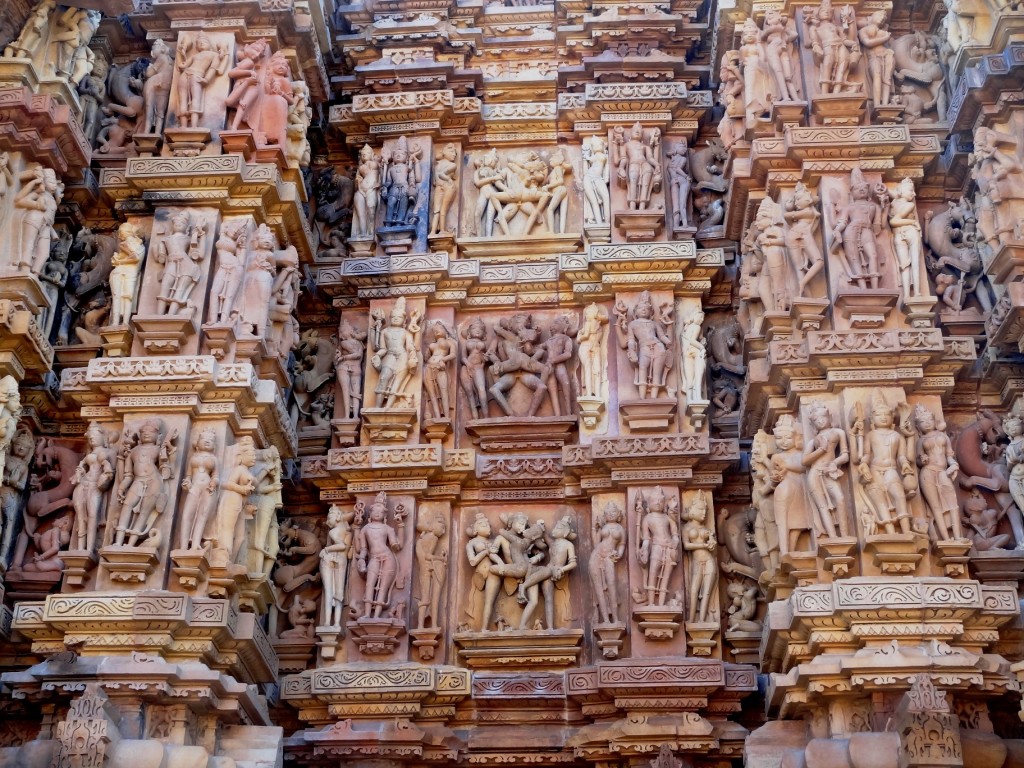 After the ruling of the Chandela dynasty ended, most of the dwellers were forced to vacate Khajuraho, leaving the complex deserted.  Till the late eighteenth century, the complex remained hidden among the trees till a British Engineer spotted it, on behest of a local to explore the forest. Isolation in fact helped these temples to survive! Of course only 10% of the carvings are erotic and explicit, they definitely gave Khajuraho a worldwide recognition.
Khajuraho Temple History
Before 13th century, sexuality was entwined with spiritual and tantric practices in India. It was widely propagated and depicted by the custodians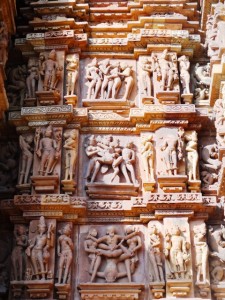 of the culture! Kamasutra- The treaty on sexual union was written before 2nd century.
The depiction of love making in the form of erotic carving on Konark Sun Temple, in caves of Ajanta Ellora and in Khajuraho temple history is a proof of liberal cultural values of ancient times.
Khajuraho Temple Sculptures
The erotic carvings are casually interspersed between others which portray daily activities and scenes from wars. Khajuraho Temple sculptures include Intricate carvings featuring gods and goddesses, men and women, musicians, warriors, horsemen, animals and birds. Some of the carvings reveal apsaras (voluptuous maidens) with seductive depictions of everyday activities such as brushing the hair and dancing.  This confluence signifies that Hinduism had traditionally considered sex an essential part of life. The depiction of sexual activities (also called maithunas) represented new beginnings and new life, an act of regeneration and progression! It is also believed that the temples of worship were considered places of education, and these graphics were rendered to educate while carrying out religious practices.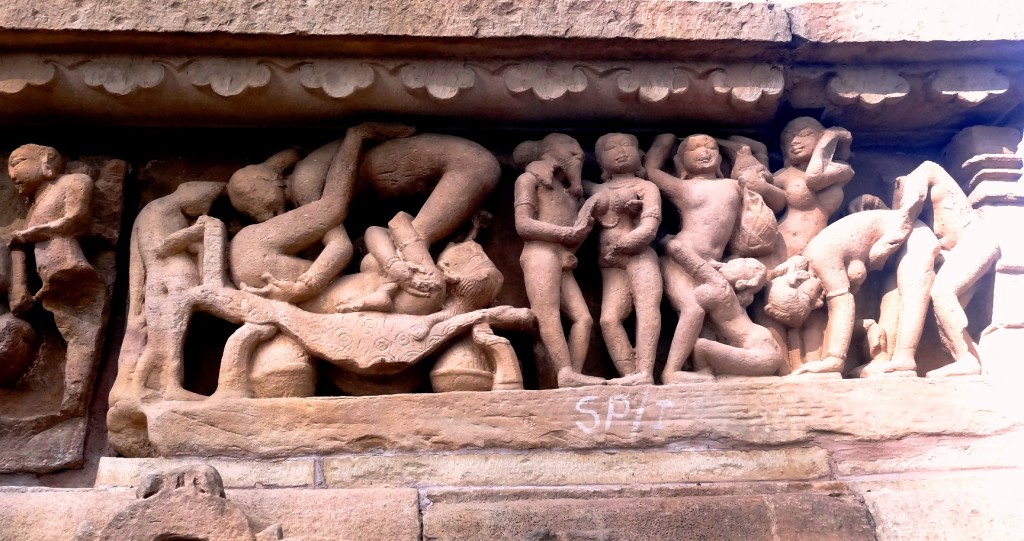 Besides the usual erotica, there are explicit scenes from Kamasutra depicting sexual orgies and a man having an intercourse with a horse! Barring some chipping of the stones and missing limbs, most of the sculptures are pristinely intact, considering that they are more than 1000 years old!
Attractions in Khajuraho Temple Complex:
Originally the area is believed to have 85 temples, out of which only 22 have survived.  The temples are dedicated to Hinduism and Jainism; however most of the temples are dedicated to Lord Siva.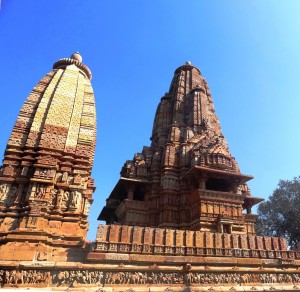 There are total three divisions, namely, Eastern, Southern and Western temple complexes.  Western complex is the most popular, which contains Kandariya Mahadeva temple, the largest of the lot is the main temple of Khajuraho. This lofty temple is dedicated to Lord Shiva and is adorned with almost 645 intricate carvings, which contain vivid portrayal of erotic sculptures on its outer walls. Right next to this is another interesting temple called Lakshmana Temple. It is famous for its four armed and three headed sculpture of Lord Vishnu. In all the temples, the erotic sculptures have been restricted to the walls outside the temple.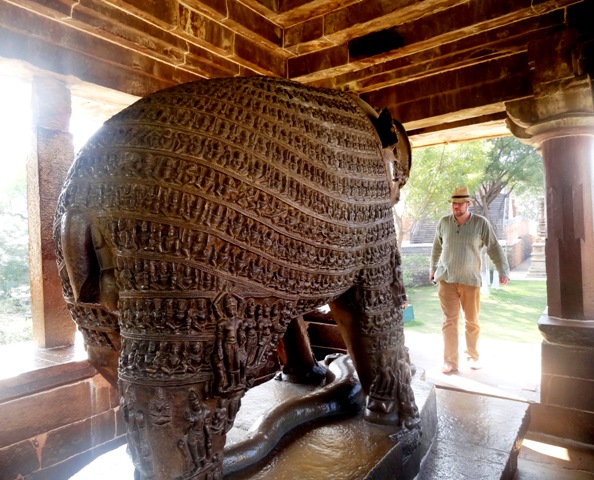 Tips:
If Taj Mahal is an epitome of Mughal architecture, Khajuraho Temple is of Hindu temple architecture and certainly deserves a visit.
Khajuraho is easily accessible for from Delhi by flight, train or by road. There are direct flights from Delhi and one day is enough to go around The Khajuraho Temple Complex..
The entire Khajuraho Temple location is quite serene. The temples in Khajuraho are built with fine grained sand stone in buff pink and pale yellow, giving it a magical glow under the setting sun!
Orchha – Another hidden gem featuring confluence of Mughal and Hindu architecture is very close to Khajuraho and can be combined during an overnight visit to Orchha.
Summary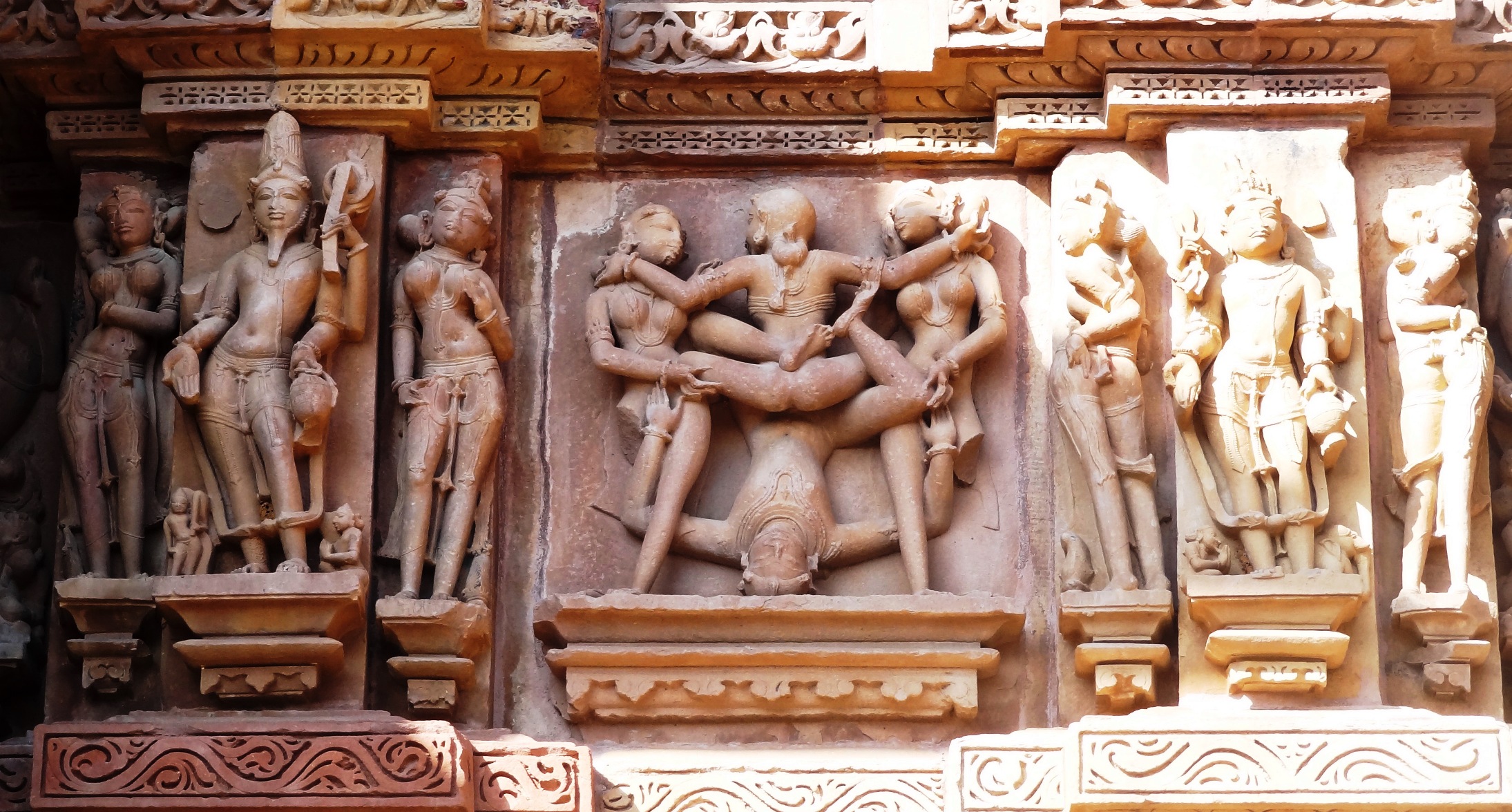 Article Name
Khajuraho Temple Complex: Epitome of Erotic Temple Art!
Description
Khajuraho Temple is the finest example of erotic temple art built by Chandela Dynasty 1000 years ago. An epitome of creativity & culture in ancient India!
Author