Shekhawati is a historical region in Rajasthan, with one of the major attractions is the city of Mandawa. This "open art gallery" is endowed with beautiful mansions decorated with intricate wall paintings. , known as 'Havelis' . Mandawa Haveli in Jhunjhunu and Shekhawati are one of the main tourist attractions of the region.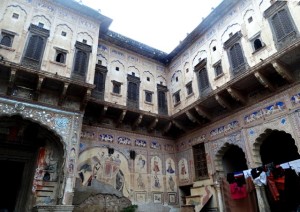 Founded in the 18th century, the city of Mandawa was located on the route of camel caravans that carried silk, spices and other goods. It became a high traffic commercial epicenter for traders and merchants who carried out trade with China and the Middle Eastern countries. Its success and strategic importance inspired the wealthiest merchants to build beautiful houses (Havelis) and palaces.
Mandawa Haveli in Shekhawati: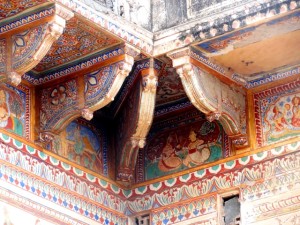 These Havelis are prominently decorated with depictions of mythological stories and figures, everyday life in Rajasthan and Indian folklore. They also showcase an intriguing architecture style inherited from The Rajputs.
After the British occupation of India, like other Indian cities, Mandawa also experienced an exotic multicultural flare. As a result, some of the Havelis have paintings that blend Eastern and Western cultures. Merchants were inspired to depict the western lifestyle, and you can spot gramophones or cars painted on the walls.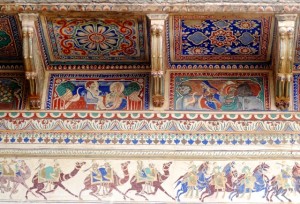 To paint the Havelis, artist would traditionally apply layers of colors on wet lime plaster. The dye and plaster were then allowed to dry before creating patterns on them. Initially, earth colors were used for frescos. These were made of pulverized minerals and stone – lime (white), ramraj (yellow), hirmiz (red), brown, terraverte (green) or indigo. Later, vegetable dyes and imported synthetic colors were used to make the frescos more vibrant.
Well known Mandawa haveli:
Gulab Rai Ladia Haveli – Another haveli with very well-preserved exterior and interior paintings. It has erotic scenes, now covered in blue ash, but these were once uncensored.
Chokhani Haveli – One of the most well-preserved havelis in Shekhawati. Interior balconies, arches, windows and walls are covered with vivid paintings.
Saraf Haveli – Once occupied by the Saraf family, is considered one of the most beautiful havelis in the region.
Haruman Prasad Goenka Haveli – This haveli is covered mythological themes in its decoration. The paintings depict Hindu deities of Indra on an elephant and Lord Shiva.
Goenka Double Haveli – This haveli has paintings blending Eastern and Western cultures. It is endowed with an impressive facade decorated with Victorian themes, as well as Rajasthani women in traditional costumes.
Murmuria Haveli: Another haveli with paintings blending different cultures. The paintings were executed by one of the last haveli artists, Ban Hanu, during the 30s. It has depictions of the Rialto Bridge and Piazza San Marco Venice.
Jhunjhunwala's Haveli: One of the rare havelis were a fee is actually charged to the visitor. Its golden-theme room has strikingly vivid frescoes.
The wealthy merchants moved to other areas over a period of time, primarily to Mumbai & Kolkata; leaving the structures in the hands of caretakers. They can be visited for free, but a small tip to the caretaker is appreciated.
How to get to Mandawa Haveli: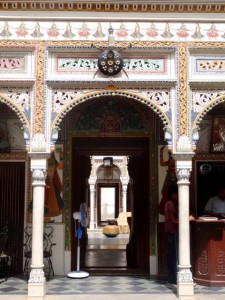 Mandawa Haveli is located in historical Shekhawati region of Rajasthan and it can be accessed by road from the Delhi. It is a scenic drive through remote parts of Haryana and Rajasthan through Jhunjhunu and takes around 5 hours. Mandawa's massive fort, which has been converted into a hotel, is the perfect arrival checkpoint. 37 km from Mandawa, the town of Nawalgarh is famous for some of the most brilliantly decorated havelis and forts, and should not be missed.
Summary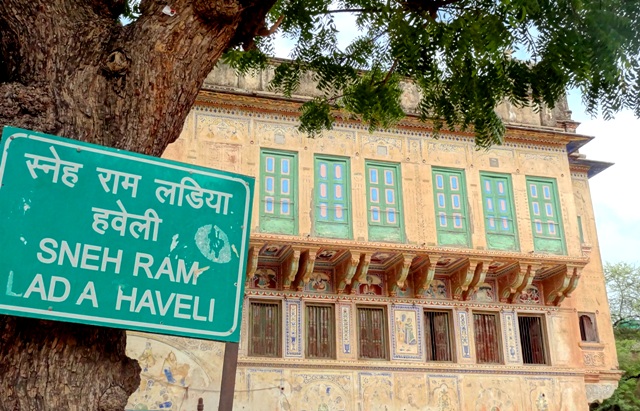 Article Name
Mandawa Haveli- Silk Route Secrets of Shekhawati
Description
Mandawa Haveli lies in Shekhawati in Rajasthan. City is an "open art gallery" with 18th century Havelis decorated with intricate wall paintings & frescoes!
Author