When the entire India is reeling under August downpour, the beauty of Mandu Madhya Pradesh comes alive! With the start of the Monsoon season, rains convert the surrounding valley in lush green cover, where the reflections of historical monuments relive the tales of bygone era over the water bodies of ponds, tanks and lakes.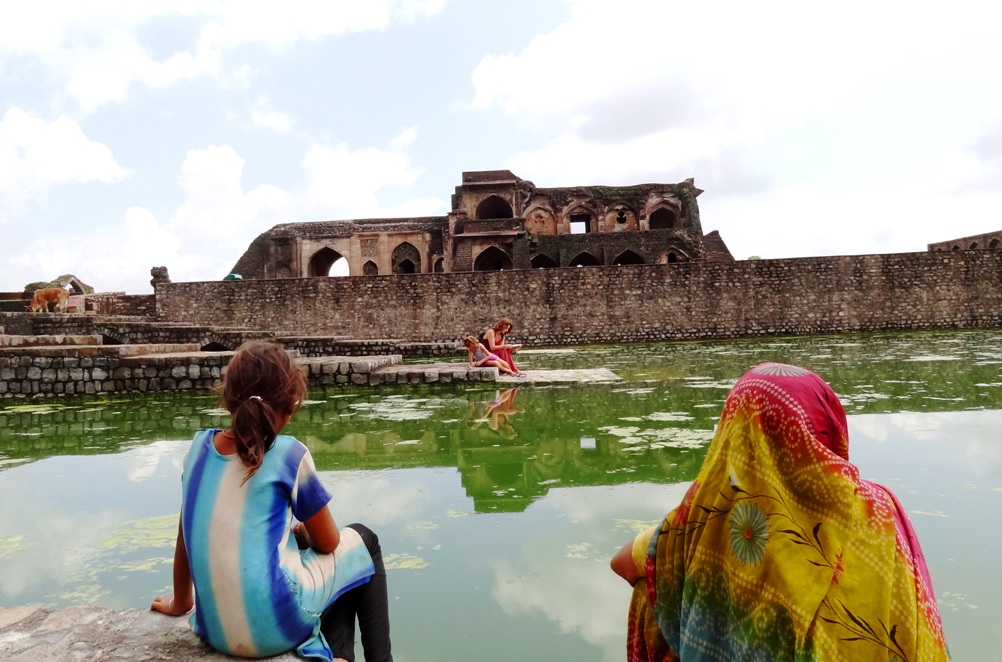 River Narmada with its serpentine course and 14th century water tanks of Malwa are filled with the onset of monsoon. These water tanks, rusty ruins and greens of the valley create a romantic setting for a long weekend gateway!
History of Mandu Madhya Pradesh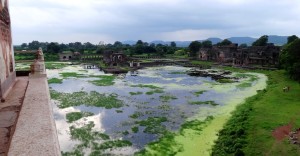 Established as a Hindu kingdom for centuries, Mandu fell in the hands of Mughal in 14th century, thus commencing the golden era of Mughal Empire and architecture. It is easy to get lost in time walking around the ruins, marveling the beauty of royal monuments and exploring the history!
Revel in the monsoon magic! One of the jewels in Madhya Pradesh tourism,  Mandu can be covered easily in 2 days. Here are few must visit places!
Jahaz Mahal:
The highlight of Mandu Madhya Pradesh, the palace gets its name as it is built in the shape of a jahaz/ ship. This magnificent structure appears to be floating on two adjoining water tanks, reflecting the romantic spirit of the ruler. Jahaz palace has water tanks of various shapes and was primarily used for the harem of Sultan Ghiyas-ud-din-Khilji. It is believed that the Sultan had fancy for women and his harem consisted of 15,000 beautiful women.
Hindola Mahal:
Hindola or the swinging palace gets its name from the shape of the building, because of its peculiar slanting side walls. This sturdy building is a visual delight from outside as well as inside. The roof of the palace did not survived for long but the arches and columns inside the main hall reveal the splendor under the playfulness of lights and shadows.
Jami Masjid:
Jami Masjid in Mandu Madhya Pradesh is an architectural marvel and is believed to be inspired by the Omayyed Mosque of Damascus. It was built in 14th century by Hoshang Shah. The omnipresent arches, pillars and domes give an artistic appeal to this huge structure, another visual delight for photographers under the dappled lights effect.
Hoshang Shah's Tomb:
Built in 14th century, it is believed that the design for Taj Mahal was inspired from the tomb of Hoshang Shah. The tomb is fully covered in marbles and the designs and decorations on the walls and pillars are a beautiful blend of Hindu and Muslim architecture. Hoshang Shah's Tomb is an important monument in Mandu history and history if India.
Baz Bahadur's Palace:
Baz Bahadur was the last king of Malwa, before it fell into hands of great Mughal emperor Akbar. The palace is seated on a hill slope, amidst picturesque natural scenery, which comes alive in the tropical monsoon. Large broad steps lead to the main gateway of the palace. All the elements of Mughal architecture can be seen in the palace with large courtyards, gardens, vaulted ceilings, arches and pavilions. From the terrace of Baz Bahadur Palace, one can admire the beauty of the surrounding greens dotted with ruins of mosques, tombs, water tanks and magnificent Roopmati Pavilion on the hill top!
Rewa Kund:
Rewa Kund is situated on a hill top, right next to Baz Bahadur palace. Rewa Kund is a large reservoir built to store water from river Rewa (Narmada); it was built in 16th century to supply water to Baz Bahadur Palace and Roopmati Pavilion. Large rooms are built around the reservoir, which served as pleasure rooms, creating a romantic setting for Baz Bahadur and Roopmati. The water of the tank is considered holy for Hindus.
Roopmati's Pavilion:
Earlier built as an army observatory post, it later became famous as Rani Roopmati Pavilion. Baz Bahadur's love for Roopmati is part of folklores in Mandu Madhya Pradesh, who used to gaze at the pavilion from his palace during sunset time. Situated on the hill top, this large Pavilion has two domes on each corner, which give a distinct look to the building. The fairytale romance ended when Akbar invaded Malwa and Baz Bahadur escaped leaving the queen behind. Sunset is the best time to admire the beauty of the pavilion, with winding Rewa River and lush green plains below.
One can also explore Dilawar Khan's Mosque, Nahar Jharokha, The Hathi Pol, Ujala and Andheri Baoli, Champa Baoli, Taveli Mahal, Ashrafi Mahal, Tomb of Darya Khan, Royal Hamam, Jali Mahal and Baja caves nearby.
Tips:
Long weekend from Delhi or Mumbai is all you need to visit Mandu Madhya Pradesh. The nearest airport is Indore and is well connected by trains and flights.
Book a stay outside the city of Mandu, in a quaint town called Dhar. Hotel Jhira Bagh Palace is a small heritage haveli with well decorated rooms.
Ensure you are traveling during a rainy period in Mandu, or it could get really hot and humid in July and August.
Must visit in Madhya Pradesh:

Khajuraho- Epitome of erotic temple art

!
Check out

Orchha

– another offbeat place in Madhya Pradesh. Click here to read more.
Summary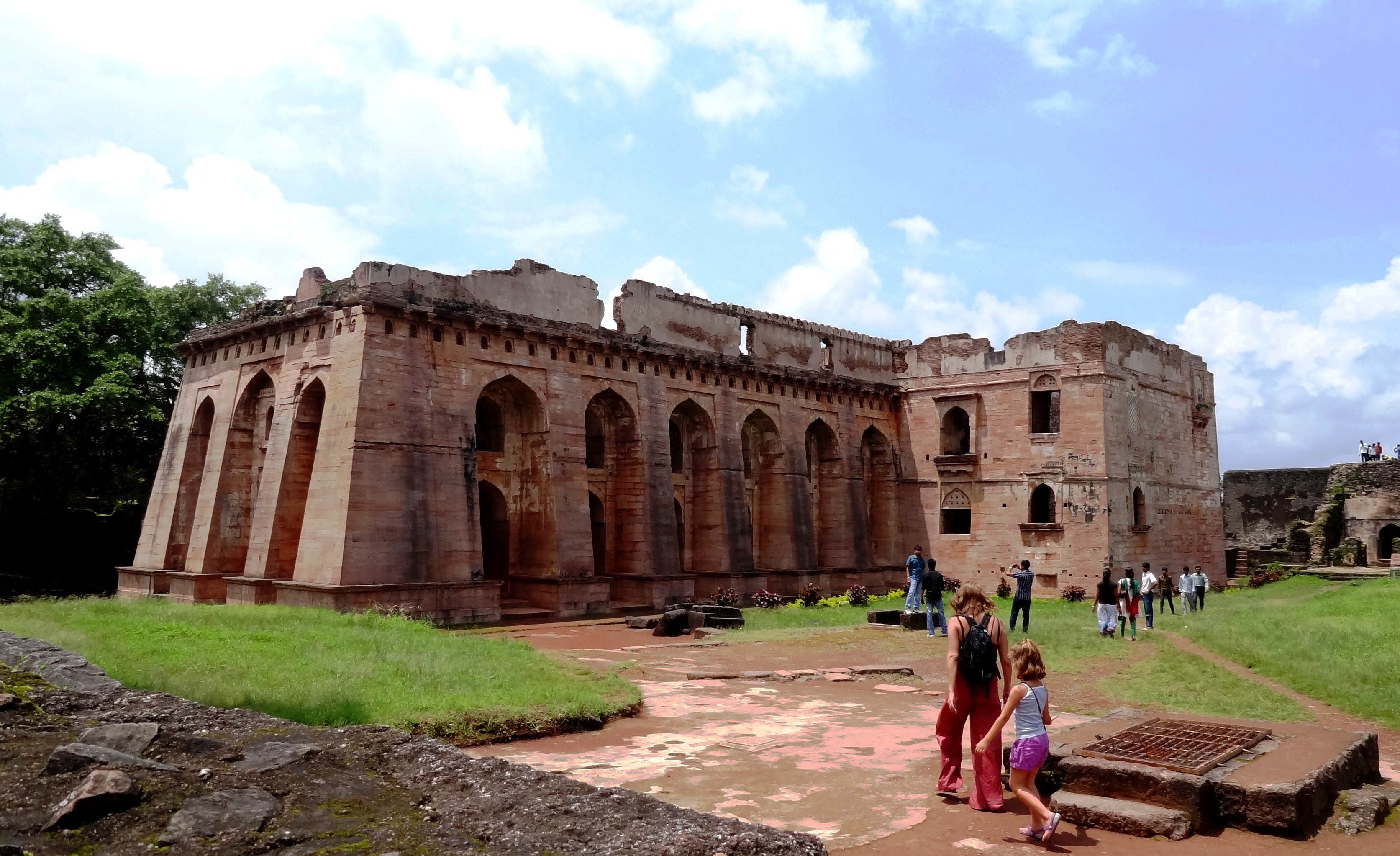 Article Name
Revel monsoon Magic in Mandu Madhya Pradesh!
Description
In Monsoon, valley around Mandu Madhya Pradesh is covered in lush green cover, with reflections of historical monuments reliving the tales of bygone era!
Author