National parks in India
The experience of a tiger sighting starts with listening to bird calls and monkey calls. One can hear hyper activity and chatter of birds and monkeys in a particular area, which is a signal that an animal is lurking somewhere close by. These calls help deer and other animals to be onguard and change their course. Spotting pug mark is another sign of the presence of a wild animal. Guides and drivers are skilled at identifying these pug marks and follow the route which the animal may have taken. Presence of a carcass or any dead deer or monkey point towards when the beast had its meal and if it is going to visit the same area soon.  Loud growling or snarling sounds are a sure shot indication of presence of a Tiger! These are some of the things which make tiger sighting an exhilarating experience!
Here are some of the Important Wild Life Viewing Tips for National Parks in India: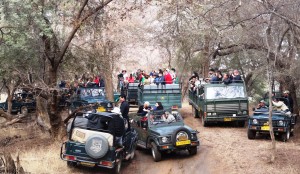 1) It is advisable to take open air jeeps or cantor safaris, instead of taking personal vehicles. Chances of spotting wild animals are far greater by driving slowly in open air vehicles than in a super cool fancy SUV
2) Hiring a guide is must in all the National Parks in India. Guides and jeep drivers are well versed with jungle terrain, trails and are well experienced in spotting animals and birds in the forest. It makes sense to hire their services and trust their instincts.
3) Camouflage outfits or earthy/ neutral colors are best suited while in the jungle. Bright colors can alarm the wild beasts, and they should be left behind for a beach vacation!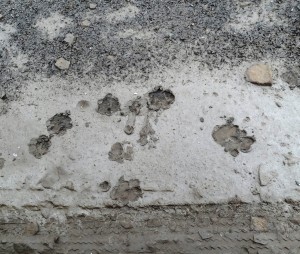 4) Patience is one of the most important requirements, while visiting any National Park. One may have to wait for hours before spotting a wild creature. It is advisable to trust the guide and keep calm as they have the eyes and ears to sense the presence of any wild animal around.
5) It may even take more than one safari to spot wild animals in larger parks. Jungle safari is not only about spotting a tiger or a leopard. There are many other fascinating animals and birds that can make these safaris interesting. Driving through Lush green vegetation and rocky terrain provides a unique experience.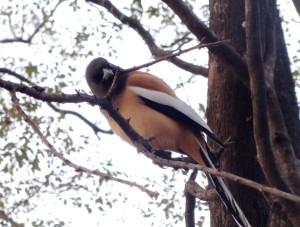 6) Keeping calm is extremely vital in any wildlife sanctuaries in India. It is not your home! Noise or hyperactivity could disturb the movement of animals and scare them away, or in worst case, alarming them could jeopardize the wild life experience for others as well.
7) Getting down from the vehicle is absolutely forbidden in any wild life sanctuary. Respect the rules of the jungle. The guide can direct you when and where it s advisable to get off the vehicle.
8) In case of spotting a tiger or any wild beast, keep safe distance, so not to disturb the animal. Getting off the specified trails is not advisable; it may disturb the flora and fauna of the jungle.
9) Stories from the previous sightings can be discussed later while lounging around the bon fire in the evening. While in jungle, stay alert and focused to maximize chances of spotting various creatures/ birds and enjoy the nature at its best!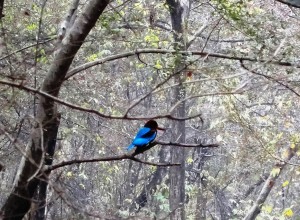 10) Do not forget to carry binoculars, it will help in not only spotting birds but also in spotting presence of any wild animal or fort ruins in the distance.
11) Avoid littering around in the forest. Carry an empty bag to bring the rubbish back to the hotel.
12) Smoking or lighting fire is prohibited inside the jungle; a little mistake can bring the forest down in no time.
13) Respect park entry and exit times. Driving around forest after sunset can be dangerous for self and for the animals.
14) Photography enthusiast must carry all the possible equipments to avoid disappointments. Ensure smooth and soft movements while changing lenses, avoiding any noise or disturbances to not only animals but fellow passengers as well.
15) Morning safaris in open jeeps/ cantors in winter can be very painful with frosty air piercing through the body. The best would be to wrap up in a blanket from the hotel room! It is advisable to carry extra layers, gloves, mufflers even during evening safaris to protect against the chills on the way back.
16) During summer months it could get extremely hot inside the forest. It is worthwhile to carry hats, light scarves, sunglasses and extra bottles of water.
Top 10 National parks in India
Kaziranga National Park
Gir Forest National Park
Sariska Tiger Reserve
Periyar National Park
Sundarbans National Park
Pench National Park
Summary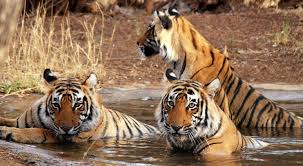 Article Name
Important Wild Life Viewing Tips for National Parks in India
Description
National Parks in India: The experience of tiger sighting starts with listening to bird calls, monkey calls. Imp tips to make it an exhilarating experience!
Author