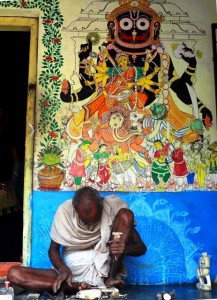 Raghurajpur is a heritage crafts village, a jewel of Orissa Tourism, located 10 kms outside Puri, on the way to Bhuwaneshwar. The village is dedicated to traditional artisans who work with ancient crafts like Patta Chitra (painting on a cloth), which dates back to 5th century BC. Raghurajpur was developed as a Heritage village in 2000, with the purpose of protecting these age old indigenous arts and crafts and provide artisans with livelihood, instead of leaving them into extinction.  With this initiative, rural artisans are protected from socio economic factors which could otherwise force them into mainstream labor.
Artisans and their craft:
The artisan families in the village are noted craftsmen with masters in Patta Chitra Paintings, Palm leaves engravings, Tussar Paintings, stone and wood carvings, peppier Mache, filigree; carrying forward ancestral legacy for generations. The most famous of the ancient crafts is Patta Chitra paintings, where the cloth surface is treated with chalk and gum and then painted with colorful dyes. Intricate paintings of Gods, goddesses, mythological scenes and flowers make the basis for all the decorations.
Heritage Village by Orissa Tourism: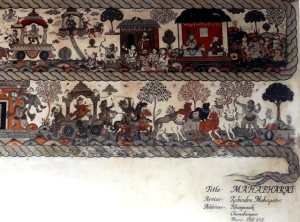 The village has @ 120 thatched roof houses layered with cow dung, with outdoor studios serving as workshops for the artisans. Each of the houses is decorated with traditional odisha wall paintings, murals and clay toys, the village is also known for Gotipua Gurukul Academy, which preserve and nurtures traditional dance Odissi.
Being promoted heavily by Orissa Tourism, It has become a great tourist attraction. Tourists can observe the artisans at work, as well as their techniques like palm leaf engraving and Patta Chitra paintings. Paintings, murals, toys and carvings can be bought directly from the artisans at very reasonable rates. There is also a facility of stay-in, where tourists can choose from variety of rest houses available within the village.
Best time to visit:
The village is surrounded by palm & coconut groves and mango groves and is easily accessible by road from Bhuwaneshwar or Puri. Annual Basant Utsav (spring Festival) held in February is a great time to visit Orissa and Raghurajpur Heritage Village. Orissa Tourism packages include a trip to the village of Raghurajpur in its itinerary.
The Konark Sun Temple near Puri in Orissa is a must visit while visiting Orissa Tourist places. This 13th century temple is dedicated to the Sun God and is built in a shape of a gigantic chariot, with 24 large wheels and 7 horses pulling the chariot.
Summary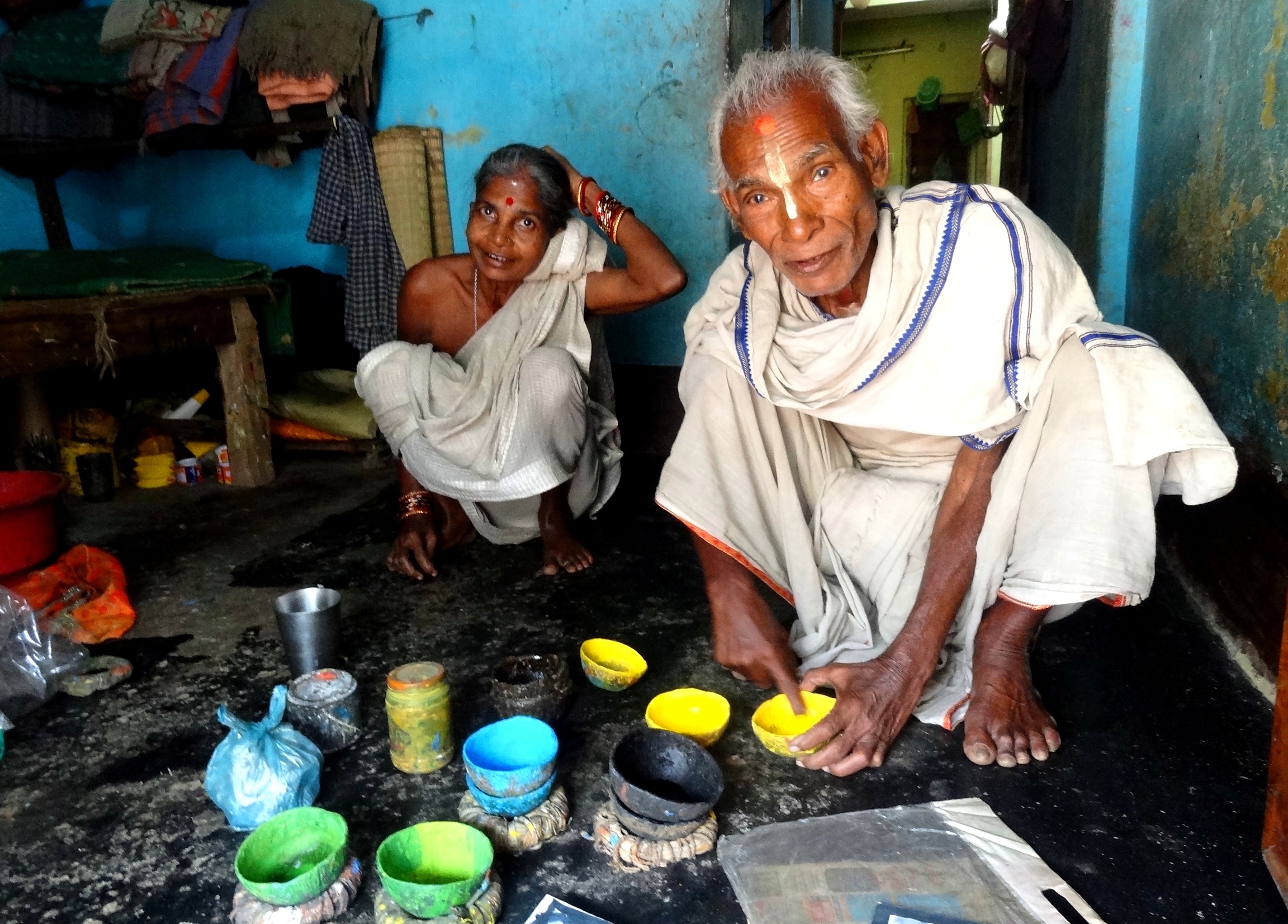 Article Name
Raghurajpur: Heritage Village by Orissa Tourism
Description
Raghurajpur is a heritage crafts village,a jewel of Orissa Tourism,dedicated to traditional artisans who work with ancient arts & crafts like Patta Chitra.
Author