My parents went to Srinagar 40 years back and it was their first trip outside Gujarat.  They talked about the beauty of Kashmir and still carry fond memories of Shikara rides in Dal lake and touching snow in Gulmarg for the first time! After that for almost 2 decades no one could even think of going to Kashmir.  Switzerland of the East became a homeland to terrorism. Today we are grateful that insurgency is over and we can travel to Srinagar and other beautiful parts of the valley freely.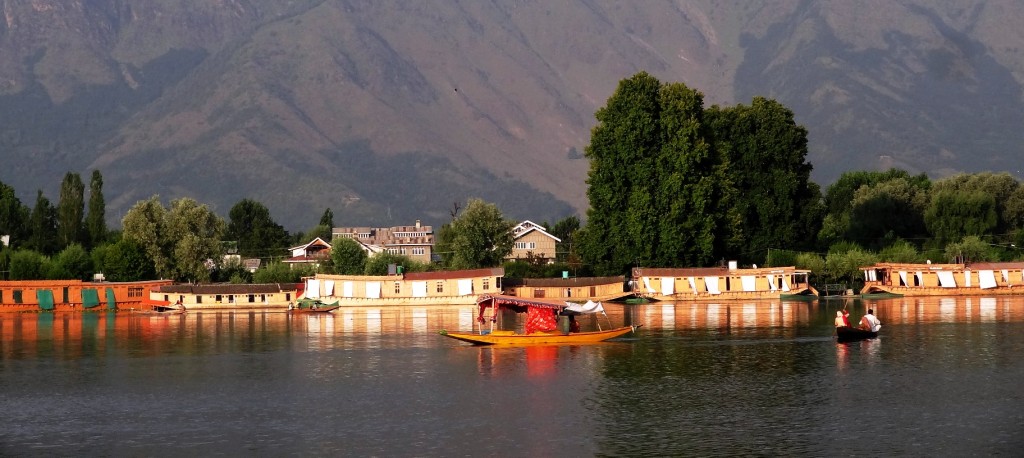 Nestled in Himalayas and surrounded by Zabarwan and Pir Panjal mountain ranges, Srinagar is distinctively different from any other capital cities in India.
Here are some of the Things to do and Places to visit in Srinagar:
1) Stay in a house boat:
Of course there are numerous hotels in Srinagar but staying in a house boat has a Special charm. I would advise to stay in a house boat on serene Nagin Lake away from buzzing touristy areas. The house boats are made from Cedar wood and are well decorated in Kashmiri style, with decks overlooking the lake. Most of these boats are run by families and it's a great way to peep into day to day life of locals.
2) Stroll around Dal Lake Promenade
One of the first Places To Visit in Srinagar is Dal Lake Promenade. It is a must thing to do. This 15kms long promenade encircles the shoreline and majority of tourist attractions are along the way. Walk further up and there will be lesser crowd and touts, making the stroll enjoyable.

3) Shikara rides
Take as many Shikara rides possible in different parts of Dal Lake.  Zabarwan mountain range forms the backdrop for Dal Lake. Shikara ride around the sunset is a great way to marvel vistas of snow peaks illuminating golden glow. Do not get intimidated by flower seller, paper Mache seller, spice seller and even a maggi seller! If you do not show any interest, they will eventually glide away.
4) Shopping In Srinagar
No one leaves Kashmir without buying a Pashmina Shawl! Visit Lal Bazaar and state run shops around Dal Boulevard for some great deals. Peppier Mache products with fine drawings make good souvenirs. Finely weaved carpets come with distinctive Mughal era motifs, and could make another great purchase.
5) Floating vegetable Markets
Villagers in their shikaras gather around sunrise to sell fresh vegetables, fruits and flowers in a corner of Dal Lake. These floating markets are quite unique; and one of the 'Must' places to visit in Srinagar.
6) Garden Hopping
Chasmeshahi Garden, Nishat Bagh and Shalimar Bagh form Mughal gardens, with panorama of Dal Lake in front of them.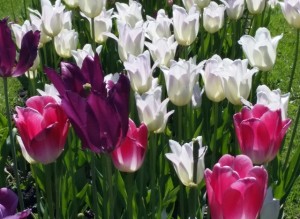 Built during 16th century by Emperor Jehangir , these terraced lawns with cascading fountains are popular picnic places for tourists as well as locals. It is a good spot to relax, on lush green lawns under huge Magnolia trees, after a stroll around Dal Lake. Tulip gardens are open only during April and May.
7) Shankaracharya Mandir
This ancient Hindu temple is perched on a hill top and dates back to 5th century.  The spot provides a great panoramic view of Srinagar and the Valley beyond. Though cameras and cell phones are not allowed, it is best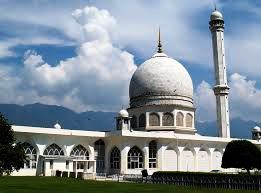 to leave them in the vehicle before starting the climb.
8) Visit Hazratbal Mosque
This 17th century shrine is situated on banks of Dal Lake. It contains a relic, supposed a hair of Prophet Mohammad! Women are not allowed inside the main hall and can peep through numerous windows.
9) Try Kashmiri Cuisine: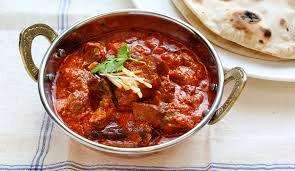 Kashmiris take great pride in their age old mutton preparations. It is said that a Kashimiri can cook mutton in 30 different ways! The cuisine is usually spicy and heavy with mutton and lamb as their main ingredients. Kashimiri Rogan Josh is the most popular dish, prepared with lamb in red curry. Enthusiasts can go for a full course meal of Wazwan, which contains almost 20 different preparations.
10) Visit Gulmarg
Day trip from Srinagar to Gulmarg is highly recommended. It takes around three hours and is one of Places To Visit near Srinagar. During summer It provides some of the breathtaking treks around the bowl shaped valley. During winter the valley becomes  a popular ski destination. The highlight of Gulmarg is Gulmarg Gondola, which operates cable car rides high up into the mountains. With a height of up to 4000 meters, it is the second highest cable car operation in the world!
Tips:
Best time to visit Srinagar in Summer is from April to October. Winter trips for skiing can be planned from December to February.
Long weekend is all you need to explore Srinagar. Morning flight from Delhi to Srinagar is the best option; it gives an entire day to explore the city and check out all the Places To Visit in Srinagar.
If staying for 3 nights, consider staying in Hotel Dar Es Salam for one night. This traditional boutique hotel is located in a quiet corner of Nagin Lake and has a colonial Villa appeal.
Vendors make house calls on house boats to sell the crafts. One can buy almonds, walnuts, cheaper Pashminas and Papier Machie products from the comfort of the deck on the house boat.
Carry a scarf around, to cover your head and shoulders in case you decide to visit any of the mosques or religious sites.
In Gulmarg, I recommend to take only the first phase of gondola ride. From there on, trek into the mountains high above, exploring the bowl shaped Kongdori valley, surrounded with snow capped Himalayas. It takes around 2 hours to walk up to the snow line and back.
Carry a bottle of wine or vodka if you intend to have a drink or two after a long day. Exploring the market for drinks  after dark is not an easy option from a house boat, tucked away in a deep corner of Lake Nagin.
Read more about Things to remember while booking a house boat in Srinagar.
Summary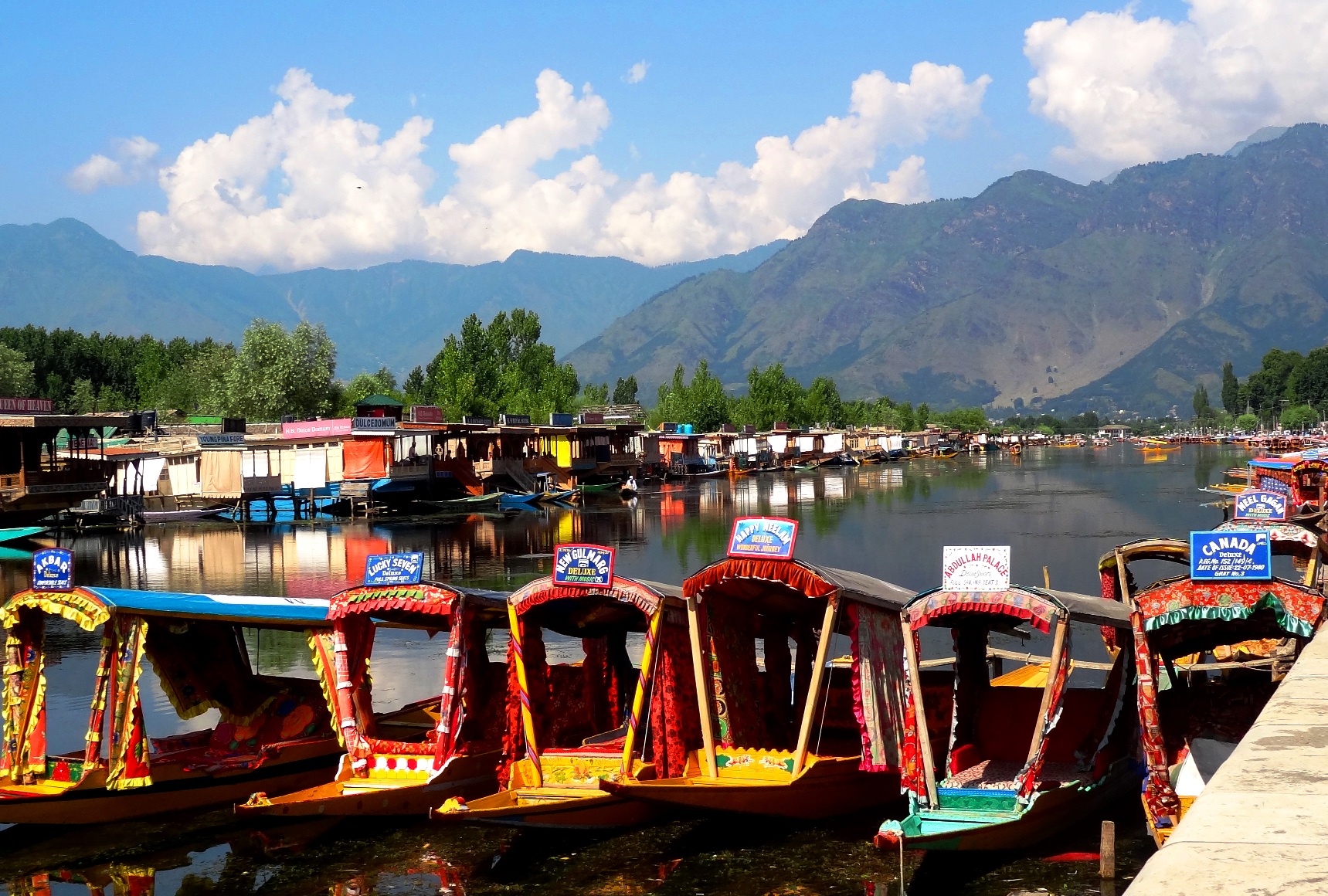 Article Name
10 'Must Things To Do' in Srinagar Kashmir
Description
Nestled in Himalayas, Srinagar is distinctively different from other capitals in India. Here are some of the Things to do and Places to visit in Srinagar!
Author