Located in South Eastern part of Rajasthan, Ranthambore Tiger Reserve is one of the easily accessible National parks from Delhi and Jaipur. It is popular for its easy tiger sightings around the lakes. Situated in the middle of Aravalli and Vindhya hills range, the tiger reserve occupies a total area of @1400 sq kms, including buffer zone and core zones with an area of 392 sq km.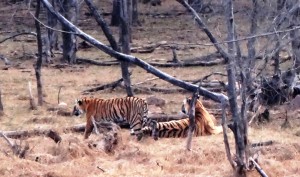 The forest around Sawai Madhopur was a popular hunting ground for Maharaja of Jaipur in earlier days, eventually converted into a Tiger Conservation sanctuary like many other tiger reserves in India. Ranthambore is one of the most beautiful tiger reserves in India with its hilly areas, rocky terrain and presence of 3 large lakes namely Lake Malik, Lake Padam and Raj Bagh Lake. It is also well known for its relatively easy spotting of tigers, leopards and variety of birds inside the core zones.
The wild Experience:
The Tiger Reserve is home to wide variety of animals and birds, including Tigers, Leopards, Jackals, Hyenas, Wild Boar, Spotted deer, Sambar, Black Buck, Langoors and Nilgai. Large lakes inside the park are homes to variety of crocodiles, turtles, snakes, vipers and chameleons. More than 200 species of birds can be found inside the park and they are easy to spot. Large water bodies inside the park attract thousands of migratory birds during winter times, making it a paradise for bird watchers!
Our thrill started even before we checked into a hotel. We drove down from Delhi, in thick early morning fog and were still debating if we should wait till next morning to visit the jungle. The queue outside the Forrest office to book safari was daunting and chaotic. We anyway decided to take a plunge for the same afternoon safari, as the bookings were being made. And i think this was the best decision we had taken. 
Within an hour we were on board a rickety cantor, with an attentive driver, guide Fawad and 20 odd chatty visitors. We were not happy to be on a cantor with so many people but then this was the best we could get. The atmosphere was exciting with tiger sightings in the morning and which zone would be lucky to host these wild beasts now. Our Zone, Zone 4 featured among one of the possibilities. 
The driver was keeping eye on the dirt trail as well as the calls coming from the distant. Suddenly we see other vehicles racing towards a meadow. Our driver did the same. We became part of a larger crowd over looking the meadow. It was far away in the distance and nothing much can be seen. This is when the driver decided to pull back the cantor and leave the crowd, and everyone voiced unhappiness. But then it is their jungle and you have to trust their instinct. With a speed of an F1 driver on a dirt track with a shaky cantor, we were rushed to another spot, far away into the distant, on the opposite side of the meadow, away from the horde of noisy people. 
We started seeing movements in the meadow, where tigers were lurking. They started moving  closer, towards the trail in front of us. Our driver parked the cantor right in the center and we waited in anticipation. The air was filled with euphoria. If tigers indeed cross the trail in front of us, as calculated by the driver and guide, it would be the closest sighting i could ever witness in my life! AND THEY DID!!! Not one but 4 in total. There was a tigress with 3 cubs ( each 1 year old)!. It was a sight to behold. The chatter and euphoria rose up. I was in trance, i only remember seeing 4 tigers roaming around our cantor, taking a stock of the situation and eventually crossing the trail one after the other, with air of importance. Tigers very well knew they were under the spotlight! 
We eventually got to our hotel in the evening, and the front desk manager was wondering why we have such broad smiles on our faces! Our day was made, our trip was made! We chose to savour the sighting, instead of rush back to the jungle early next morning! Besides tigers, we spotted wide range of animals and birds during next 2 days. I have been to many Tiger reserves across India, but this is the trip and thrill i would cherish for a long time to come! 
Jungle Safari:
For safari purpose, Ranthambore Tiger reserve is divided in 10 zones, Zone 1-5 being the most popular for tiger and leopard sightings. Most of the jungle is dry throughout the year except just after monsoon when the area is converted into thick vegetation. Dry grasslands can be found on higher planes. Spotting of animals & birds can be explored using open air jeeps and cantors. Safaris can be taken in early morning as well as in the late afternoon leading into dusk. These are the best time zones when animal activities and movements are at peak.  Dry foliage and rocky terrains make these jungle safaris a thrilling experience!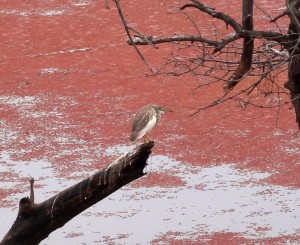 Zone 4 is one of the most picturesque areas with the presence of Lake Malik. The surface of the lake is covered in thick red algae making it a unique sight for photographers.  Exploring the presence of wild life by parking around Lake Malik and listening to birdcalls and monkey calls against the setting of the sun is a breathtaking experience. Lake Padam is the largest lake situated inside Zone 3 and gets its name from the presence of large water lilies (Padma) during the season.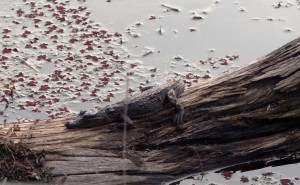 One can also visit the 'Ranthambore' fort during one of the safaris to explore the ruins, temples and cenotaphs. This 10th century fort is a great place for bird watching and from the top of the fort one can gaze into the horizon dotted with ruins, greens and lakes. To know more about Ranthambore Tiger Reserve safari timings click here.
Best time to Visit Ranthambore Tiger Reserve
The park is open to visitors from 1st October to 30th June. The best time to visit Ranthambore is during late November and Late march when the weather is not too cold or hot, and the number of tourists are less as there are no long holidays around that period, like any other National Parks in India.
Tiger sightings are relatively easy in March, April & May because of the drying of the vegetation. Hot weather makes it easier to spot the wild beasts around the lakes and other watering holes. Winter months from December to February are great for bird watching.
Tips:
Ranthambore is easily accessible from Delhi by road and a weekend or a long weekend trip can be planned on a short notice.
The safaris should be booked well in advance to avoid disappointment at a later stage. The number of jeeps allowed in the park has been reduced drastically and chances are that one may not get any safari under current booking during heavy tourist seasons.
Stay at one of the resorts situated closer to the core zone of the park, sometimes animals can be heard and spotted just outside the resort. And if they happen to be inside the resort, it completes a true wild life experience.
Do make friends with one of the guides or resort owners and spend an evening of ecstasy around bon fire, listening to their stories  about popular tigers called T 16 or Machali, T 39 or Mala, T 17 and T 24.
To know more about Wild Life Viewing tips, please click here.
How to reach Ranthambore Tiger Reserve:
Ranthambore Tiger Reserve is well connected from Delhi, Mumbai and Jaipur by Train, road or air transport. The closest airport is Sanganer airport in Jaipur, which is 176 kms away, taxis can be hired from there to reach the National park.
Sawai Madhopur railway station is situated just 14 kms from Ranthambore and is well connected by trains from Delhi or Jaipur. Buses can also be taken from Jaipur, and take around three and half hours by road.
Summary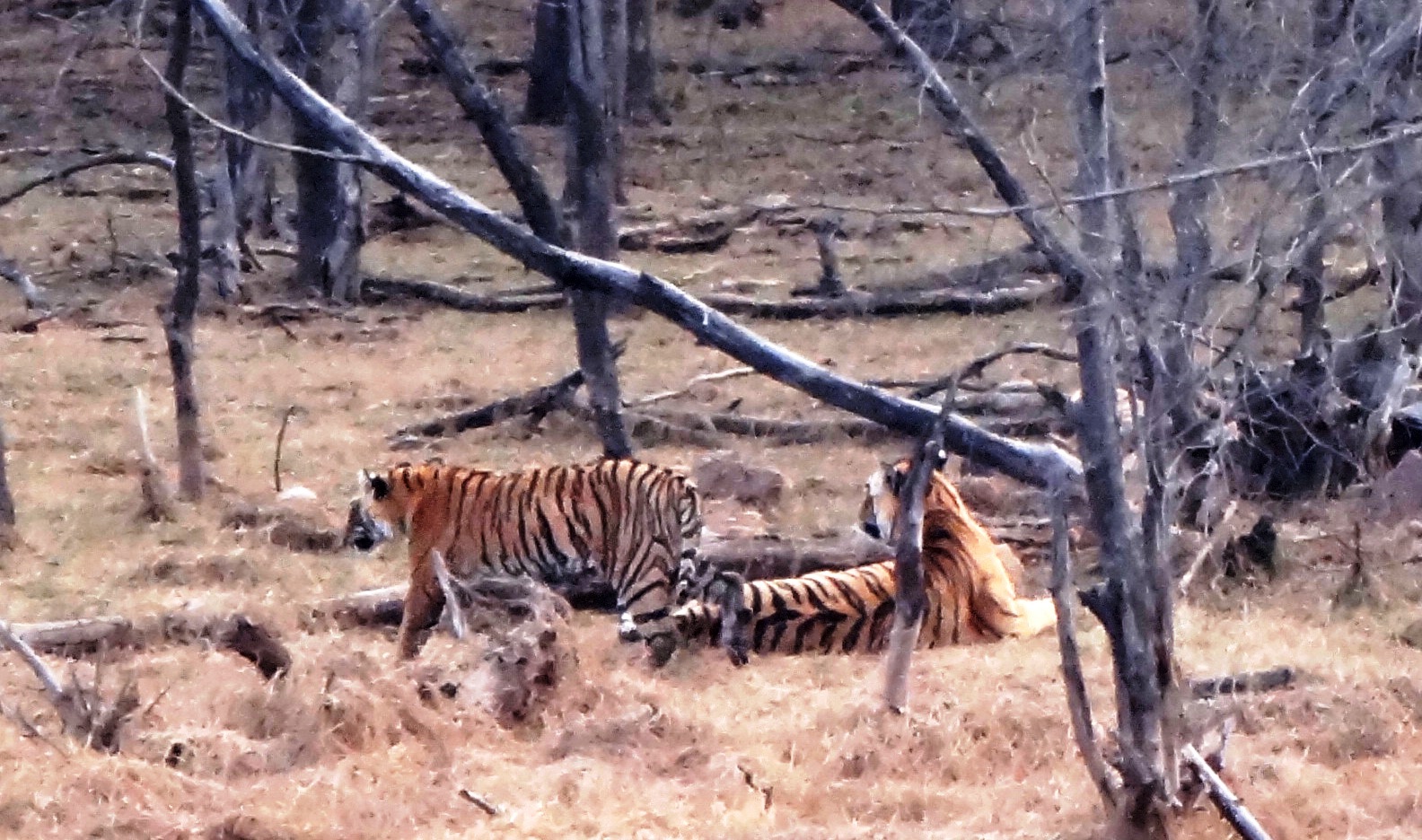 Article Name
Ranthambore Tiger Reserve - Easy Tiger Sightings!
Description
Located in Rajasthan, Ranthambore Tiger Reserve is easily accessible from Delhi & Jaipur. One of the best tiger reserves in India with presence of 3 lakes!
Author