As i wandered around The Registan Ensemble in Samarkand, Coldplay song kept playing in my mind…'..they are all yellow…' and i kept humming '…they are all blue….'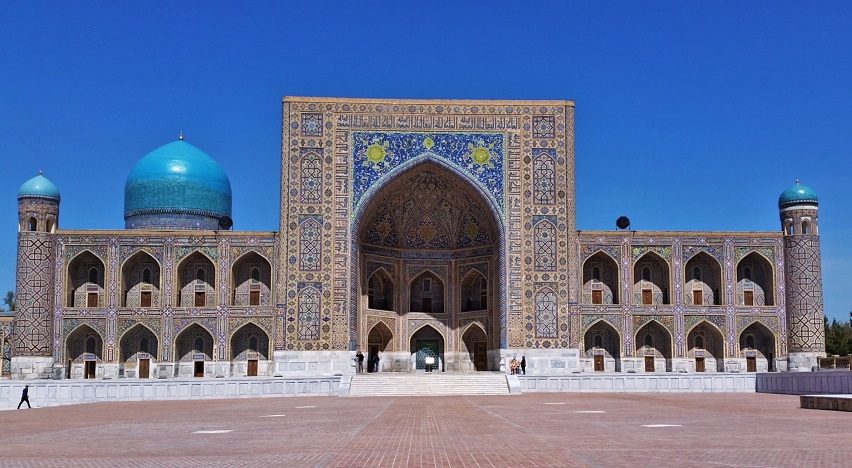 Yes that's what you notice, abundance of Blue and shades of Blue! No photograph prepares you to experience what you see in real. Ever since my return i have been posting pictures and showing them to my friends, and the first reaction is 'Wow so blue'. That is what had hit me as well, the '50 shades of Blue' when i approached The Registan, Bibi Khanym Mosque, Gur E Amir and Shahi Zinda. That's what fascinates travelers from all over the world, blues and blues and more blues, only in Samarkand!
Why are they blue, what makes them blue!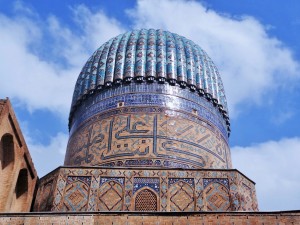 The secret behind the blue is extensive use of glazed tiles also known as Majolica. Ancient pottery technique which creates Majolica, in which when the earthenware were glazed with bright metallic oxides, produced rich vibrant colors. Every glazed tile had a different shade of blue, depending on the concentration of indigo dye and the time it took for processing, baking and drying. This created varying degree of richness for the same color.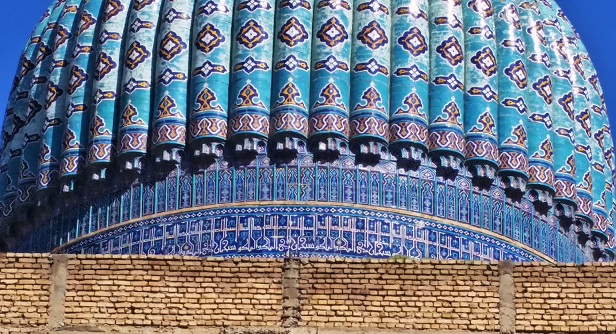 Muqarnas added to the shading of cupolas and ivans. These are downwards-facing shapes and were extensively used in traditional Islamic architecture. Muqarna was a decoration technique used during the Islamic period, is a form of architectural ornamented vaulting, where the cupolas and squinches were subdivided into a large number of miniature squinches. This created a sort of 'cellular structure', also known as 'honeycomb' vaults .These tiny honeycombs reflected light from various angles intensifying the colors.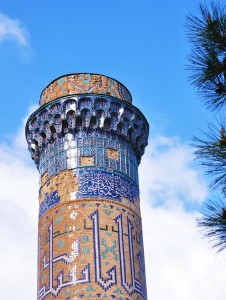 Another reason behind '50 shades of Blues' was the Interspersing of glazed and plain tiles in blue and light blue colors, in curves and crevices. This gave the visual impression of having multiple shades of turquoise, blue, azure and aqua. The juxtaposition of blue tiles were further accentuated by inscriptions on the walls. These were made using inlaid mosaics or from carved unglazed terra cotta. Tiled kufic inscriptions break the uniformity of ribbed or smooth turquoise blue circles of domes.
Samarkand History: The glazed tile work and Majolica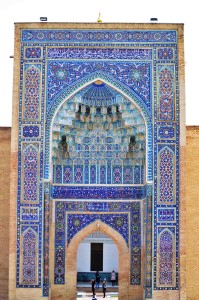 These colossal monuments of Islamic world heavily portray Persian/ Iranian influence in its decorations. In the era post Arabs invasion of Samarkand in 7th century, Majolica- an ancient pottery technique, was replicated in smaller tiles which adorn the buildings as wall decorations across the region. Though the name Majolica came into existence later, after the Europeans took to Persian pottery, which arrived at the port of Majorca in Spain.
The motifs on the walls of the monuments included floral and vegetal shapes, stars & geometric designs, rivulets, trees with birds and clouds portraying variety of influence from the Middle East to China. These motifs reveal the history dating back to silk route era. Calligraphic representation on outer walls are inscribed with verses from sacred texts and claims of the emperors.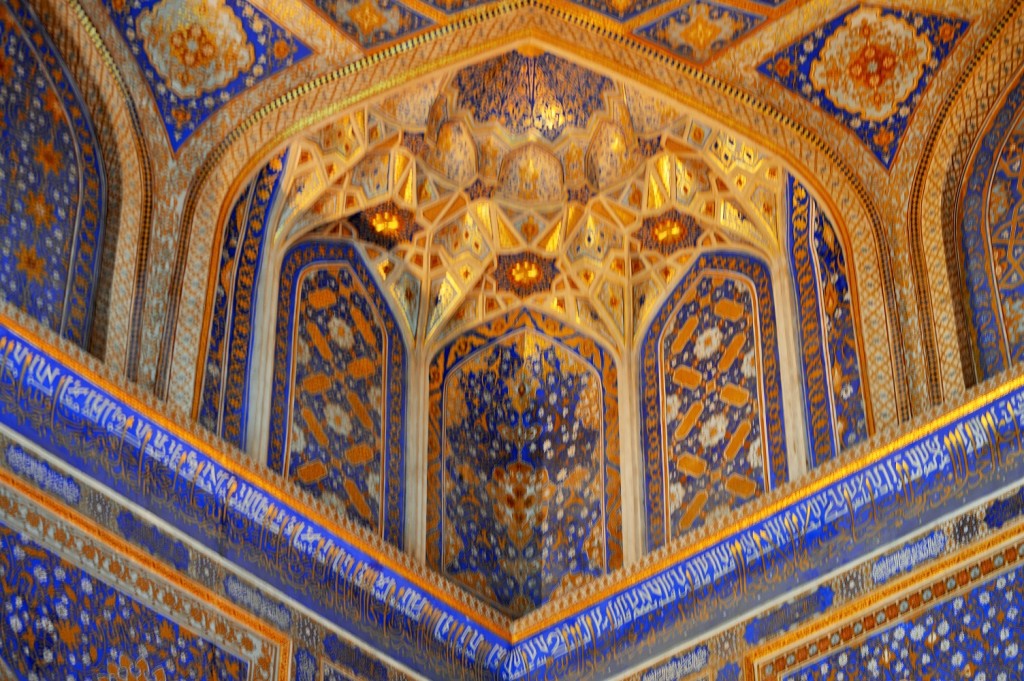 These structures were not only vibrant from outside but their interiors were also intricately decorated with press papers (papier-mache), glazed in onyx, azure, gold and indigo. Papier-mache is known to be fragile and explains the reason of its disintegration very soon after the construction.
'Must See' attractions in Samarkand with blue tile work

Bibi Khanym Mosque
One of the largest and most magnificent mosques in the Islamic world during early 15th Century, it was commissioned by Temur Lane to commemorate his favorite wife. Bibi Khanym Mosque was built from the loot Temur brought from India. This grandiose structure was designed to symbolize his conquest of the world.
Registan Ensemble
Registan Ensemble construction began during Temur Lane period. This public square was the heart of Ancient Samarkand. Ulughbek, Sherdor and Tilla Kori madrassah adorn the square. These were built during early 15th till 17th centuries. The most famous of them all is Ulugh Beg Madrassa, with its imposing tiled facade, minarets and internal intricate wall decorations.
Gur E Amir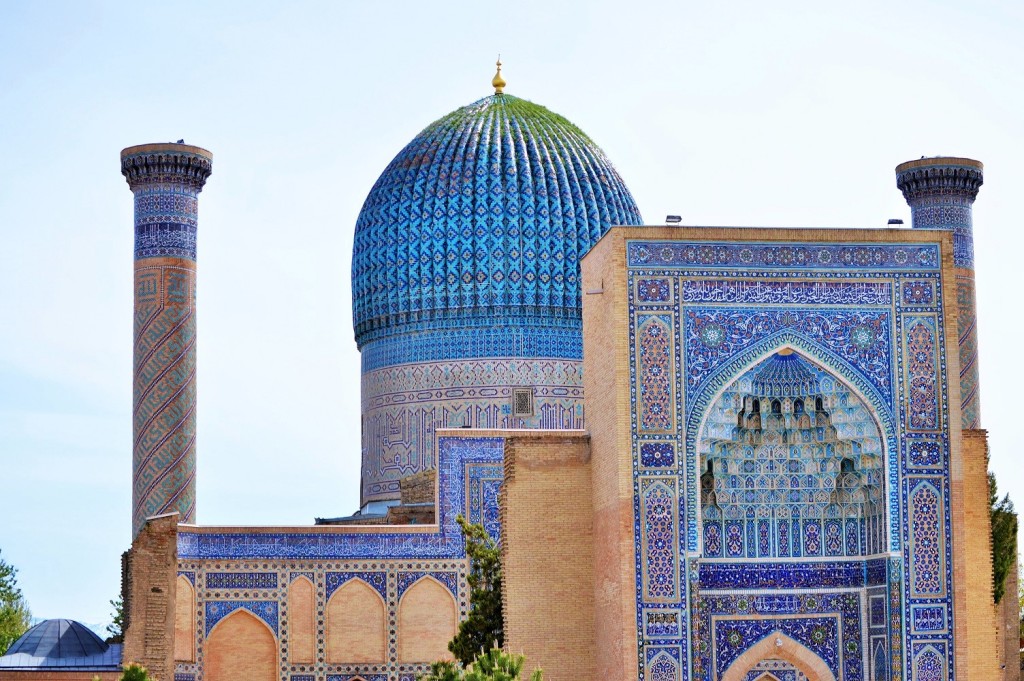 Gur E Amir is a mausoleum, built during early 15th century is a resting place of the great Amir Temur and other sons of Temurid dynasty. The ruins of the cupola and entrance display exquisite Persian Mongolian architecture, famous for its blues.
Shah-i-Zinda
It is a complex of mausoleums and other religious buildings erected from 9th till 18th centuries. It houses mausoleums of famous people and family members of Temurid Dynasty. The most important part of the complex is the tomb of Kusam ibn Abbas tomb, the cousin of Prophet Muhammad.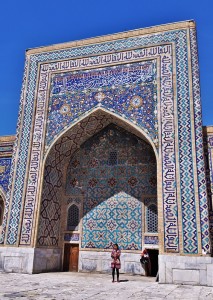 With a long drawn history and its exuberant past, Samarkand is the place where you relive silk route stories and marvel at enormous confluence of arts and crafts during ancient times. The extravaganza was meant to last forever and tell the tales of Turko Mongol era, which ruled from the central Asia to the Far East.
I try to imagine a medieval city surrounded by snow capped mountains on one side and Majolica tiled grand monuments shining on the other side. Even now the blues are overwhelming, how much more it would have been in its original splendor!
Another important site on the silk route with natable Islamic Architecture: Itchan Kala – Historic Heart of Khiva
Read more on Why every Indian should travel to Uzbekistan!
Summary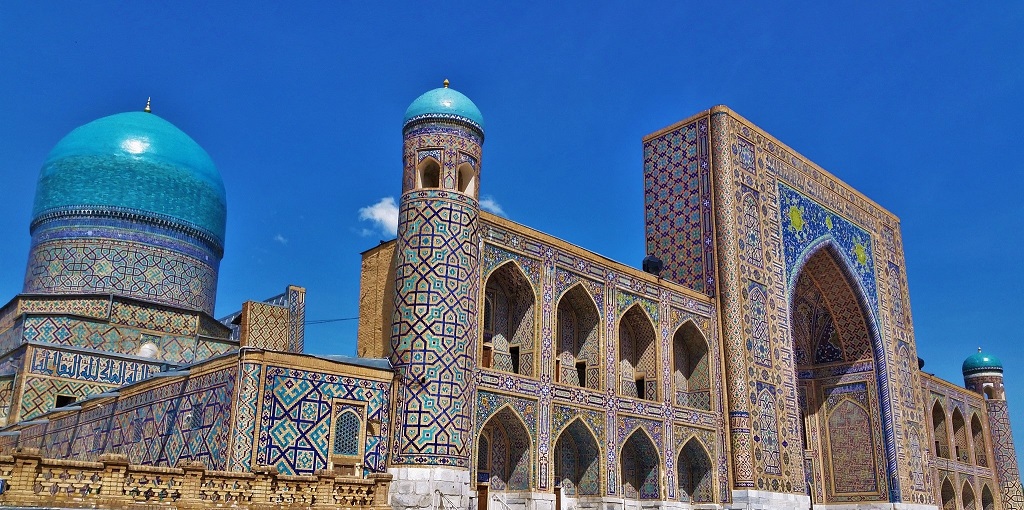 Article Name
50 Shades Of Blue Samarkand
Description
With its exuberant past Samarkand is the place where you relive silk route stories, marvel blue tiled monuments & appreciate confluence of arts and crafts!
Author