Riding along the southern coast of Sri Lanka through the towns of Kogalla, Weligama and Ahagama is delightful. As we rode further from Unawatuna, the traffic on the road trickled and the drive became peaceful. Strong breeze and crashing of the waves from the ocean played music in our ears on this late evening in January. It was a day of rough sea and the waves were getting larger and larger as the dusk approached. After a long day of riding around, we were looking for a quiet beach front shack to unwind over a cup of Dilmah. And that's where we spotted the touristic image of SriLanka portraying men sitting on stilts with sticks, gazing into the water below. There we had the iconic stilt fishermen of SriLanka, against a perfect back drop of the setting sun!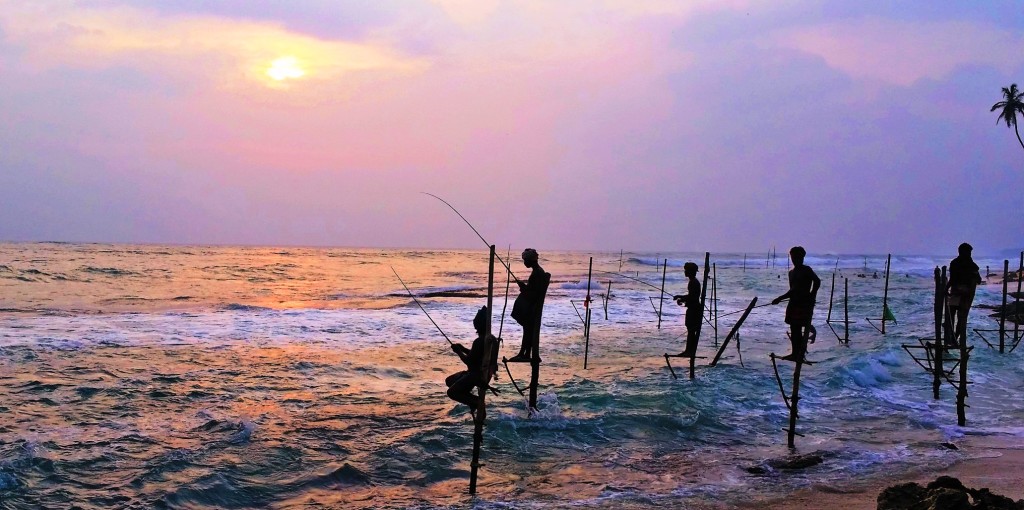 We rushed to park the bike, ensuring not to distract them with our noise or movements with cameras. They glanced at us for a moment and continued with their gazing. Next one hour was full of bliss and awe as we watched these dusky men, also known as stick fishermen, in their bright lunghis, balancing patiently on small wooden bars, while strong waves kept throwing tons of water on the rocky shores of Kogalla beach.
History behind Stilt Fishing
It is a unique fishing method, practiced primarily along the South West coast of SriLanka. Stilt fishermen can be spotted around the coast line of Koggala, Kathaluwa and Ahangama between the popular tourist destinations of Unawatuna and Weligama.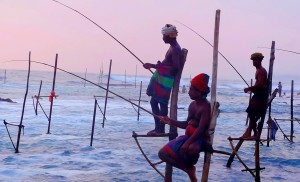 Not an ancient method as it would appear to be, stilt fishing is less than 100 years old. It was started by fishermen in Galle, the practice drew attention from others around, eventually adapted by the family members, who passed this tradition onto the next generation.
How Stilt Fishermen manage on stilts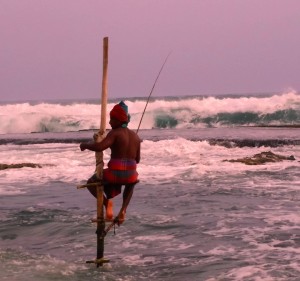 Strong wooden pole is fixed into the coral reef or sand, into knee deep waters, few meters off the shore. There is a cross bar placed horizontally, which acts as a seat for the fishermen. It definitely does not sound comfortable but fishermen balance unwearyingly on the "petta" for hours to catch the fish. They cast a line, mostly without baits, but use dry bread sometimes. The catch is usually of smaller size Mackerel or Herrings, which they collect in a plastic bag tied to their waist.  This unobtrusive method is useful to catch small fish which venture close to shores.
When is the best time to spot Stilt Fishermen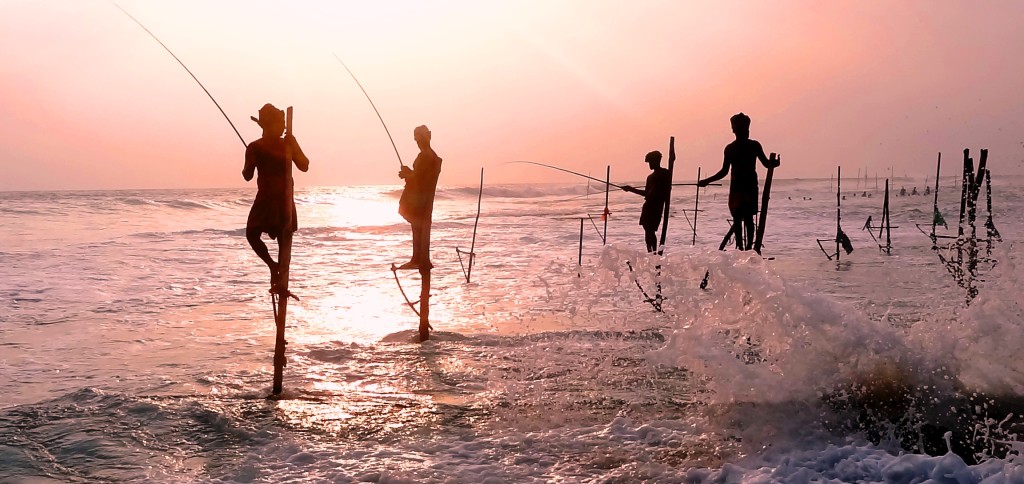 The fishermen go for fishing usually early in the morning before sunrise or just around the sunset. Guess it would be too hot to wait for hours in the noon under the scorching sun of the tropics. In most of the cases, one time catch provides for one meal and the fisherman is out again at it for the next meal. For tourists the silhouettes of stilt fishermen make lifetime memories. We were blessed with this opportunity to watch 4 stilt fishermen in action, who patiently waited for a catch around the dusk, till the sky turned purple red!
TIP:
Best place to see stilt fishermen is on the southern coastline around beaches of Kogalla, Weligama and Ahagama. 
Read more about Things to do in Sri Lanka including Dambulla Cave Temple!
Summary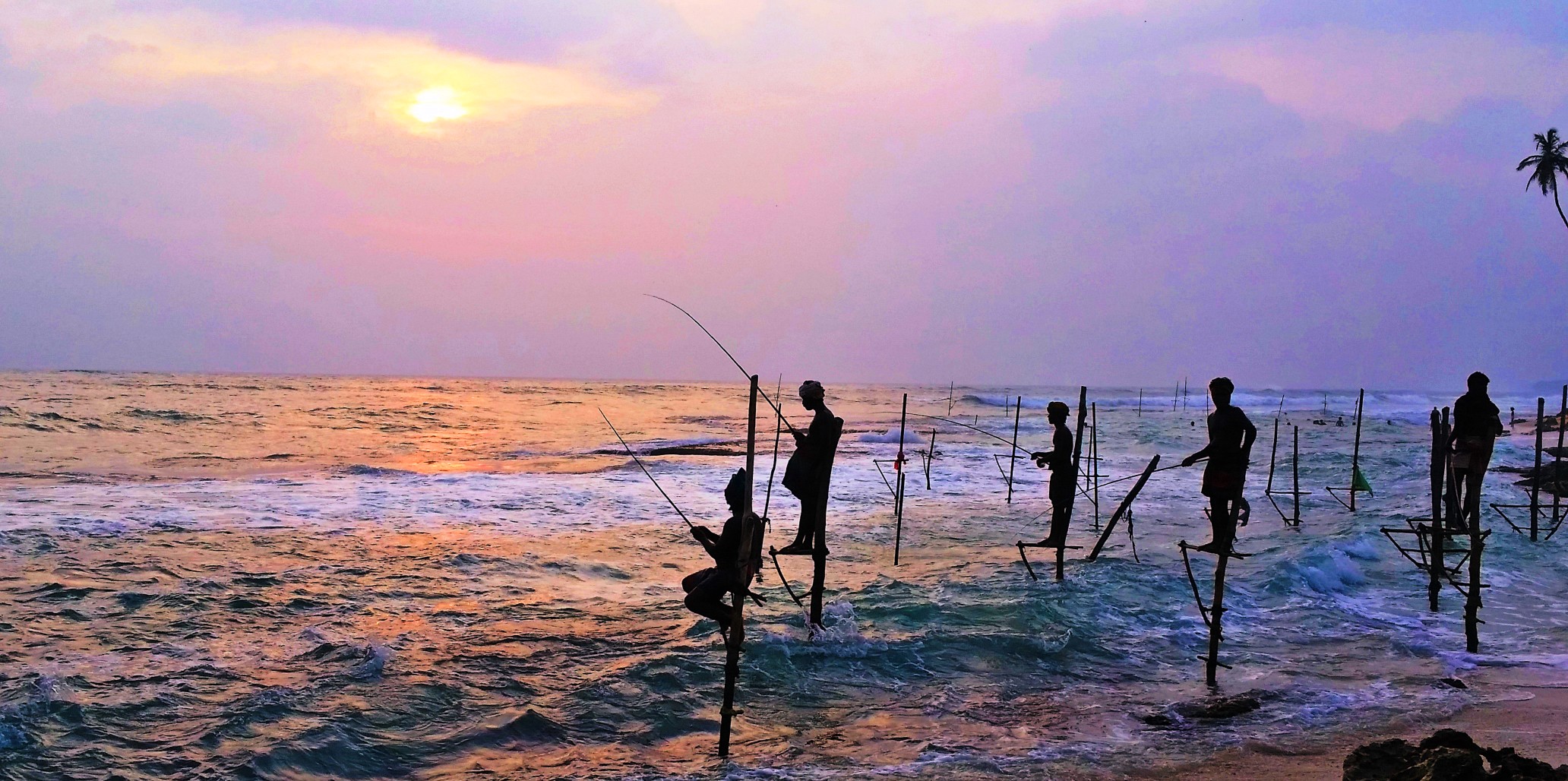 Article Name
Stilt Fishermen Of Kogalla SriLanka
Description
Tourist image of Sri Lanka portrays men sitting on stilts with sticks, gazing into the water below. These are iconic stilt fishermen of the tropical island!
Author