With beautiful beaches, delicate and aromatic cuisine, mystical temples, a cosmopolitan capital and a long history that culminated in recent tragedies, Cambodia is one of the most exciting tourism destinations in Southeast Asia and there are many Things To Do in Cambodia! 
Things to do in Cambodia
Enthusiasts of ancient civilizations will be delighted with the amazing architectural heritage left from Buddhist and Hindu emperors, but there are other attractions and plenty to do in Cambodia: historical tours through the country, a dive in the beautiful beaches, or a boat ride through fascinating floating villages. Given the small scale of this country and its late conquest of peace, it is not surprising to see its tourism industry skyrocketing at one of the fastest rates in the world. Here's an overview of 7 things to do in Cambodia.
1) Visit Angkor Wat and Bayon Temples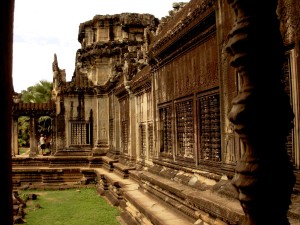 One of the first Things To Do in Cambodia is to head to Siem Reap. Siem Reap is the access point for what is deemed the eighth wonder of the world: Angkor Wat. Cambodia must see, the temple that gives its image to beers, hotels and the national flag, is much more than a magnificent work of architecture: it is the epicenter and greatest source of pride of the Khmer civilization. This is the largest religious monument in the world. The equally famous Bayon temple is the center piece among the ruins of Angkor Thom. The presence of extraordinary and mysterious faces in the dozens of gigantic towers that populate this important building has been a source of fascination for visitors and intense debate among scholars. These two temples rank among the most spectacular tourist attractions in the world.
2) Pose as a 'Tomb Raider' in Ta Prohm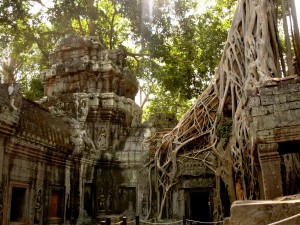 A visit to the Ta Prohm temple is one of the must things to visit in Cambodia. Ta Prohm was erected in the 12th century by order of Jayavarman VII, and it is speculated to have been the home of 12,500 people. After the fall of the Khmer empire in the 17th century, Ta Prohm succumbed to the clutches of gigantic tree roots that jutted out of its structure. An amazing display of what natural phenomena can do to a man-made structure that never fails to impress. This UNESCO World Heritage Site, and stage of the movie Tomb Raider, is now one of the most iconic tourist attractions in the world. It has become a popular trend among visitors to stage Lara Croft in these beautiful ruins.
3) Try Khmer cuisine in Siem Reap
For those who have been wandering around the temples and would like to taste the exotic flavors of this region, Siem Reap houses many excellent restaurants specialized in the local cuisine. Common ingredients are rice, prahok (a type of exotic seasoning that is unique to Cambodia), a wide variety of spices and kroeung, vegetables, fruits, fish, meats and noodles. The level of inventiveness and originality is truly astounding, as is usual in Southeast Asian countries. Amok trey, Andom chek, Kuy Teav, samlor machu Siem Reap, Fried Spring Roles and many other staples showcase the quality of the local gastronomy. Notable restaurants are Temple Club, Le Tigre de Papier and Traditional Khmer Food Restaurant. Some of these establishments even offer cooking classes to the visitors.
4) Boat ride on Tonlé Sap and visit to floating villages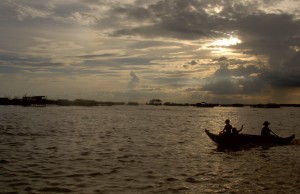 With a surface area ranging from 2,700 km² to 16,000 km² throughout the year, Tonlé Sap is the largest freshwater lake in Southeast Asia. On its surface, small buildings float at the mercy of the seasonal currents. This is the home of roughly 1.2 million people – a fishing community that managed to detach their dependencies from the land and build entire villages that float on the lake. This lake is also home to 149 species of fish, many species of birds, Siamese crocodiles and the largest population of freshwater snakes in the world.  This biodiversity hots pot is unique in the world and protected by UNESCO. The floating villages around Siem Reap are easily accessible by tuk tuk.
5) Walking, biking and tuk tuk ride around Phnom Penh 
Hundreds of monks covered in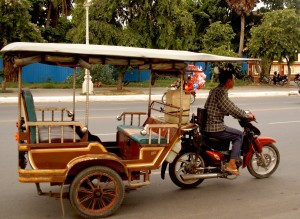 saffron robes walk quietly in wooded boulevards, towards the Buddhist temples. The contrast is sharp against the cacophony of motorcycles, tuk tuks, bicycles and vehicles vying for a place on the streets. Markets are full by the early morning and groups of tourists drink beer sold at 50 cents on the river margins, while an elephant walks quietly through the streets. These are common sights in Phnom Penh, the most important economic and cultural center of Cambodia. This cosmopolitan city merges ancient heritage with modern culture and architecture in marvelous ways. Cruising through its streets and the Sisowath Quay by foot, motorcycle or tuk tuk is, literally, running through the heart of Cambodia today. Renting a scooter for a whole day only costs $5 USD. Click here to read more about things to do in Phnom Penh.
 6) Visit Battambang
Battambang , a must see in Cambodia, is a quiet and friendly town where visitors can find many attractions and history to explore. Along the Sangkae River one can see many well-preserved colonial buildings left from the French occupation. With more ancient roots, visitors can find Prasat Banan, Baset Temple, the Wat Ek and many other Buddhist temples. Nory, a bamboo railway, offers very fun rides in the area and the Phnom Sampeau hill offers excellent view over the surrounding landscape and to an amazing bat show that repeats every evening. In the same hill, the Killing Caves are another reminder of the tragic Khmer Rouge. Every Monday and Thursday, visitors can attend the Battambang Circus, the most famous circus in Cambodia.
7) Visit the Beaches at Koh Rong
The No. 2 island of Cambodia is the sort of tropical paradise idealized by most adventurers. 78 km² of deep forest almost completely surrounded by some of the most beautiful and delicate white sand beaches in Asia. Few infrastructures exist here and most of the electricity is provided by generators of small bungalow resorts and restaurants. This heavenly landscape surrounded by crystalline water, is the ideal place for those who enjoy nature, beaches, diving and trekking. Surprisingly, it remains largely unknown by tourists. Koh Rong is one of the most well-guarded secrets of Cambodia, but it's destined to become one of its most appealing attractions in the coming years.
Summary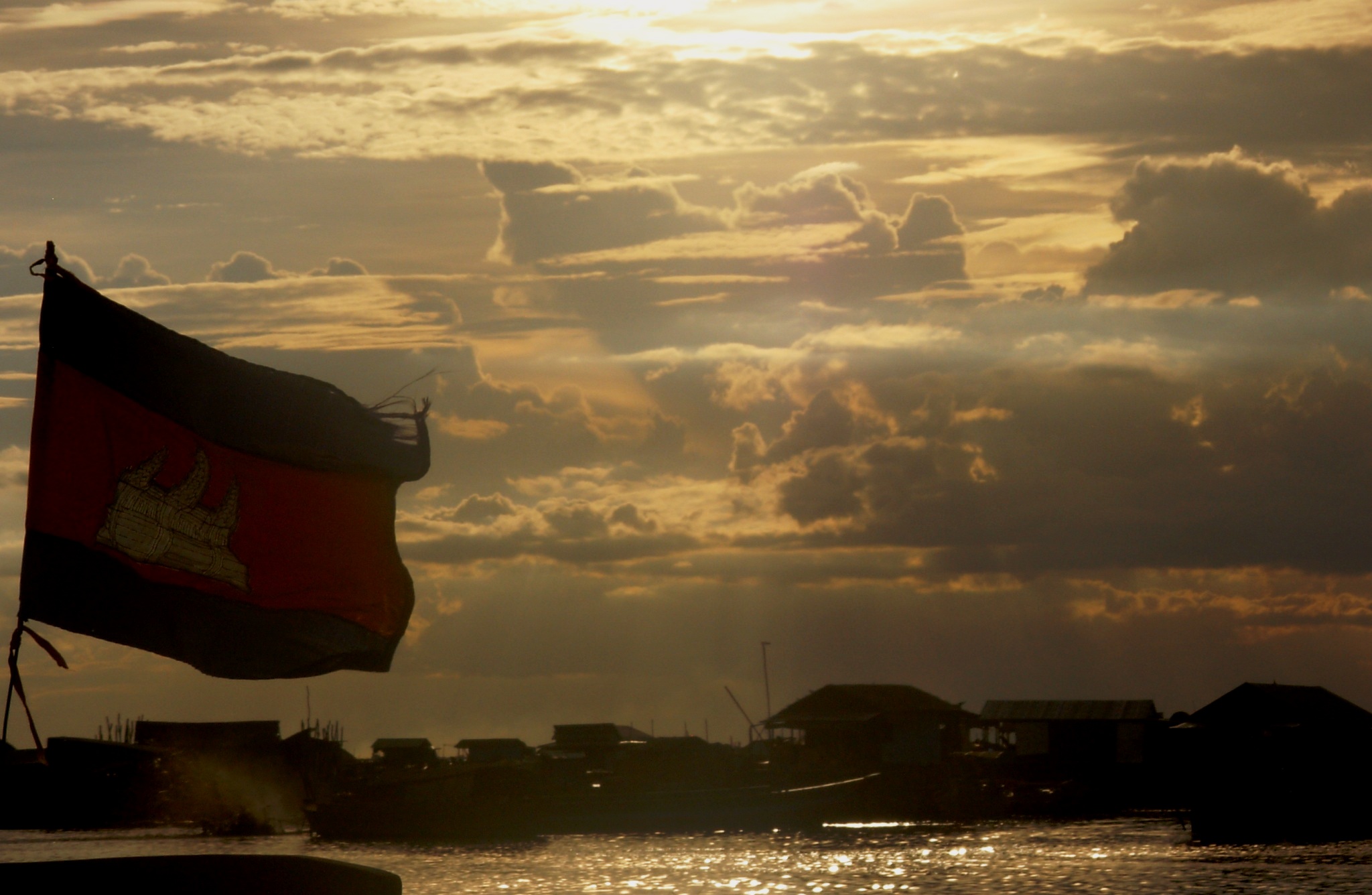 Article Name
Top 7 Things To Do in Cambodia!
Description
Rich history, magical temples, beautiful beaches and aromatic cuisine make Cambodia a must place to visit in Southeast Asia. Must things to do in Cambodia!
Author