Part of UNESCO World Cultural Heritage site, Salzburg is known for Salzburg Festival & a birthplace of Mozart.
Here are 10 "Must" Things To Do in Salzburg in June!
1) Visit Getreidegasse, traditional shopping street in Old Town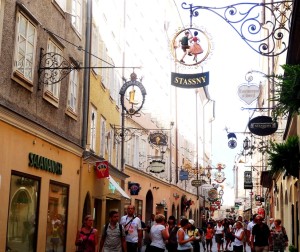 This is one of the must Things To Do in Salzburg. Walk around Getreidegasse and marvel the stores of well known global brands, each with over hanging Brass sign posts, uniquely designed to keep up with the tradition.
2) Eat Mozart Balls
Mozartkugel or popularly known as Mozart balls are made of marzipan and pistachio, coated outside with dark chocolate.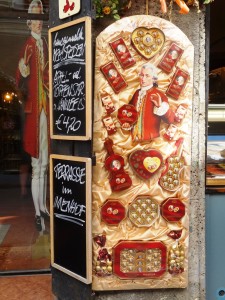 They were created in 189 by Salzburg confectioner Paul Fürst and named after Wolfgang Amadeus Mozart, the famous musician from Salzburg. They make great gifts for friends/ family back home.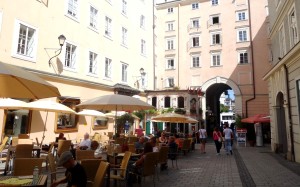 3) Coffee and cake in a road side café
Almost any road side café will serve you Kaffee und Kuchen (coffee and cake), and it's a great way to unwind after a day of walking around the town.
4) Take a selfie at Salzburg Castle with city panorama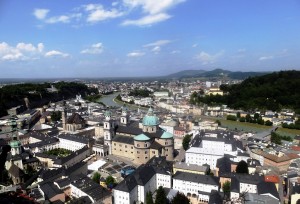 This is another fun Things To Do in Salzburg! There is a spot on stairs while coming down from top of the castle, where one cannot resist taking a selfie with a panorama of Salzburg , Best time to visit the castle is in early evening, when the city below glows under warm sun light.
5) Take a funicular to Salzburg Castle
Festung Hohensalzburg, popularly known as Salzburg Castle can be accessed by foot or with Funicolare. These cable railways provide old world charm, are great way to climb up or down smaller heights. Take the one going down, after spending an early evening at the castle.
6) Marvel the beauty of Salzburg Cathedral
Sit and relax on one of the benches in the old square, facing the cathedral and read about the history of Salzburg while admiring the baroque structures in the back drop. It is one of the major Salzburg attractions. Clear Blue sky and Salzburg Dome rising above, and that is all it takes to fall in love with Salzburg!
7) Visit "Sound of Music" in Salzburg
After being featured in the musical "Sound of Music", Schloss Frohnburg Castle, a manor with serene surroundings, is now widely known as "Trapp Villa". it is close to Hellbrunn Palace and a must visit for "Sound of Music" lovers. One cannot resist humming one of the "My Favourite Things" or " Do-Re-Mi..", while visiting the place. Though most of the Austrians do not know about the musical or are just indifferent to the fascination towards the musical.
8) Eat wurstl on street
Wustl sausages with bread or wustl  sandwich is a quick and comforting meal while on the move. It is easily available at street cafes and goes down very well with any of local beers.
9) Attend concert at Salzburg Festival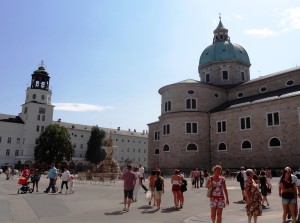 To honor the legacy of Mozart and his music, Salzburg holds a festival every year, organizing concerts, orchestras and belle performances at Domplatz and Mirabell gardens. There are various kinds of activities going around during Salzburg festivals besides these official venues. It is advisable to book tickets in advance, as summer months draw thousands of tourists from around the world.
10) Drink beer at Müllner Bräu Brewery
The best way to unwind after a daylong sightseeing tour is to head to Müllner Bräu Brewery and order "Maß", a liter of Lager. The brewery was founded by monks at the church nearby. Visit any of the "Biergarten" and gulp down beers sitting under chestnut trees. Outside food is allowed and the place is usually crowded in summer.
Tips:
Salburg to Vienna is accessible by train and take around four hours.
Munich to Salzburg takes two hours by road.
Salzburg is a small town and most of the places can be visited in 24 hours by foot. Cycling is another option to explore the town!
If there is an extra day in hand then visiting Salzburg Lake District Attractions is strongly recommended.
Summary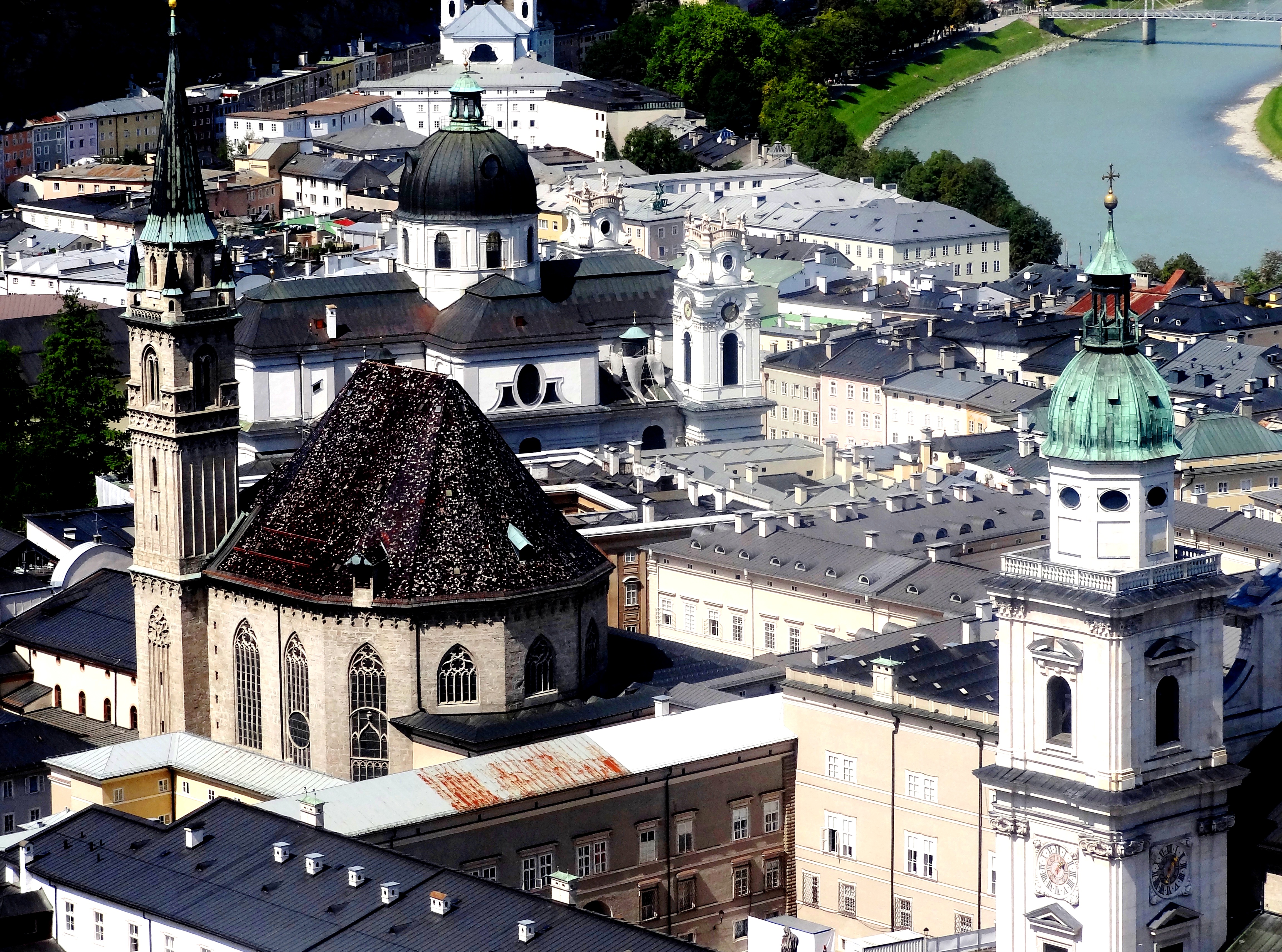 Article Name
10 "Must" Things To Do in Salzburg
Description
Part of UNESCO World Cultural Heritage site, Salzburg is known for Salzburg Festival & a birthplace of Mozart. Here are 10 "Must" Things To Do in Salzburg!
Author