This is one exercise that should be carried out before landing on Russian soil. Moscow metro could be intimidating at first, but with a little planning and practice, it is possible to navigate around Moscow effortlessly. Here are 10 easy ways of understanding Moscow Subway system.
1) Equip yourself with:
Moscow subway map in Russian & in English
Street map in Russian and street map in English
Download Yandex metro app and street app.  It has a language option.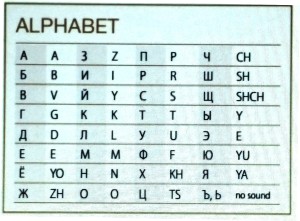 2) Start by learning the alphabets. It should not take more than 20 minutes. Russian alphabets are different from English alphabets. E.g. Russian B is V in English, H is N, n is P and P is R. Understanding basic alphabets can help in identifying the right word. E.g. Москва is for Moscow and Тверская is for Tverskaya. All the words ending with '…sky' look like '…CNN' e.g. Leningradsky is Ленингра́дский (with N in a mirror effect). All the words ending with '…skaya' look like '…ская' e.g. Arbatskaya is Арба́тская.
3) Identify popular brands like Mc Donald's and Zara or Barcelona written in Russian. This would facilitate the understanding of how words are written. Refer to picture on the right, of Barcelona written in Russian. This makes understanding Moscow Subway easier.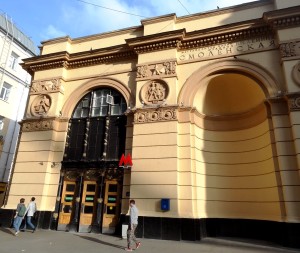 4) All the metro stations are marked with big 'M' in red color on the surface. Most of the entrance ways in Moscow Subway do not have an elevator or an escalator, the only way is to climb down the steps.
5) In tourist areas, there are large maps, with details in English on one side but once you move away from the center, you have to rely heavily on understanding of Russian alphabets.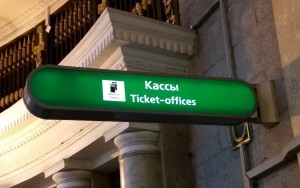 6) Ticket booths are marked with 'Kacca'. You will find 'касса' before an escalator which transports you deep underground to the platform. Ticket cards or Troika cards (in red) can be purchase for a single ride or for multiples of 5 or 10 rides. Gestures are enough to convey what you need to buy.  The same card can be used by 2 persons by swapping it across the barrier. The cost of the ticket is for each ride, it does not depend on the distance you travel.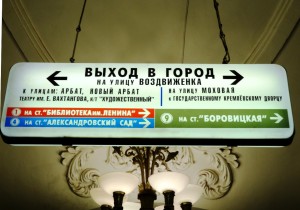 7) Moscow Subway Lines are color coded. Overhanging boards show the way towards a particular line with a 'Dot' in the same color. Changing of lines can be done by following the instructions on color coded over hanging boards, directing you to walk in a certain direction. There are also signs in English and Russian on the floor showing the directions towards different lines. Be prepared to walk a distance underground to get to a different line.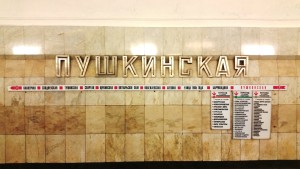 8) Once on the platform, refer to the route chart to see the stops on that line, starting from the next one, as shown in the picture. It is easier to figure out which side of the platform you should be standing, by identifying the next stop.  With little planning using the metro map/ Yandex app, it is easier to choose the right line and the stop on Moscow Subway.
9) One you are inside the train, you can see the route in the panel above the door. There are also announcements in Russian while approaching a station. The next station is announced immediately after the doors are slam shut. It may get difficult to comprehend the names announced in Russian during peak traffic hours. For convenience, it makes sense to count the number of stops to the chosen destination, so to get down at the right one.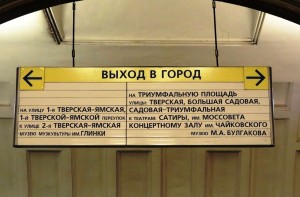 10) Getting out from the correct exit is another challenge. Exits are marked as shown in the image below, with the street names it leads to. Again understanding the area and orienting yourself with the streets helps you to pick the correct exit. In case of confusion, you can always ask a responsible looking youngster, they usually understand English and are eager to help!
Tips:
For quick understanding of Moscow subway, carry Moscow Subway Maps in English and Russian to seek help from locals
In case of confusion, just get on to one train and see the next stop, if that is not the right one, get down, walk across to the other platform and take the train going in the opposite direction.
You can always ask a fellow passenger which is the next stop by pointing out on a metro map; Russians are usually friendly and will try to assist.
Plan a trip in advance if you are traveling away from the centre e.g. visit to Novodevichy Convent. Figure out a route on the metro map on Yandex.  First check it in English and then in Russian to count the number of stops to make sure to get down at the right one.
If your destination is only a stop away, and if the weather is decent, it is advisable to walk the distance on the surface, instead of taking a metro, as you may end up walking way lot more underground.
Moscow has many places to see and do. Most of the tourist attractions and can be covered within 3 days. Read more on Best of Moscow in 3 days!
Moscow metro stations are artistic marvel; where platforms and concourses resemble miniature palaces! Check out more details on Moscow Metro Stations: Work of Art! 
Moscow Subway is one of the largest and busiest metro networks in the world with 196 stations. It is the cheapest and the most efficient way of going around the city. It  could be intimidating but at the same time exciting…it is like a treasure hunt!
Summary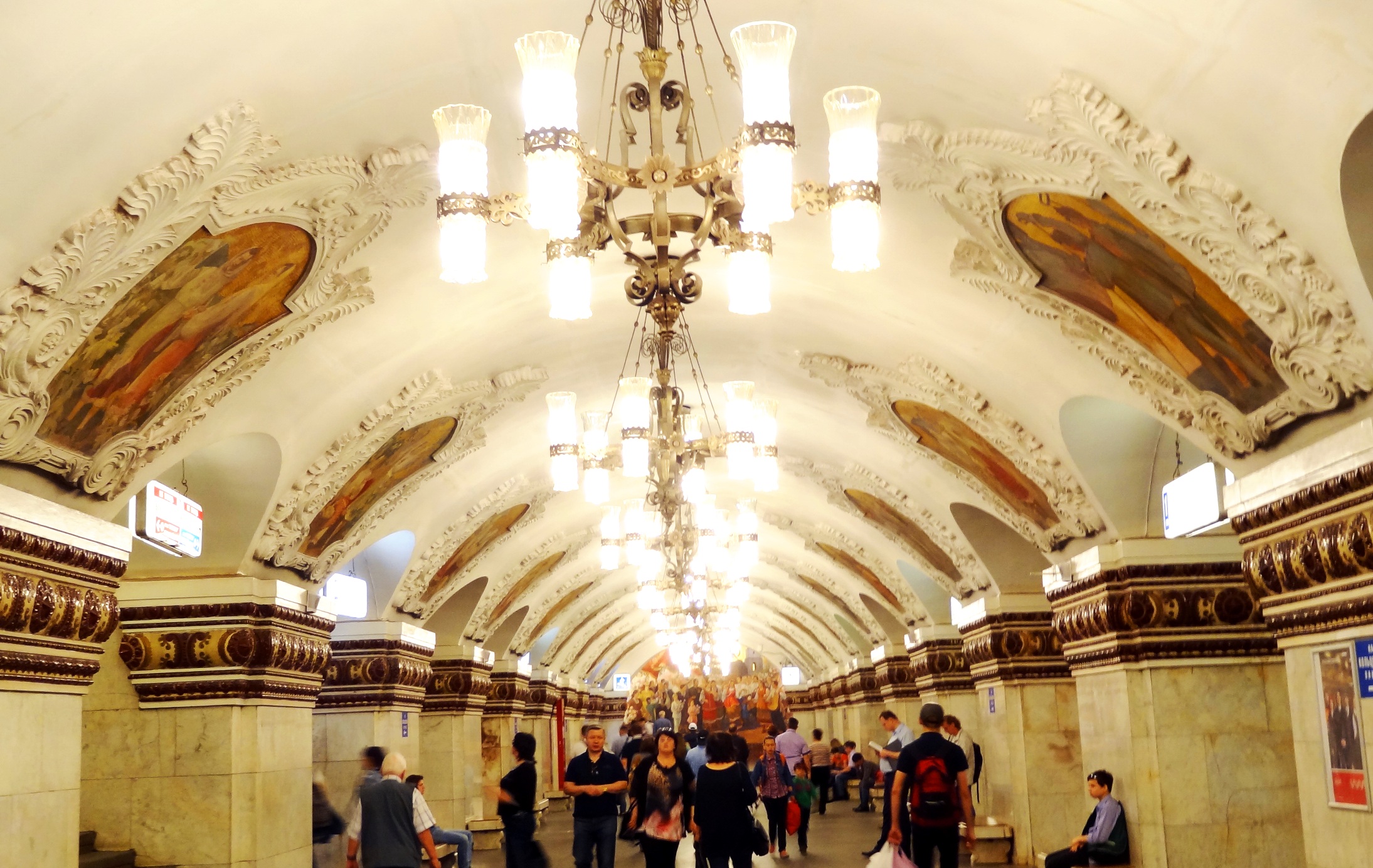 Article Name
10 Easy Ways of Understanding Moscow Subway Without Knowing Russian!
Description
Understanding Moscow Subway is intimidating at first but with little planning & practice, it is possible to navigate around effortlessly. Here are the ways!
Author