Situated on river Rhine, Cologne is the largest city in North Rhine-Westphalia and the fourth largest city in Germany. Visiting Cologne for Its history & modernity has been on my bucket list for a very long time. After Berlin it has been my second favorite city in Deutschland. The city was almost flattened during the Second World War. Post war Cologne rose from rubble to restore the loss of cultural treasures. Post reunification of Germany, Cologne prospered at breakneck speed becoming today's modern metropolis.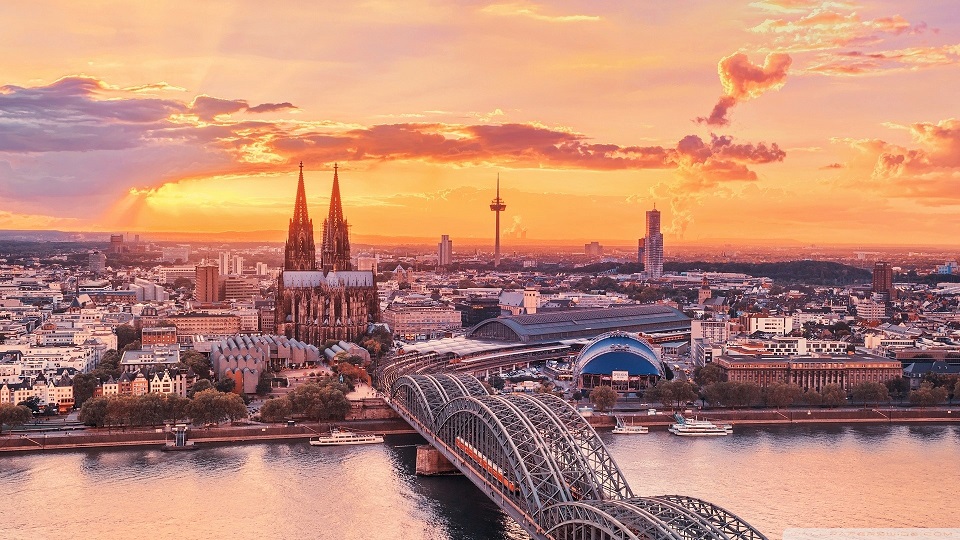 History of Cologne
I was intrigued with Cologne's 2000 years old history blending with emerging modernity. it was the largest city of Holy Roman Empire. Established as a provincial capital of Germania in 50 AD, It served as one of the most important trade routes between West and East Europe, the status Cologne still retains. While during medieval times Cologne was included in Frankish Kingdom, It briefly became part of Napoleon's empire during the 18th century. I was interested in visiting Cologne for its rich history.
Visiting Cologne's Old Town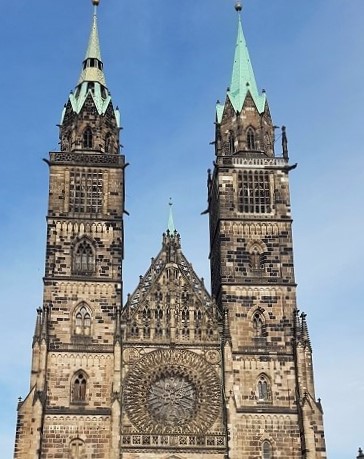 The Old Town (Altstadt) is the historical heart of Cologne. I embarked on exploring the fairytale quarter by foot. Twin spires of Kölner Dom (Cologne Cathedral) dominating the skyline made the first impact. Referred as 'Black Cathedral' by locals, it is the most prominent landmark in the city. It was fascinating to learn that the construction of the Gothic masterpiece which began in 13th century, took almost 700 years to complete. The highlight of the cathedral was the viewing platform situated on top of the South tower. The breathtaking view of river Rhine meandering through Cologne was worth an hour long strenuous climb of 509 steps!
The quarter dotted with 12 Romanesque churches is another highlight of the Altstadt. The Church of St. Kunibert, St. Severin, St. Maria Lyskirchen, St. Andreas, St. Aposteln, St. Cecilia, St George, St. Gereon, St. Maria Capitol, St. Pantaleon, St. Ursula and Great St. Martin create a pious cluster, hallmark of the Roman era. Built between 4th to 13th century, the churches are famous for the architectural diversity.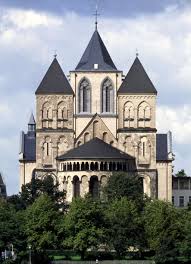 It was not possible to explore all 12 of them on a short trip, so I visited St. Kunibert for wonderful stained glass windows, St. Andreas for 14th century frescoes and Great St. Martin for its gorgeous exterior. The churches are fine examples of extensive restoration efforts, which resurrected them to their ancient glory post WWII destruction.
Imposing facade of Die Kölner Synagoge on Roonstraße was something i was looking forward to visit. It is worth visiting for its notable architecture. Built in 19th century, the synagogue was completely destroyed by Nazis in 1939. Newly built Roonstrasse Synagogue serves as a center of Jewish community of Cologne.
Indulging in Kölsh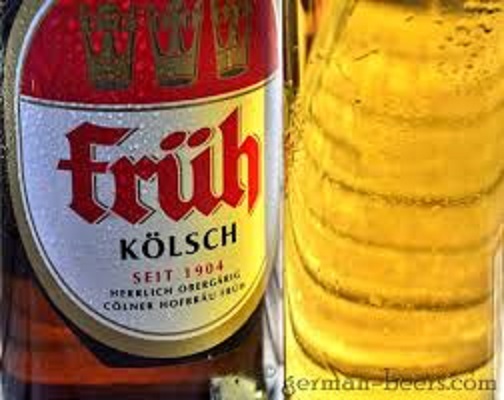 The brewhouses located stone's throw from the cathedral are known for serving famous Kölsh beer. While strolling around Altstadt, "Früh Kölsch" brewery was an ideal pitstop for Kölsh. I gorged on traditional spread of Halven Hahn (rye roll with cheese) or Himmel un Ääd (mashed potatoes with apple mash) which seemed to go well with the local brew.
We saw beer lovers hopping on Beer Bike for some fun, where one can pedal around the city while drinking fresh Kölsh. That is serious beer drinking!
Visiting Cologne's Love Bridge
Walking around towards the Northern end of the Old Town brought me to the Hohenzollern Bridge over river Rhine, an iconic landmark of Cologne. Constructed in 1907, the rail bridge was destroyed during WWII. We spotted many lovers around the bridge, indulging in the charming tradition of placing padlocks on the metal grills. Couples fix locks and throw away the key in the river to profess their eternal loyalty to each other.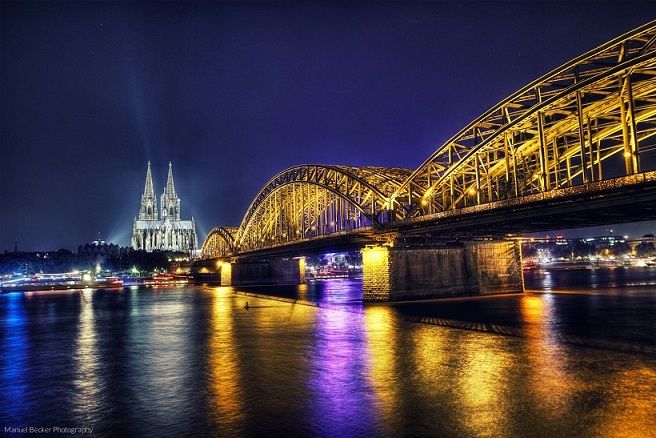 Visiting Cologne is not complete without tying a love lock on the metal railings of Hohenzollern, so we did our bit as well. The bridge was covered with thousands of padlocks earning a nickname of Love Bridge. So much for an iron bridge to receive such a tender recognition!
Rhine cruise in Cologne
Meandering river Rhine, which passes through the center of Cologne brushes past the historical quarters. An evening river cruise was the best way to admire glorious city from the water front. Monuments in Altstadt illuminated with golden glow under twilight offered instagram photo ops.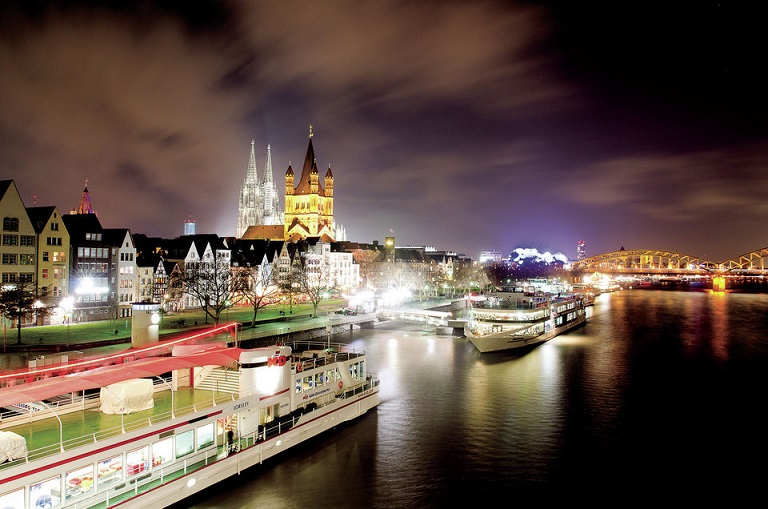 GlidIng leisurely in gondolas over river Rhine delivered a bird's eye view of the city. Romantic sunset cable ride was a great alternative to expressing love as we hadn't brought the padlock. The breathtaking panorama from up in the air is still imprinted on my mind.
Museums in Cologne
Cologne is a Museum lovers' delight. The long drawn history and thriving art scene of Cologne is unraveled at more than 30 museums and 100 art galleries around the town. My first stop was at Museum Ludwig, worth visiting for eye catching pop art followed by Wallraf-Richartz-Museum and Römisch-Germanisches Museum to explore the treasures of the Roman history along the Rhine and Cologne's medieval past. Away from the historical jibe, Cologne posses oddities like chocolate & fragrance museums. The history of chocolate at Schokoladenmuseum didn't fail to titillate my sweet tooth. A quick trip to Farina Fragrance Museum revealed the story of Eau de Cologne. It was fascinating to discover that the lack of copyright led to several other brands use the name, making it a generic. I had always wondered why everyone called it Eau de Cologne, and now i know it!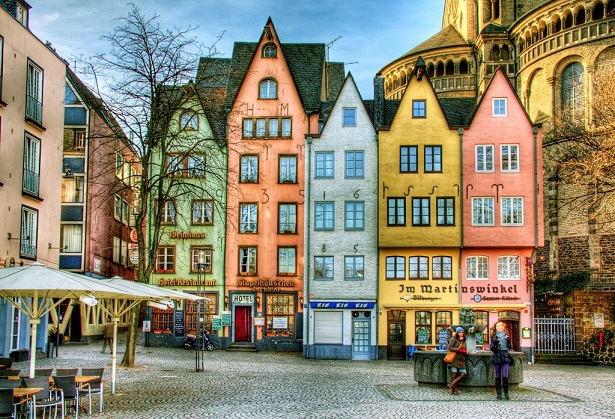 Pedaling around Cologne
Excellent public transport network of trams, local trains and buses made traveling around Cologne quite easy. But the real way to soak in the spirit of Cologne was to pedal around. The flat city has well laid out biking lanes. The touristy quarter is filled with bike rental kiosks where all you need is to drop a coin and get moving. The fun part was i could take the bike anywhere, even inside the mall or to thermal baths!
An evening in Cologne
Exploring Belgian Quarter or walking by the Rheinauhafen (Old harbor) served as beautiful escapes away from the touristy bit. The Belgian Quarter is popular for offbeat fashion labels and artefacts. The bohemian atmosphere was ideal for post shopping drinks. Cologne is buzzing with pulsating nightclubs and Cologne nightlife is at par with any of the European capitals. We made our way to Zülpicher Straße and indulged in an epic pub crawl. After few drinks, the walk around the old harbour became much more exhilarating. The evening ended with dinner overlooking the river. It was the most romantic of my trip to Germany.
Whether it is a solo travel, business travel or a vacation with family, there are ample of things to do in Cologne. Escape to Cologne delivers on every front, be it heritage, history, architecture, art, culture, quirk, outdoors, romance or nightlife. Here is to Cologne, 'Prost'!
Interesting facts about Visiting Cologne
Roman foundations and modern living exist next to each other in Cologne. The only place on the earth where you can eat McDonald's in a Roman basement!

"Kölner"- The people of Cologne are open-minded. The thermal baths reflect the highest form of German civilization, where free spirited men & women can be found relaxing in the same spa or sauna. Be warned, no bathing suit allowed!

Kölner Karneval (Cologne Carnival) held every February is the biggest street festival in Cologne. Every year thousands descend on the streets to watch grand costume parades. The merrymaking continues for almost a week.

Rent-a-Bike is very much a Cologne culture where you can spot office going locals in their formal suits rushing to work on bikes.

Cathedral Square become the stage for famous Christmas market. Locals as well tourists from neighbouring cities and countries make special trips to Cologne to enjoy the festive atmosphere in Altstadt.
Read More about other German metropolis of Munich, a capital of Bavaria. Do not miss visiting Neuschwanstein Castle from Munich. A fairy tale world of King Ludwig II is filled with sheer visual delights all along.
Summary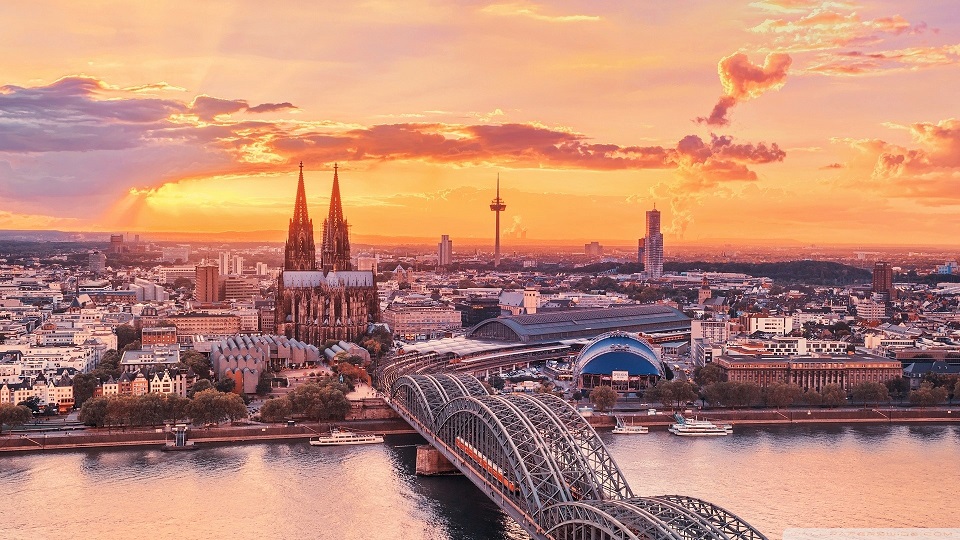 Article Name
Visiting Cologne - Witness Post War Rise Of Ancient Roman City
Description
Visiting Cologne - Witness Post War Rise Of Ancient Roman City. it was the largest city of Holy Roman Empire, as a provincial capital of Germania in 50AD. While during medieval times Cologne was included in Frankish Kingdom, It briefly became part of Napoleon's empire during the 18th century. I was interested in visiting Cologne for its rich history.
Author