Different Kinds of Warungs:
Smaller family shop or family owned restaurant in Indonesia is known as Warung. These street side establishments cater to the needs of local people selling drinks, cigarettes, snacks and food.
There are different kinds of warungs, based on what they sell. Warung Nasi is a warung selling rice, Warung Kopi sells coffee, Warung Padang sells Padang food and Warnet signifies internet café.
Local warungs are usually wooden or bamboo structures with thatched roofs. Permanent ones are made of bricks and steel.
Warung Makan in Indonesia typically have long community tables with benches. Many warungs now have ubiquitous plastic chairs and tables, parked next to the food stall mounted on a scooter, bike or wheels. Warungs on islands like Bali and Lombok are fancy road side cafes or restaurants, attracting mainly tourists.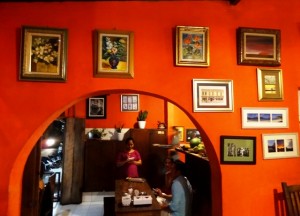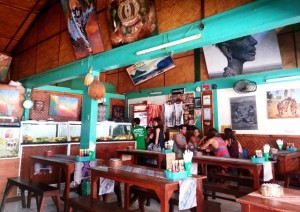 Modest warungs like Igalenca in Ubud is an art café where you can find multiple paintings and wall art displayed on its colorful walls. It is a hang out joint for local and international artists & intellectuals.
Culture of Eating on streets:
Many south Asian countries, including Malaysia and Indonesia are famous for their street food. In warungs you find traditional Indonesian food in a simple setting, where a meal costs between $1 to $3. Warung can be an extension of the home kitchen where the food is generally home cooked, fresh and cheap.
People from dfferent strata of life eat at warungs. You can find local workers inside Warung Nasi and you can spot a fancy car outside warungs offering specialties, where the customers wait patiently for their meal to arrive!
Street food Variety: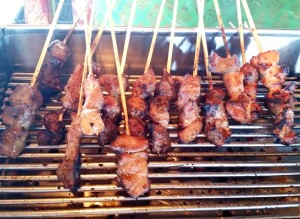 Traditionally warungs cater to the needs of working class locals. They offer Indonesian favorites which typically include Nasi Goreng ( Fried Rice), Ayam Goreng (Fried Chicken), Sate Ayam (Chicken Satay), Sate Babi (Pork Satay) and Gado Gado (salad). Warungs on popular islands of Bali and Lombok offer pasta, pancakes and sandwiches to the western tourists along with traditional Indonesian fare.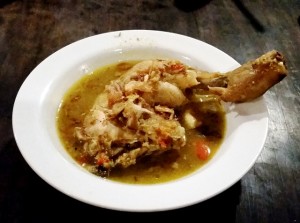 There are some warungs which only sell snacks like Pisang Goreng (fried bananas), bakpao (steamed dumplings), bakwan jagung(corn fritters) and krupuks (variety of crisps and crackers). Warung Rokok also sell variety of krupuks e.g. krupuk kentang ( potato chips), krupuk udang ( prawn crakers), krupuk kemplang ( fish rackers) and krupuk gendar ( rice crackers)!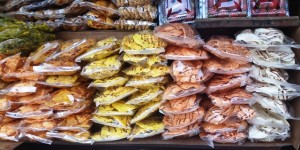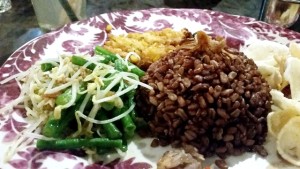 Specialty Warung: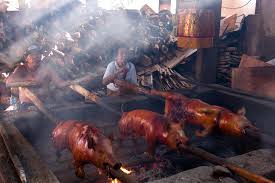 There are warungs which specialize in Babi Guling ( Roasted Pig), Ayam Batar (Chicken Stew), Bebek Betutu (Roasted Duck) and more. They are worth the visit for their culinary specialties and freshness.
This is definitely a healthier alternative and I could eat there forever!
When in Indonesia, eating at a warung is one of the MUST things to do. Read more about 15 Must things to do in Indonesia! 
Many of the high end restaurants in Kuta in Bali call them Warung Kuta or Warung Beach club. Though they are not real warung, but just fancy names of establishments.
Summary
Article Name
Warung Real Taste Of Indonesia
Description
In warung you find traditional Indonesian food in a simple setting, where a meal costs between $1 to $3. Warung can be an extension of the home kitchen!
Author