Declared as a World Heritage City  by UNESCO, Rock Cave Temple in Dambulla in Central Srilanka has been a place of worship for more than 2000 years. Dambulla Cave Temple houses caves on top of a rock 160 meters above the ground, right on the noisy main road connecting the major cities of Colombo and Kandy. It is the largest and best preserved cave temple in Srilanka.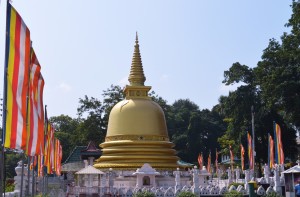 The access to Dambulla Cave Temple is quite kitsch with large Golden Stupa on one side and a large Golden Buddha Statue on the other side at the beginning of the route. The unassuming entrance to the caves suddenly reveals its treasure it has been housing for centuries. Statues of Buddhas in various mudras and positions and wall paintings are awe inspiring and spell binding. No matter how many pictures of Dambulla Caves I had seen before, the first impression left me speechless!
History of Dambulla Cave Temple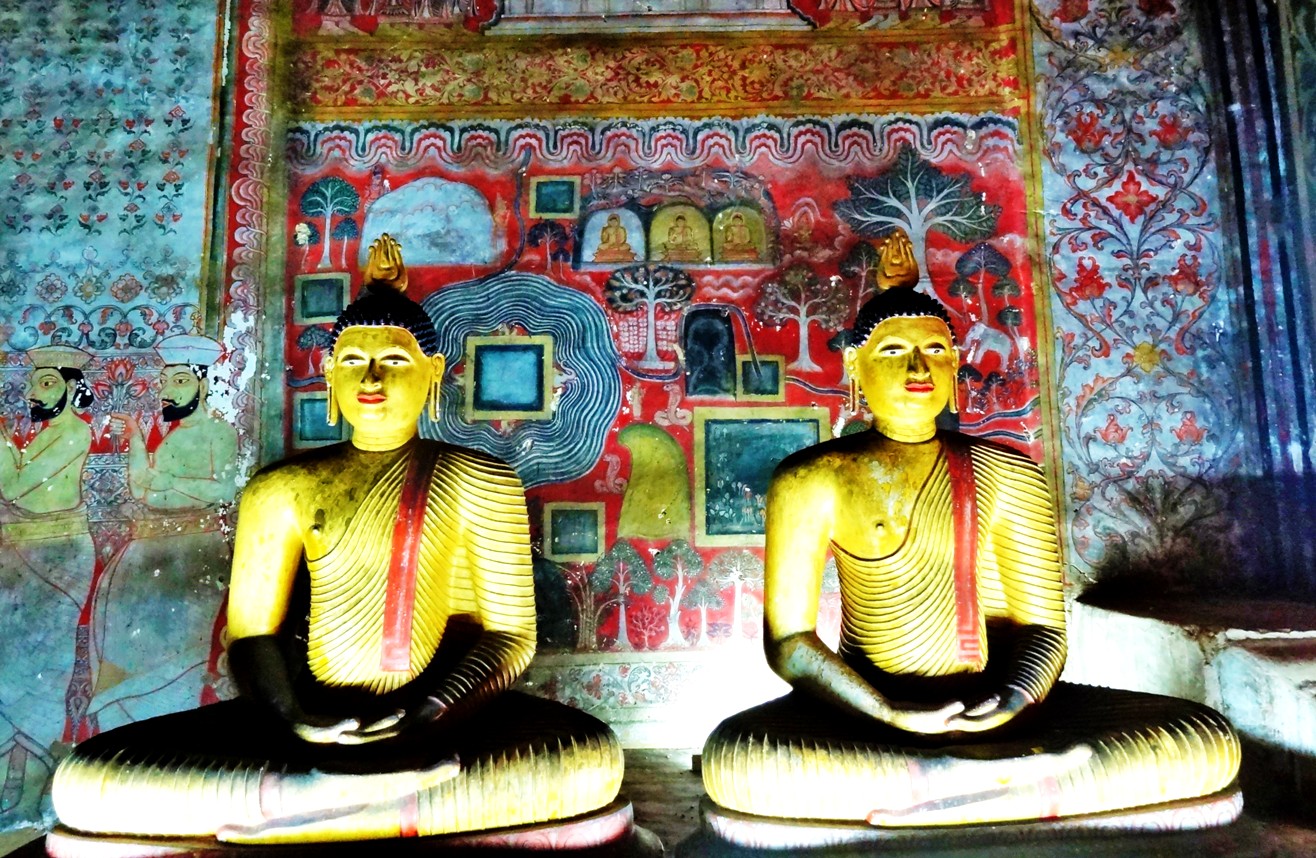 These rock caves are believed to have been frequented since early 7th century BC. Prehistoric skeletons have been found around the caves. These caves served as a monastery to Buddhist monks who used to pass by the area. These Buddhist monks provided shelter to King Valagamba for 14 years, when he was driven out of Anuradhapur. Later in 1st century BC, the king built this magnificent rock temple to offer gratitude to the monks in Dambulla. The cave temple interiors were painted with Buddha images and statues in various poses. Subsequent kings repainted the murals and added to the decorations on the walls as well to the statues. The murals and statues in vivid colors that we see today are restored by Kandyan artists, primarily from 18th century.
Caves Inside Dambulla Cave Temple
Behind the white façade lies the treasure so vast. There are in total 80 documented caves in the area, out of which 5 caves are open to tourists. These caves contain more than 150 statues of Buddhas, 4 statues of Hindu gods and goddesses and 3 statues of kings from the past. The murals on the walls include Buddhas in a variety of mudras and positions and portray stories of Buddha's life and Buddha giving sermons. The murals on the walls depict the hints of Sinhalese Buddhist art prevalent till the 12th century. Frescos in vivid colors of red and yellow dominate the surface of the cave walls. Geometric motifs in black and white interspersed beautifully with red and yellow Buddha motifs and colorful flower motifs.
Cave 1: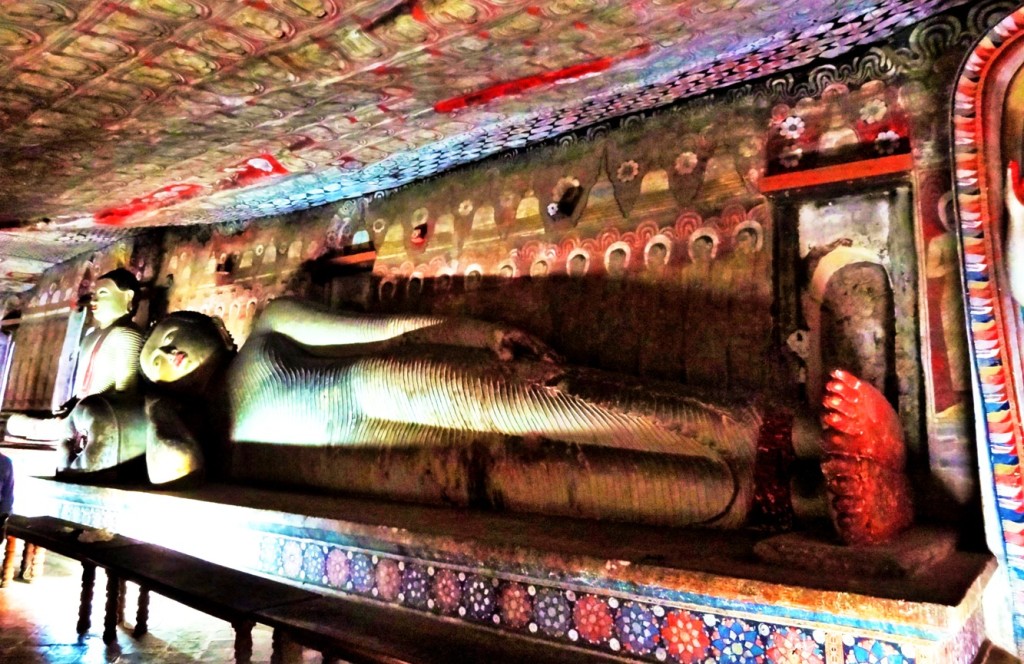 Known as Devaraja Virhaya contains 15 feet long reclining statue of Buddha. Buddha's disciple Ananda and other disciple can be seen watching over the reclining statue. Large feet of the Buddha are characteristically painted with red and golden paint. It is almost impossible to take a full length picture of the statue in this relatively cramped cave.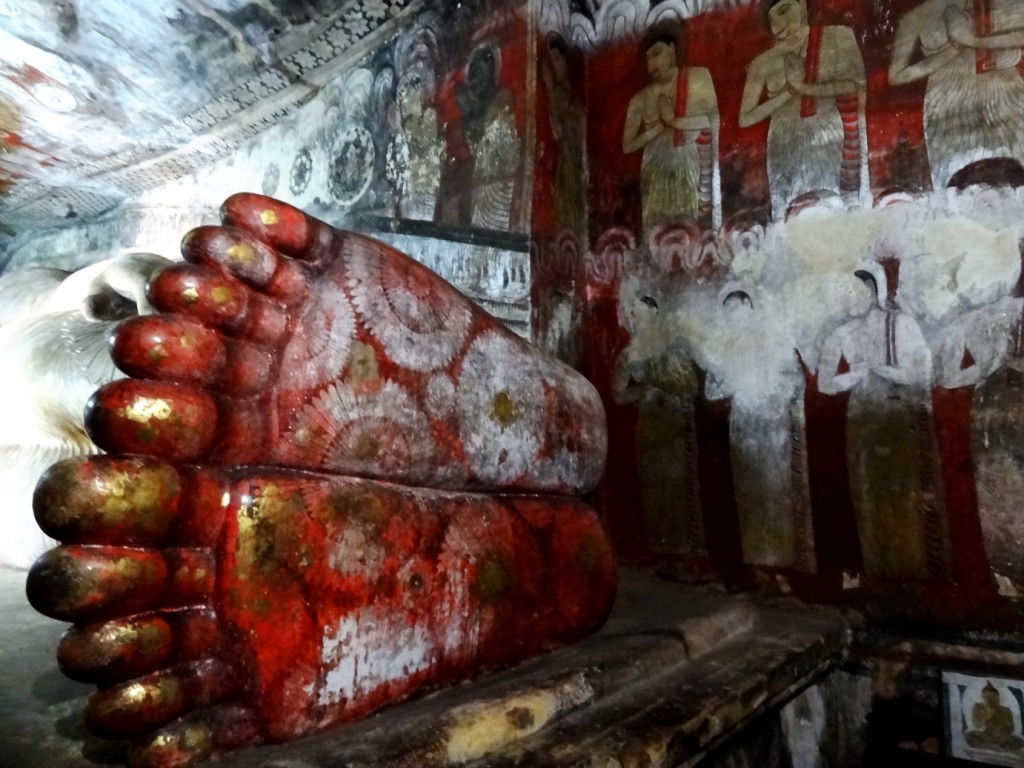 Cave 2:
Known as Maharaja Viharaya, this is the most spectacular cave in Dambulla Cave Temple, with enumerable statues of Buddha in various mudras. The sheer size of the cave and the decorations left me spell bound.
It contains a stupa on one side, believed to have been built in 5th century AD. The cave also contains the statue of King Valagamba and Nissanka Malla. There are vessels placed in strategic positions inside the cave, meant for collecting water which keeps dripping inside throughout the year. This water is used for sacred rituals around the year.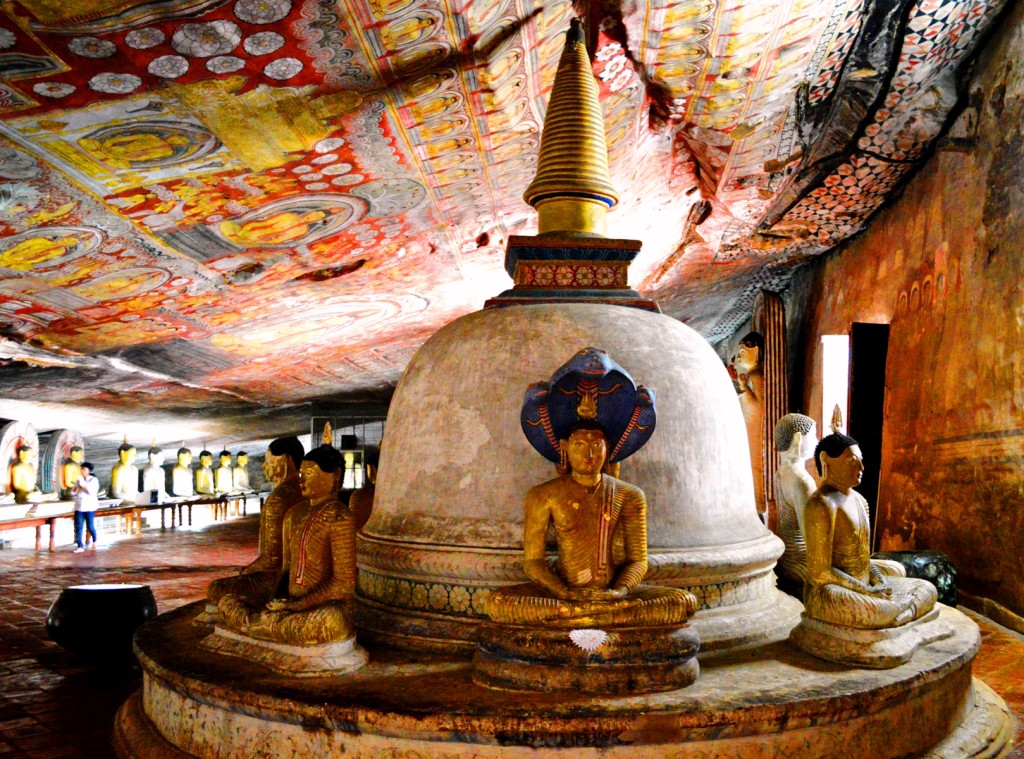 Cave 3:
Known as Maha Alut Viharaya, is a recent addition in 18th century. The cave contains various statues of Buddha with one in reclining position.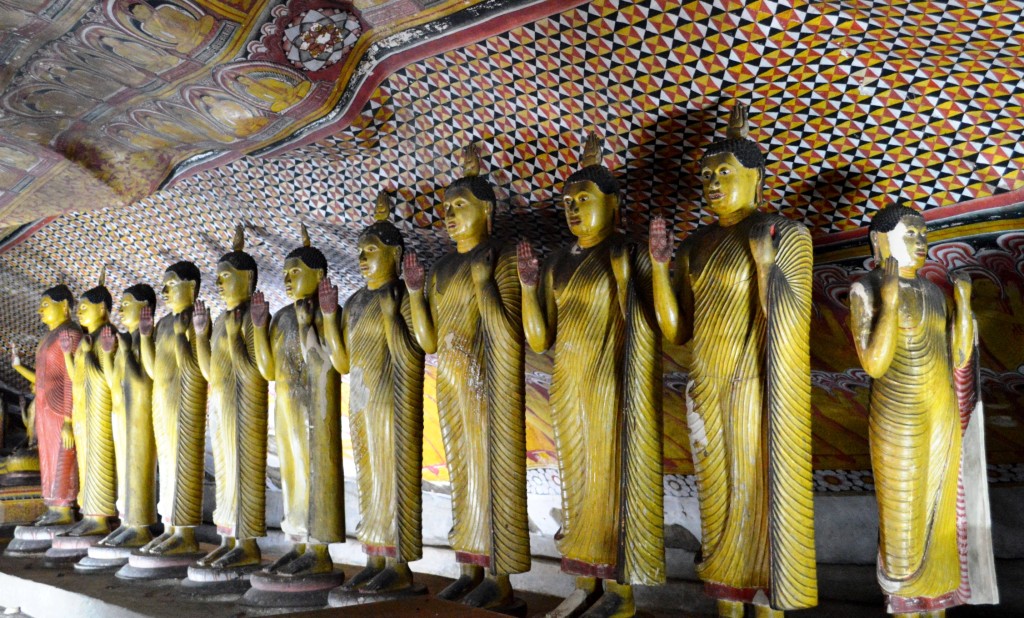 Cave 4:
Pachima Viharaya is relatively a small cave with statues of Buddha and a stupa in the
middle, which is believed to have been broken by thieves looking for royal treasures inside the temple.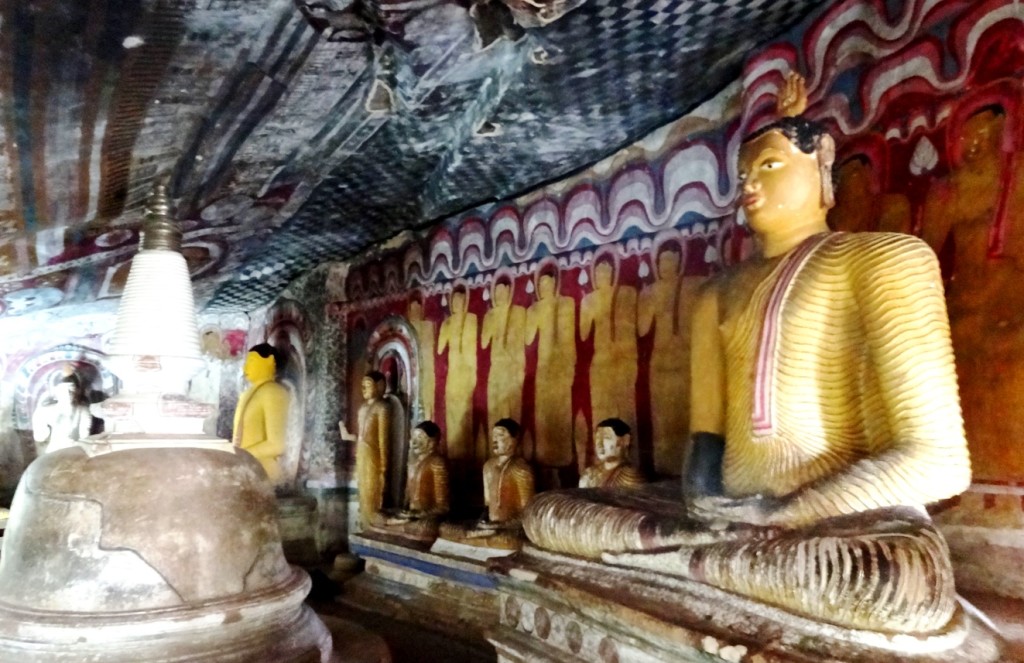 Cave 5:
Known as Devana Alut Viharaya is another small cave with reclining statue of Buddha and other Hindu deities.
Tips:
Dambulla Cave Temple can be visited on the way to Kandy from Sigiriya. It takes around 2 hours to visit the site.
Visit to Royal Palace Kandy and Sigiriya Rick can be combined with Dambulla cave visit.
The climb to the top is steep but not strenuous and takes around 20 minutes to get to the caves.
Carry water bottles, it is a steep climb and on a sunny day, it tends to get very hot and humid.
The caves are a place of worship. Wear shoes with socks as one has to remove shoes before entering the caves. On a sunny day it gets too hot to walk around barefoot.
Photography is allowed inside the caves. Though most modern digital cameras capture the frescos in ambient light, carry a tripod if you want to capture the real beauty.
Beware of monkeys around; they will start following you on the climb if you entertain them even a little. They are friendly but can become annoying.
Check for Dambulla Cave Temple opening hours  and entrance fee on the official website.
Read about

Stilt Fishermen of Kogalla

in Sri Lanka.
Summary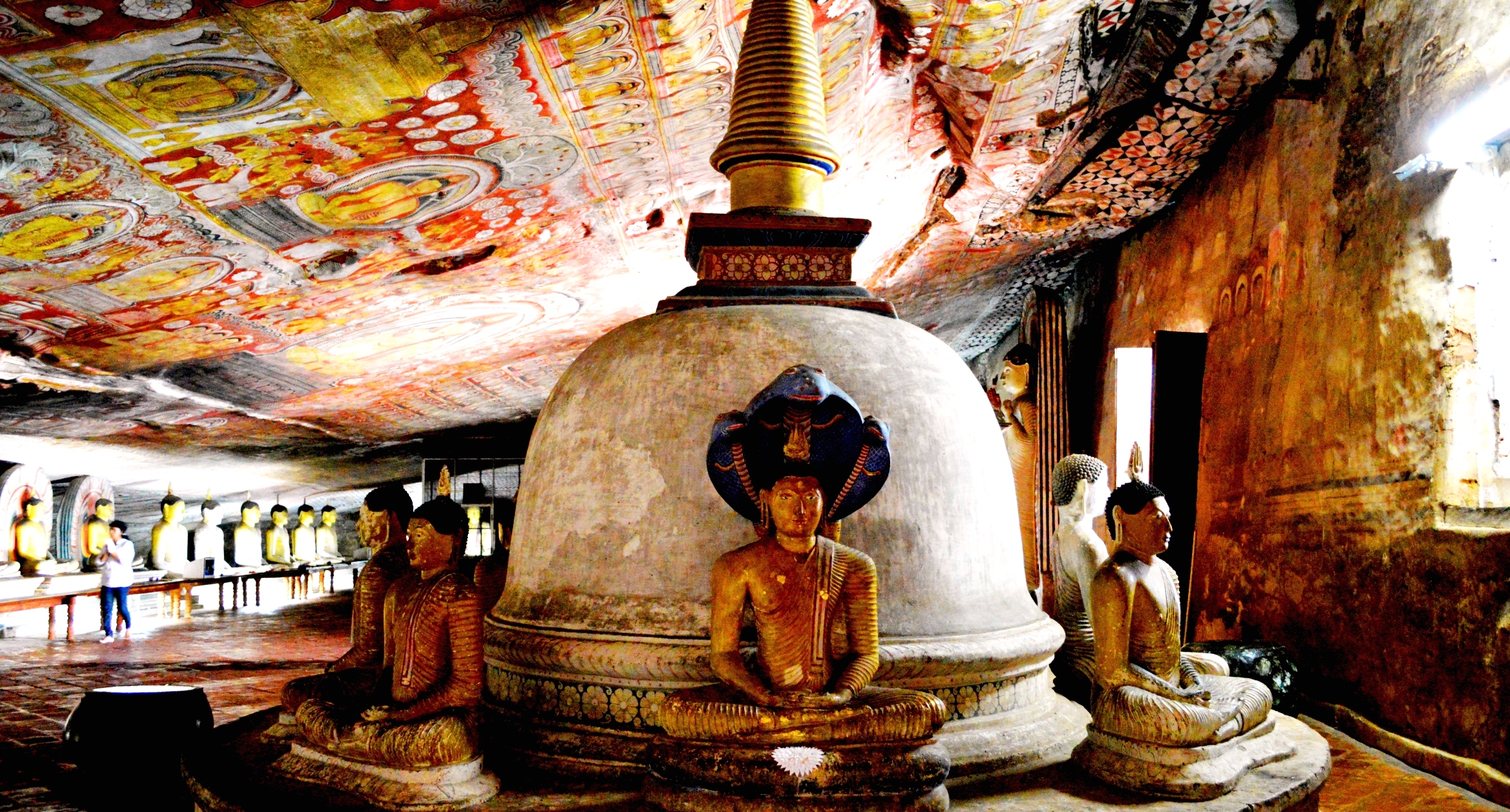 Article Name
Dambulla Cave Temple: 1st Century BC Buddhist Treasures
Description
Dambulla Cave Temple has been place of worship since 1st century BC. Caves contain 157 statues of Buddhas and are lined with colorful frescoes on the walls.
Author