Most of the tourists heading to Khajuraho skip Orchha as it may add an extra day to the itinerary. Here are some of the reasons why you should not be doing that! Orchha means 'Hidden'! It is one of the hidden towns dotted with chattris, temples, forts and palaces in a very small area. Orchha is where  Mughal and Hindu architecture blend seamlessly into each other, and it is worth a visit!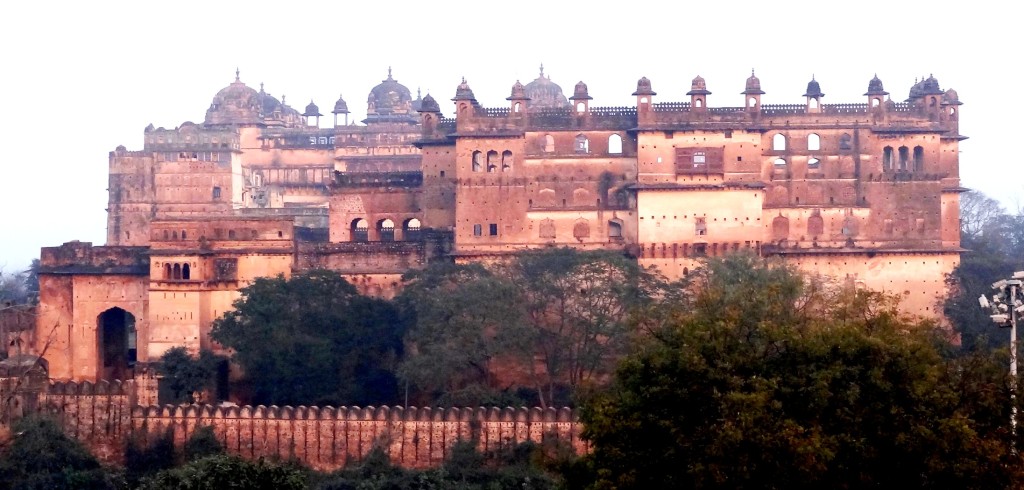 Orchha History
Orchha was established in 16th Century by Maharaja Rudra Pratap Singh. It was part of Tikamgarh, one of the princely states in Madhya Pradesh. Located on the banks of Betwa River, Orchha is famous for palaces, chattris and temples which stand still to tell the tales of bygone times of Bundela royal empire.
Jahangir Palace:

Known as Orchha Palace, Jahangir Palace is a fine specimen of Mughal architecture built by Maharaja Vir Singh, to mark the visit of Mughal Emperor Jahangir, his close friend during that period. It stands tall right in the village centre. One can still spot  turquoise tiles on the front façade, reminiscing the beauty of the original palace. Orchha sightseeing is not complete without climbing on top of Jahangir palace, you can look far and beyond into the greens surrounding the town, dotted with historic monuments from the rooftop of the palace.
Raja Mahal: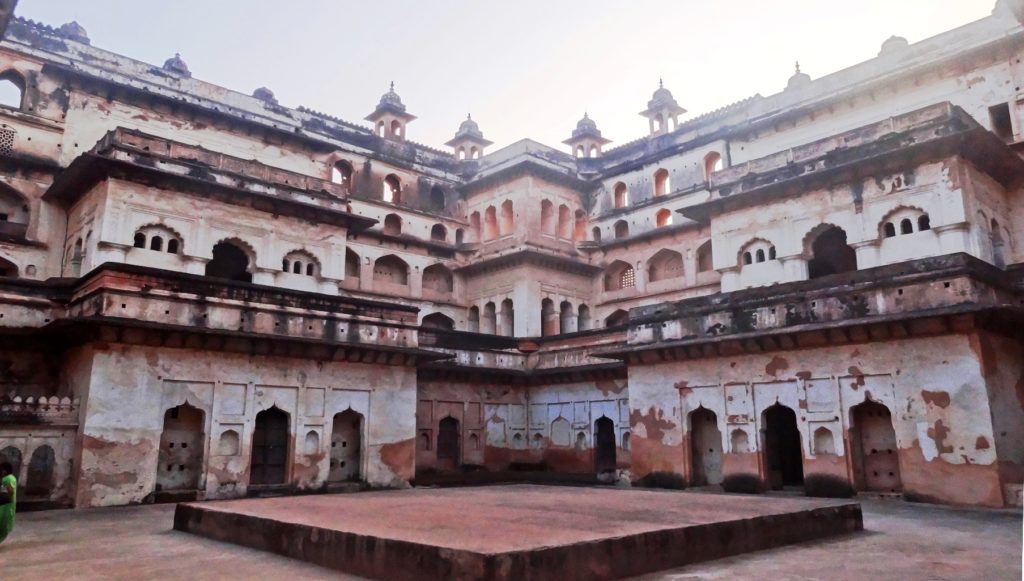 Adjacent to Jahangir Mahal stands a fortified square structure with large courtyards and rooms adorned with murals on the walls and ceilings. The palace architecture and royal balconies are best appreciated from one of the courtyards. Durbar-e-Khas and Diwan-i-Am are the two main attractions inside Raja Mahal, representing ornate Mughal architecture with arches, jalis, pillars and murals. The walls and ceilings of Durbar hall and sleeping chambers have some of the best preserved murals in Orchha.
Chattris:
Chattris or Cenotaphs are the memorials buildings dedicated to the rulers of Orchha. Built in 16th and 17th century, these chattris have elevated platforms and large domes adorning the top of each building. These simple yet beautiful structures line the banks of river Betwa and the best time to visit them is in the evening, when their warm glow is reflected on flowing waters of Betwa.
Chaturbhuj & Raja Ram temple:
Opposite Raj Mahal one cannot miss the towering structure of Chaturbhuj temple, dedicated to 'Four armed' deity. This magnificent temple is decorated with intricate carvings on its exterior walls and it is one of the best attractions in Orchha India!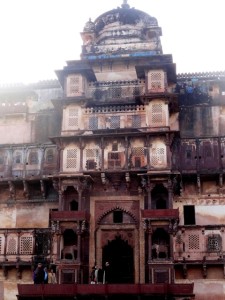 Built in 16th century, this Orchhha temple is placed on an elevated platform and is decorated with Lotus emblems. The temple is quite spacious and has bright interior unlike many other Hindu temples. Right next to Chaturbhuj temple is another temple Raja Ram temple, which is dedicated to Lord Rama.
Laxminarayan Temple:
Laxminarayan temple is unique for its blend of fort and temple architecture, dedicated to goddess Laxmi. The temple was built in 16th century and has unusually large facade, very much like any European cathedral. The interior walls of the temple are lined with exquisite murals whereas beautiful carvings adorn the exterior columns.
Sunset from the roof top of Jahangir Mahal:
Orchha's beauty comes alive under the setting sun, with silhouettes of towers, chattris, domes and arches lining the horizon. It is a breath taking sight and can be witnessed from any of the vantage points in Orchha.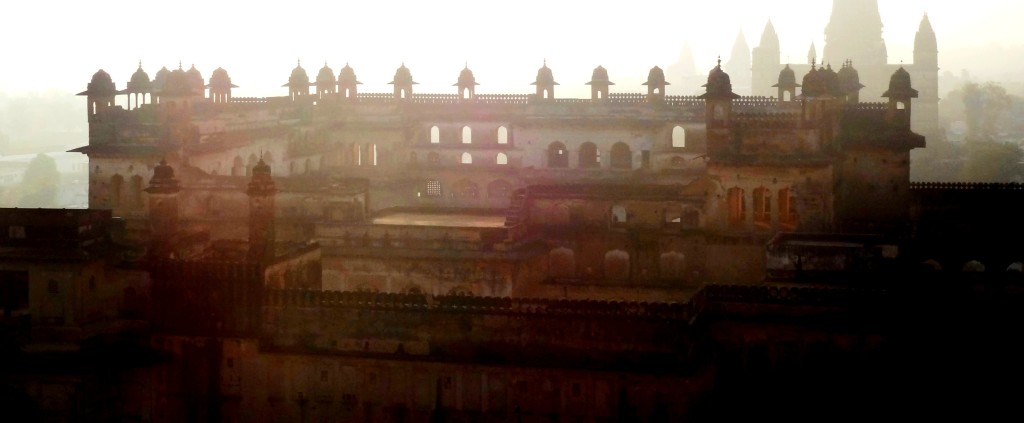 Tips for Orchha Sightseeing: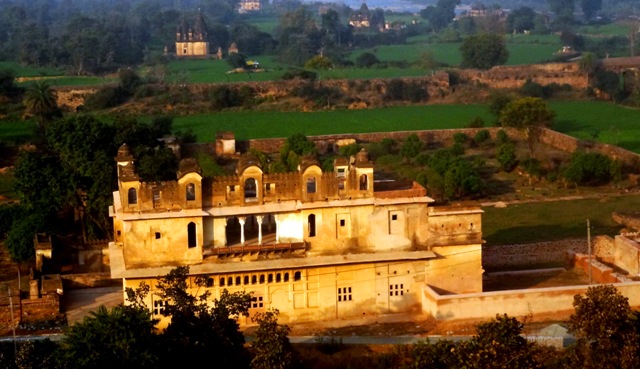 Orchha India is located 18kms from Jhansi and falls on the way to Khajuraho. It is a small sleepy town and most of the attractions can be visited in a day trip. Everything can be visited by foot or in auto rickshaws. Located on Betwa river, Hotel Amar Mahal, a luxury hotel, is the best Orchha resort and offers great royal retreat.
Read about Khajuraho- Epitome of erotic temple art!
Check out Roamantic Mandu– another offbeat place in Madhya Pradesh. famous for a romantic getaway! Click here to read more.
Summary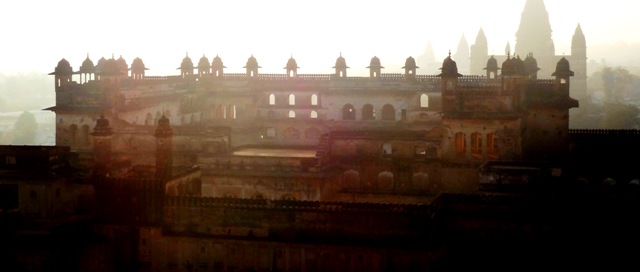 Article Name
6 reasons why you should not skip Orchha on the way to Khajuraho!
Description
Orchha means 'Hidden'! It is one of the hidden towns dotted with chattris, temples, forts & palaces, where Mughal and Hindu architecture blend seamlessly!
Author