Traveling is an addiction. If you are bitten by a travel bug, then you will have to learn to make your own travel itinerary. It is easy to plan a trip to known, popular destinations like Goa, Thailand and Malaysia. But traveling is all about experiencing the the history, culture and people of a lesser known destination. It may sound daunting to create an itinerary to visit Uzbekistan to travel on the ancient Silk Route or visit Sri Lanka to explore the ancient Buddhist trail.
Creating a Travel Itinerary
The fear of safety is something weighs on everyone's mind. One fact you must etched in mind as a traveler is that 'World is a safe place'. And ignorance is not bliss when it comes to traveling.
The key to visit any place is to conduct thorough research about the place. The net is filled with interesting facts, travel experiences and 'How to' ideas. Read everything you can on the topic to derive clarity. Once you have read and researched, it will not be as intimidating to plan a travel itinerary. Millions of people from across the world travel and their stories and experiences are priceless in learning facts. E.g. While planning a solo trip to Jordan i came across a blog where the lady pointed out that it is not advisable to walk with wet hair in public places. The Jordanians believe that the lady with wet hair just had sex! So there i was, not stepping out after washing my hair after a long day in the desert safari 🙂
How to Begin
Each one of has either financial and/or time constraints. So first thing while creating a travel itinerary is to figure out the budget; how much you would like to spend on this trip and for how many days you could travel. You are already taking care of your budgets by creating your itinerary, it helps you save anywhere from 20-30% of the trip cost. I saved almost 50% of travel cost to Uzbekistan by planning my own itinerary.
Next step is to start with flight bookings. Check on popular sites like makemytrip.com and cleartrip.com for air fares. The idea is to book a bit in advance and avoid the peak seasons to pay additional surge charges. In most of the cases, the flight tickets take up the largest chunk of your budget for any travel itinerary.
Research: Things to Do and Places to Visit
Once you figure out the destination and the airfares, browse on the net for 'things to do' and 'Places to visit' in the chosen destination. Out of hundreds of lists that pop up, open 3 to 4 links in new windows to find out which places appeal to you. Here is an example of 'Things to do in Budapest'.
Read about the places and approximate time duration required to cover the places. Read blogs on the chosen destinations; bloggers give unbiased views of what works and what does not. Travel blogs will also guide you in terms of time taken to cover the destination, is the experience worth spending for, so on and so forth. A discussion with a traveler in Cairo revealed a possibility of a road trip in Mount Sinai. It was a rare opportunity to visit the St Katherine's Monastery tucked inside Sinai in in Eastern desert of Egypt, which is not possible to access easily in today's turbulent times.
Hotel Bookings
Booking hotels is an important aspect of any travel itinerary. Visit sites like booking.com or hotels.com to check out hotels in the chosen destination. Once you log onto a site, it will ask you for budget options and distance from the center option. Have a google map open in another window so that you can check the distance of the hotel from the airport and distance from the major attractions.
The websites have prices in local currency and that gives a direct pointer on how much it could cost you. There are all kinds of hotels on the web sites. Choose as per the budget, location and reviews.
Reviews are the most important factors, they determine ratings which are prominently displayed on the page. If you book a room well in advance, you should be able to get a good, centrally located hotel at an optimum rates.
I recommend to stay in the center or close to major attractions, that way you can cover the sites by foot and save on internal transportation cost. This is important especially when you travel to an international destination, where the transport cost can add up substantially to the budget. I stayed in a hotel close to the Red Square while visiting Moscow. That way i could walk to Kremlin, St Basil's Cathedral and Bolshoi on foot.
Book rooms with 100% cancellation policy. Most of the time, you can book by giving your credit card details but it is not charged. Do read the cancellation policy before reserving. I usually book a room where i am able to cancel till the last day or before 12 hours prior to my planned stay. That gives me flexibility to change the plan, location or cancel altogether for another option.
What Next
Once you have shortlisted the 'Things to do' in a particular city or country, you have a broad idea how many days it would take to cover the places. Depending on the domestic or international destinations, you will need to assign enough time to complete visa and related formalities. Many countries want you to book hotels and flights before applying for visa. And there is nothing to worry about it. The hotels as mentioned earlier are cancellable. The flights can be cancelled as well, but they may charge some cancellation fees.
Now that you have a certain idea, go back to the flight booking site and choose the exact duration of travel. Keep a day extra just to accommodate something which you had overlooked or in case you want to visit the same attraction again. Or for shopping, though once you become a traveler, shopping will be the last thing on your mind. E.g. I kept one extra day while visiting Beijing, that gave me an opportunity to go for an overnight Camping on the Great wall of China in Simatai which is 3 hours drive from Beijing.
Dig Deeper
After you have got a basic frame work of a travel itinerary, check out the entrance fees of each museum or site you would like to visit, make notes so you have clarity on numbers as well. Make a list of 'Must visit' restaurants,bars, museums. If there are river cruise or hikes that you would like to get on. A river cruise from Siem Reap delivered a once in a lifetime opportunity to explore floating villages of Cambodia.
It is always fun to try local cuisine and experience local nightlife. Blogs and relevant restaurant sites will also help you in understanding how much it will cost to eat and drink. For those culturally inclined can make a list of local dance performances and music concerts. Everything costs, so plan in advance, that will help you choose which work the best for your taste and budgets. E.g. Watching Legong Dance and Gamelan Orchestra was a highlight of my Trip to Bali.
Visa Process
Once the flight and hotels are booked, sort out the documents required for the visa process. All the visas can be applied directly without any help from the agent. The visa requirements are usually listed on a country's local embassy website. Go through the list in detail and make notes. The best thing to do is to call the embassy helpline and ask for the documents list needed for tourist visa process. They are friendly and will provide details as well as the time needed to process the visa. Do not forget to check about making an appointment with the embassy or the visa center for visa application. Do ensure each and every document on the list is sorted. That gives you a higher chance of smooth visa process. Before traveling to Jordan i called the embassy here in India and they guided me to opt for visa on arrival in Amman. That worked out much cheaper than applying it in advance through the embassy.
While you await the visa, research further on the places you have shortlisted. Make a day wise plan to have clarity. If you are on a short vacation, you might want to accommodate many places in one day, but if you have enough days in hand, you can chalk out an elaborate travel itinerary.
Foreign Exchange
Again researching and reading will help. I usually withdraw money from an ATM in a particular destination to avoid carrying wads of cash. I also prefer to pay by credit card wherever i can e.g. hotels, restaurants, entrance fees etc. They guarantee the best exchange rates. This comes from a personal experience. Do ensure that your credit card is allowed for international transactions. Carry enough cash to take care of your travel from the airport to the hotel cost and visa on arrival fees (Usually USD works) if any. For safety reasons traveler's cheques can be considered, though you will end up paying commission while cashing them, and it is higher than the rates by credit card companies.
Tips for Travelers
Research is the key. Yes, you can post a query about something and you will get answers, but relying upon your instinct goes a long way in creating an experience.

Reading and browsing different country info sites and blogs will prepare you with facts.

Check when is the best time to visit the place. It is easy to get weather information on the net, better than asking around. Keeping a tab on weather before planning outdoor activities like river cruise or hikes will ensure the fun is not ruined.

Watch videos about the destination, this is the closest it could get with the reality.

Connect with a travel agent and request for a travel itinerary. For most of the destination, they offer regular itineraries, which can guide you in creating your own.

Planning always helps. You can chart out on daily basis what you will be doing each day. That way, you do not miss out anything.

Communicate with bloggers who have written about the place, they are eager to assist.

If you are a first time traveler, book everything in advance to have a hassle free experience. You can even book entry tickets for popular sites online, that way you do not need stand in queues and waste time.

Trust the locals. You may not understand the language but a smile can go a long way in creating a bond of trust.
Be prepared for experiences, pleasant or not-so-pleasant kind. Traveling is all about experiences. Creating memories which will last for lifetime! Happy Tripping!
Summary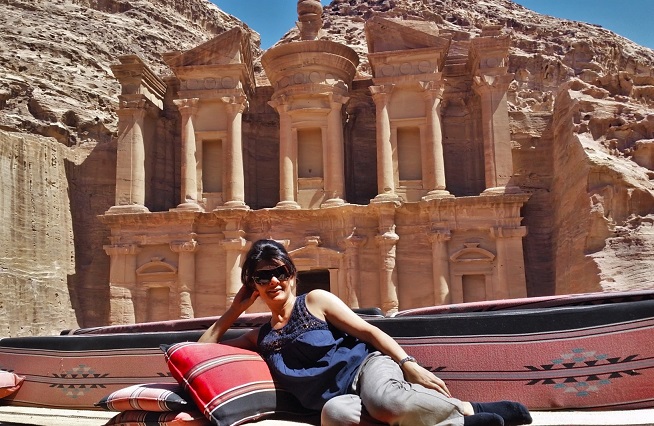 Article Name
How To Create Your Own Travel Itinerary, Its Very Easy!
Description
Traveling is an addiction. If you are bitten by a travel bug, then you will have to learn to make your own travel itinerary. It is easy to plan a trip to known, popular destinations like Goa, Thailand and Malaysia. But traveling is all about experiencing the the history, culture and people of a lesser known destination. It may sound daunting to create an itinerary to visit Uzbekistan to travel on the ancient Silk Route or visit Sri Lanka to explore the ancient Buddhist trail. Follow these steps to create a perfect travel itinerary on your own!
Author